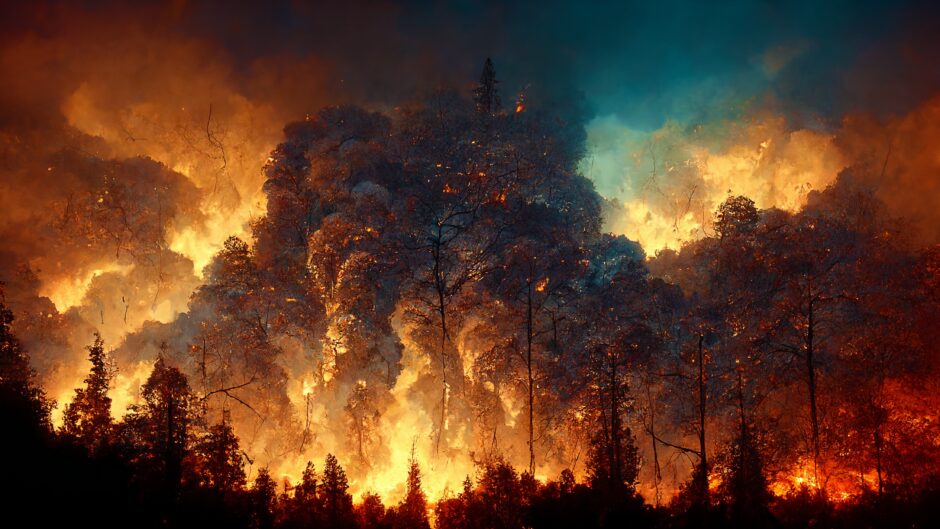 Accounting and advisory firm Forvis has announced a new collaboration with Jupiter Intelligence's physical climate risk analytics service. This will result in a tool to help clients manage physical risk exposure and provide disclosures to stakeholders as climate change and its corresponding severe weather events continue to affect businesses.
FORVIS has launched a Physical Climate Risk Dashboard with Jupiter Intelligence.
Impact of extreme weather is increasing business risk, with 2022 costs in the US hitting $166 billion.
Despite the conflict between short term profit and long term resilience planning, robust climate risk assessment is going to play a fundamental role in company financing.
The increasing need for decision-useful and investor-grade climate information requires climate scenario analysis and the inclusion of climate change considerations into many areas of business operations.
Investor concern is driving demand for accurate risk disclosure
Banks, insurers, private equity and investment managers are driving a spending boom in carbon management as they gear up to meet regulatory standards on the disclosure of climate risk. According to a report from independent research and advisory firm Verdantix, banks, insurers, private equity and investment managers will be spending $256 million on specialist software by 2027 compared with $51 million in 2021.
The financial sector's interest in understanding climate risk means that companies looking to buy insurance, raise debt or equity investment are going to need to be able to explain the risk's that they face. Given the increasing financial impact of extreme weather events, demand is set to grow on a global basis.
2022's Pakistan floods could cost as much as $40 billion while, according to the US National Center for Environmental Data, there were eighteen separate billion-dollar weather and climate disaster events In the US alone. The cost of these events was $165 billion and the total cost of extreme weather events over the last seven years was over $1 trillion.
According to the National Climate Assessment, the number and cost of disasters are increasing over time due to a combination of increased exposure, vulnerability, intensity of the event. It said: "climate change is increasing the frequency of some types of extremes that lead to billion-dollar disasters."
Clear climate disclosure requires understanding of risk exposure
The Task Force on Climate-Related Financial Disclosures (TCFD) and the anticipated Securities Exchange Commissions (SEC) Proposed Climate Disclosure Rule heighten the importance of climate scenario analysis  for forward-looking business strategy and risk management processes. FORVIS' Physical Climate Risk Dashboard provides valuable insight and decision-useful information for stakeholders, in a world requiring greater transparency of both reporting and data climate scenario analysis. This collaboration enables companies to easily run physical risk scenario analysis and produce impactful disclosures in alignment with leading climate frameworks and common mandatory disclosure requirements.
"Climate change is impacting businesses around the world and the monitoring and measurement of its further impact is essential for operational resilience and business continuity," said Rich Sorkin, Jupiter's CEO, and co-founder. "We're looking forward to collaborating with FORVIS to deliver solutions that enable clients to build resiliency and ultimately a more sustainable future."
What will the new tool do?
The new tool us built on a combination of FORVIS' business intelligence and reporting experience,  with climate risk data and analytics from Jupiter Intelligence's ClimateScore product across all sectors of the economy. The end result will be the  FORVIS' Physical Climate Risk Dashboard.
The goal is to provide a tool that provides clients and stakeholders with valuable insights to help them assess and manage physical climate-related risks and opportunities across the value chain.
By providing comprehensive climate data, the tool offers science-based intelligence that can help companies build an understanding of their potential risk exposure. At the same time it can help them identify future potential competitive advantages and performance enhancement, as well as supporting the delivery of clients' wider sustainability, decarbonisation and net zero strategies.
"Understanding risk and opportunity is key to achieving business objectives and scenario analysis plays a key role in understanding the resilience of overall strategy to different environments," said Jared Forman, global practice leader for Enterprise Risk and Quantitative Advisory at FORVIS. "We're excited to work with Jupiter to combine their advanced data analytics with our team's business advisory capabilities in order to help our clients navigate the uncertainties they are dealing with in both the near and long term."