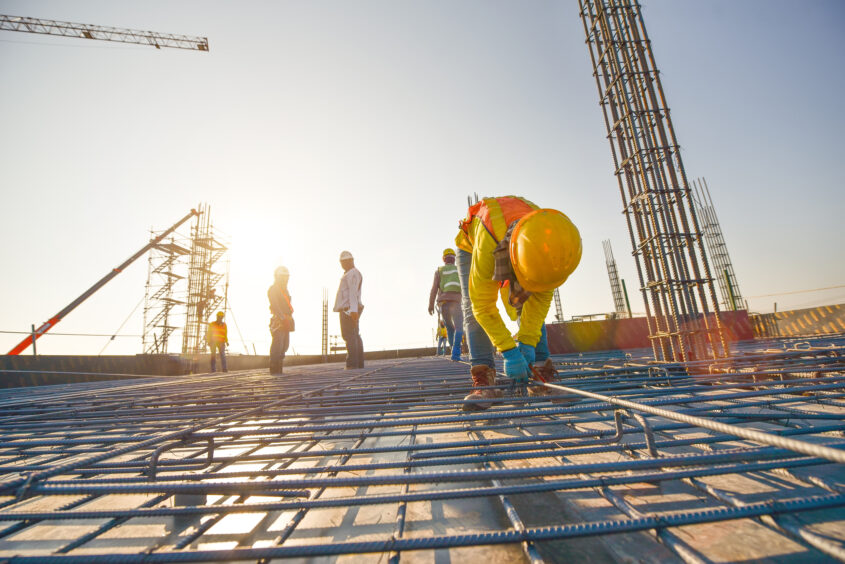 Kingspan (LON:KGP) is launching a new range of insulated panels that has achieved a 41% reduction in embodied carbon compared to previous models.
The new QuadCore LEC range of insulated panels will be available in the UK and Ireland in the first quarter of 2023.
This can help reduce the carbon footprint of buildings, which is responsible for 30% of global energy consumption and 27% of total energy sector emissions.
Kingspan is adapting to the market requirements for the low-carbon transition, having set ambitious climate action plans, while planning further reductions in embodied carbon in its products.
Kingspan updates QuadCore LEC panels
Kingspan has developed its QuadCore LEC range of insulation panels to reduce the carbon footprint of buildings. Based on comparative life cycle assessment data relative to the EN15804-A2 standard, QuadCore demonstrated a 41% reduction in embodied carbon – the CO2 generated during the construction phase – compared to the prior generation of architectural wall panels (AWP). 
This environmental product declaration standard covers the sustainability of construction works and services. It allows manufacturers to describe how a certain technical performance aspect of a construction product has been calculated.
Initial product offerings in the Quadcore LEC range are expected to be available sometime in the first quarter of 2023 in the UK and Ireland. According to Kingspan, QuadCore ranks as one of the highest-performing insulation products in terms of thermal efficiency.
Insulation, thermal efficiency could be key to decarbonising buildings
Buildings accounted for 30% of global energy consumption in 2021, according to the International Energy Agency (IEA), and, in turn, account for 27% of total greenhouse gas (GHG) emissions from the energy sector. Most of these emissions result from the electricity and heat used in buildings, while direct emissions account for the remainder.
When factoring in the 6% carbon footprint of the cement, steel and aluminium used in building construction, the sector's total contribution to global GHG emissions rises to almost a third of total energy and process-related emissions.
Based on the IEA's analysis, improved building envelopes that reduce the thermal energy needs of buildings, in the form of insulation, will be important to achieving the interim and long term goals in the net zero scenario.
Not taking timely action on insulation can be costly. A lapse in government help on insulation in Britain, for example, has resulted in the country having the least energy-efficient homes in Western Europe. 
Kingspan intends to reduce buildings emissions in two ways: its insulation products help reduce the thermal energy needs of buildings, tackling 19% of emissions from electricity and heat, while reducing the embodied carbon in its building products is expected to lower the 6% of buildings' emissions attributed to construction products.
Ready for the low-carbon transition
The company has committed to reducing its own carbon footprint, including its Scope 3 emissions which will be addressed by cutting the environmental impact of its products. This includes lowering the embodied carbon in its building products to help the building sector decarbonise. 
As a signatory to the World Green Building Council's Net Zero Carbon Buildings Commitment, it has set itself an ambitious goal of achieving net zero on all operational emissions by 2030. In its 2021 Planet Passionate report, Kingspan set targets for its "2030 Carbon Pathway", in which it plans to achieve a 90% absolute reduction in its Scope 3 value chain GHG emissions. 
A large part of reaching this goal is planned through a change in raw materials used, mainly coming from its upstream operations, with the remaining coming from its downstream operations, which involves product use and end of life.
A key raw material category contributing to Kingspan's upstream emissions is metals. Sourcing low-carbon metals can reduce the embodied carbon of its products, and to this end, it made an investment in H2 Green Steel (H2GS), which intends to produce steel with 95% less carbon content. 
It has also agreed to an internal carbon charge of €70 per ton, which will be implemented through 2023. According to the Centre for Climate and Energy Solutions (C2ES) "companies use internal carbon pricing as a strategy to manage climate-related business risks and prepare for a transition to a low-carbon economy".