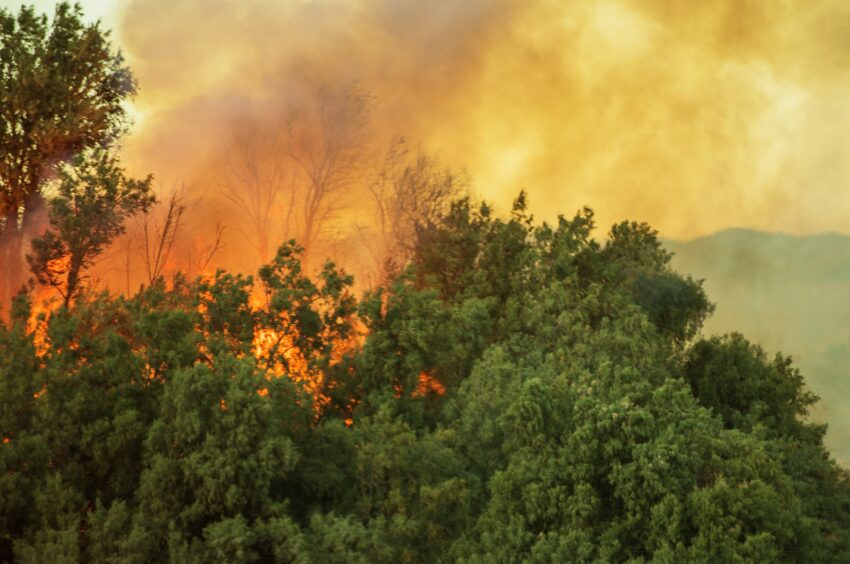 The World Economic Forum (WEF) has succeeded in piloting the use of artificial intelligence (AI) and machine learning technologies to address the emerging wildfire crisis. 
The FireAld initiative has shown how AI and machine learning can be used to predict and identify incidences of wildfire, leading to quicker response measures with more successful outcomes.

 

Climate change is causing wildfires to occur more frequently and severely, resulting in significant economic consequences as well as carbon emissions and biodiversity loss.

 

AI and machine learning technologies will be immensely valuable in the global effort to build resilience against the impacts of climate change.

 
The WEF has published a report on the success of its FireAld initiative, a project launched in January 2022 to develop the use of AI and machine learning technologies in predicting and tackling incidences of wildfire. 
"During this difficult period of growing fire seasons and climate change, we are committed to continuing and strengthening this global engagement. We hope this report will inspire you to join these efforts, which can address the key drivers of catastrophic fires, increase the pace and scale of forest management and improve the resilience of increasingly threatened communities globally," said WEF managing director Jeremy Jurgens. 
The emergence of wildfires as a global crisis
In recent decades, wildfires have begun to occur more frequently and severely. This trend has largely been driven by the rapid increase in global temperatures, but has been further exacerbated by human activity such as the conversion of land for agricultural expansion.  
According to the UN Environment Programme, the risk of extreme wildfires has become more critical than ever before. It has warned that the situation will only continue to worsen, with the occurrence of wildfires expected to more than double before the century's end. 
These wildfires are causing further climate change by generating significant greenhouse gas emissions and by reversing the carbon sequestration of forests and peatland ecosystems. Given that they often result in animal fatalities and habitat loss, wildfires are also contributing to the rapid decline of biodiversity. 
They also pose a severe economic threat to communities, companies and governments, with the WEF estimating that the average annual cost of wildfires amounts to around $50 billion. Such losses are rarely limited to the specific location of individual fires, as they can quickly ripple out across the broader financial system.  
With their environmental, social and economic consequences, there is little doubt that wildfires have emerged as a major global crisis. As such, there is an urgent need for the development of effective solutions that can minimise their damage.
The FireAld initiative
The FireAld initiative's pilot project saw the WEF joining forces with turkish digitalisation specialist Koç Holding (ISE:KCHOL) to assess whether its technologies could be used to tackle wildfire outbreaks in the South Aegean and West Mediterranean regions of Turkey. Overall, the project covered an area of 44,000 square kilometres, around 75% of which had suffered from wildfire damage between 2010 and 2021. 
In the first phase of the trial, Koç Holding worked alongside the Turkish Ministry of Agriculture and Forestry to combine a mixture of dynamic and static meteorological datasets into a comprehensive risk map. By using its AI modelling capabilities, Koç Holding was able to analyse more than 400 variables to determine the probability of a wildfire occurring within a specific area and the severity with which it was likely to spread. With the risk map developed, the company proceeded to develop a model that helped decision-makers to optimise the allocation of their resources when responding to wildfire outbreaks. 
Ultimately, Koç Holding's solution was found to be effective in facilitating the prediction and prevention of wildfires, while also enabling quicker and more efficient responses to those that did occur. The approach is now to be scaled for wider use, and will be expanded to include additional technologies. 
As the FireAld initiative keeps developing, a number of new partners have offered their support. In June 2022, for example, the programme was joined by professional services provider Deloitte.
Building on the pilot project's success, Deloitte is working to develop advanced wildfire forecasting models and a unique scenario engine. By incorporating digital twinning technology, the scenario engine will generate simulations that firefighters can use to determine the likely progress of fires in specific areas and test out the effectiveness of proposed response measures. 
"Wildfires represent a growing environmental problem. Intervention measures are more effective the earlier they are taken – saving lives, livelihoods, habitats, as well as the cost of the measures themselves. While a significant modelling challenge, better prediction of fire outbreak and spread – using technologies such as AI, cloud and digital twins – has the potential to upgrade resource planning and save firefighters valuable time," explained David Thogmartin, director of AI and data analytics at Deloitte's Risk Advisory and AI division. 
Emerging technologies in support of climate change resilience
In its extensive report on the success of the FireAld initiative, the WEF calls for a global increase in the adoption of AI and machine learning technologies as a solution to wildfires. It suggests, for example, that advances in computer vision could be applied to the science of wildfire prediction, while AI sensors and unmanned aerial vehicles could be developed to provide real-time insights into how fires are progressing. 
The report goes on to establish the need for international cooperation, which would allow compatible, relevant and historical data to be shared more widely for the development of accurate prediction models. It would also enable responders to learn from one another and develop more effective solutions for wildfires that do occur. 
Citing its recent Global Risks Report, the WEF explains that such developments are critical in building resilience against the impacts of climate change. It warns that, unless we embrace technologies that could help in mitigating and adapting to climate change, the world will be increasingly exposed to the severe risks of natural disasters, extreme weather events, biodiversity loss and environmental degradation. 
This warning highlights the immeasurable benefits that could be delivered through the development and deployment of new technologies. Although the WEF's latest report focuses predominantly on the wildfire crisis, such technologies will be critical in building climate change resilience across the board. 
To give just a few examples, AI and machine learning solutions have already been developed for the expansion of nature-based carbon sequestration, the prediction of extreme weather conditions and the design of resource-efficient seeds that promise to strengthen global food supplies. While we cannot ignore the need to adapt our way of life in order to mitigate and respond to the impacts of climate change, the WEF's FireAld report provides just one more example of how emergent technologies can provide us with vital support in doing so.