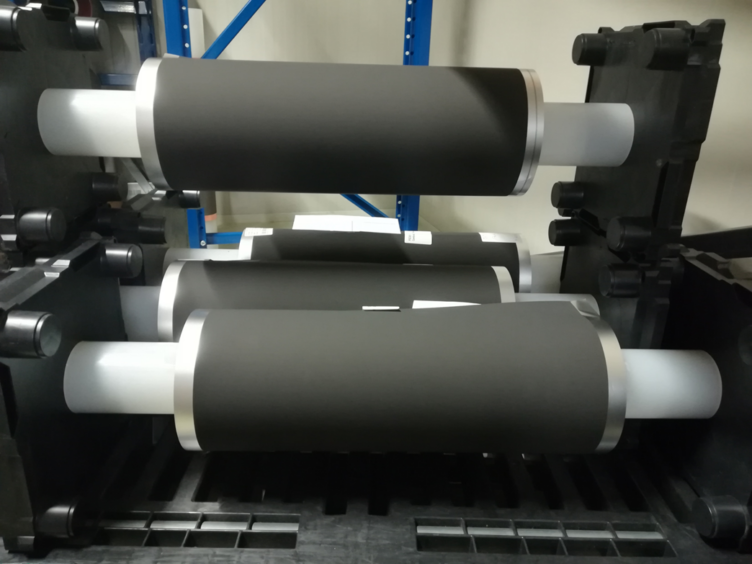 Energy storage company Leclanché (SW.LECN) has designed a new battery cell that uses less cobalt and boosts energy density by 20%. The company says it is also produced in an environmentally friendly way, making it more recyclable or easy to dispose of at end-of-life.
Swiss energy storage solutions provider Leclanché has developed an environmentally friendly way of producing battery cathodes.
The new methodology reduces the amount of cobalt used while providing 20% more energy density.
The need for disruptive battery technologies is being driven by the demand for electrification to enable the energy transition, and also potential supply chain risks for critical minerals.
Leclanché's water-based, environmentally-friendly manufacturing process 
Leclanché said it has developed an environmentally friendly way to produce lithium-ion (Li-ion) batteries. It has replaced highly toxic organic solvents, commonly used in the production process, with a water-based process to make nickel-manganese-cobalt-aluminium cathodes (NMCA).
Organic solvents, such as N-methyl pyrrolidone (NMP), are highly toxic and harmful to the environment. The use of NMP has been restricted by the European Commission, having been added to the list of Substances of Very High Concern, which can have serious irreversible effects on human health and the environment. 
Besides being technically simpler, eliminating the use of organic solvents also eliminates the risk of explosion, making the production process safer for employees. Leclanché claims to be a global pioneer in the field, having used aqueous binders in its for over a decade.
A further benefit of the water-based process is a lower carbon footprint, as it uses 30% less energy, which would otherwise be needed to dry, or evaporate, and recycle the solvents. 
"With the water-based production of the high-capacity NMCA cathodes, we have reached a decisive milestone in lithium-ion technology," said Dr Hilmi Buqa, vice president R&D at Leclanché. "Until now, producing them using environmentally friendly processes was considered impossible. But, now we have mastered the process."
New G/NMCA cells reduce the amount of cobalt used, increase energy density
In developing its new G/NMCA battery, Leclanché has increased the nickel content of the cathode to around 90%, which has the effect of increasing the energy density. The 'G' refers to the graphite anode. Increasing the nickel content allows for the cobalt content to be reduced from 20% to 5%. 
Compared to conventional G/NMC cells, these high-capacity NMCA cathodes also enable a 20% increase in the energy density of a typical Li-ion battery. It also enables a longer service life, high cycle stability and good chargeability. 
The new cells are best suited for electric vehicles and heavy-duty transport applications, such as ships, buses and trucks, due to their high-volume energy density and high cycle stability.
Other battery technologies targeting cathode/anode materials
In December 2022, US-based startup Group14 attracted $614 million in one of the largest climate tech fundraises in 2022. Its promise to address supply chain risks and battery performance issues is becoming particularly compelling in the sector. 
Group14 has replaced graphite with silicon in a Li-ion battery, which it claims can improve battery performance. A graphite anode in a typical Li-ion battery takes up 60% of the space in a battery cell, while the company's silicon-based design only takes up 25% of the space. This leaves 75% of battery cell space for the lithium cathode, which is where the charge density resides. 
Rising demand for electrification fuels the need for disruptive battery technologies 
The need to find alternate design processes to make storage batteries goes beyond battery performance. Designs that vary the use of critical minerals can also help in addressing potential supply chain risks.
Securing their critical mineral supply chain could be vital for countries that have ambitious plans to scale up EV production and boost energy storage. The majority of graphite for anodes in Li-ion batteries, for example, comes from Asia, with China being the largest producer, according to research and consultancy firm Wood Mackenzie.
Mining alone will not satisfy the forecast demand, however, which will necessitate innovations that incorporate mining and circular economy principles. The International Energy Agency estimates that recycled minerals could reduce primary supply requirements by around 10%. 
Given that the largest source of recycled minerals will come from end-of-life, regions that have deployed such products more widely could potentially reap the rewards of having access to greater economies of scale. Leclanché's disruptive design could potentially hold a lot of appeal across battery and energy storage applications. Not only does it use less cobalt, but making cathodes easily recyclable can play a significant role in the circular economy.