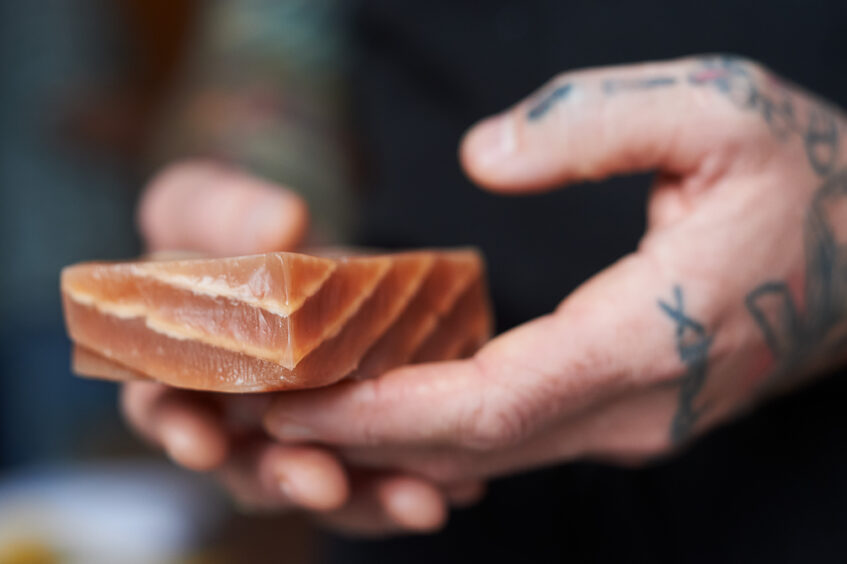 Canadian startup New School Foods has developed a method to produce whole-cut, plant-based salmon that looks like the real thing. It has also raised $12 million in seed funding.
New School Foods has developed a process that replicates the texture of fish using plant-based ingredients.
Real salmon is a hugely popular food but both its fishing and farming come with significant environmental consequences, alongside the ethical implications of eating animals.
The Canadian startup may become a pioneer in the alternative proteins industry if the public likes its whole cuts.
Toronto-based New School Foods has unveiled its proprietary, scalable platform to produce whole-cut fish alternatives that look and cook like ordinary seafood. The company has also announced $12 million in seed funding from investors Lever VC, Blue Horizon, Hatch, Good Startup, Alwyn Capital, Joyance Partners, as well as grants from multiple agencies, including Protein Industry Canada. The money will be used to expand the team of food scientists, scale up its scaffolding technology, and build out a research and production facility.
What does New School Foods do?
The company has spent three years developing plant-based whole cuts. Because its process uses off-the-shelf equipment from adjacent industries, New School Foods reckons it can scale further and faster than its competitors.
It said that its platform can replicate the diameter, length, strength and structure of fish muscle fibres to deliver the same texture and mouthfeel. Its scaffolding method produces filets that combine directionally aligned muscle fibres with plant-based connective tissue, fats, colours, and flavours.
According to the startup, a differentiating point is that its cold-based processing technology creates a filet that starts raw and transforms like fish upon cooking. Conversely, most meat and fish alternatives are pre-cooked by production. 
In fact, established production methods such as high-moisture extrusion use high temperatures that pre-cook the food and denature the proteins. New School Foods' technology, instead, uses a series of cold-based processes that allow to the product to stay 'raw' before being cooked, keeping the experience as close as possible to ordinary salmon.
"The next frontier of meat alternatives is whole cuts, and from day one we understood that New School Foods needed to solve two heavily connected issues: the quality of the meat alternatives in-market, and the limited toolkit our industry uses to produce them," said Chris Bryson, chief executive and founder of New School Foods. "What's generally available for consumers now are rubbery, ground, pre-cooked products that will not convince the average customer to change their lifelong habits."
The issues of real salmon
Real salmon is loved by many, but sourcing it sustainably presents many challenges. Once considered a luxury food, salmon has become one of the most popular fish species in the US, Europe, and Japan. 
It is estimated that 70% of the salmon consumed worldwide is farmed, a process that was first experimented in the 1960s and became a proper industry from the 1980s onwards. Nearly 2.5 million tons of salmon are produced each year, comprising between 288 and 674 million fish.
While farming salmon could provide more nutritional value, and more sustainably, to the world's growing population compared to other protein sources, unsustainable farming practices can cause significant environmental and social impact – before considering the ethical implications of eating animals.
The WWF considers salmon a priority commodity due to its impact on biodiversity, and is working with farms to move to responsible production. This is also being addressed by the Global Salmon Initiative, an initiative by farmed salmon companies worldwide looking to minimise their environmental footprint.
The industry poses a threat to biodiversity as chemicals and excess nutrients from food and faeces can disturb aquatic life, as well as deprive waters of oxygen. Excessive use of chemicals, such as antibiotics, antifoulants and pesticides can also be a risk to human health. 
Viruses and parasites transfer between farmed and wild fish as well as among farms, threatening wild populations or other farms, while salmon escaped from farms can compete with wild fish and interbreed with local wild stocks of the same population, altering the overall pool of genetic diversity.
In terms of social impacts, farming often employs a large number of workers on farms and in processing plants, which does provide livelihood but also places labour practices and worker rights under public scrutiny. Additionally, conflicts can arise among users of the shared coastal environment. 
Meanwhile, some species of wild salmon have been declared endangered in certain areas of the world, as human activity such as overfishing is causing a decline in populations.
The opportunity is in the whole cuts
According to New School Foods, the alternative protein market has yet to tap the opportunity of whole cuts. This is because reproducing their plant-based versions presents complex challenges such as texture, connective tissue, muscle fibres, and other macrostructures that exist in animal proteins.
Whole cuts, however, account for 80% of meat purchases in the US, such as chicken breasts, steaks and loins – highlighting a significant opportunity for plant-based products that will feel like the real thing. Indeed, taste and texture remain a key reason why meat and fish eaters do not switch to plant-based alternatives, even though many people are aware of their smaller environmental impact.
This is bound to change: according to the FAIRR investor network, plant-based products could reach parity in taste, texture and cost between 2023 and 2031. Increasing demand will lift the market to 10-45% of the total protein market by 2035, and to 25-50% by 2050.
As such, if New School Foods' has cracked the code for fake salmon, it may become a pioneer in plant-based whole cuts. The company will soon roll out its product, as it has begun a chef-only pilot programme ahead of the launch in restaurants across North America in 2023, with applications open on its website.
"We invested in New School Foods because they recognized that the existing production technologies in the plant-based meat industry are insufficient for creating a whole-cut product that consumers genuinely want to eat," said Nick Cooney, general partner at Lever Ventures. "Their technology is unlike anything else we've seen in the industry in terms of truly mimicking the texture, mouthfeel, and experience of cooking and eating whole cuts of meat."