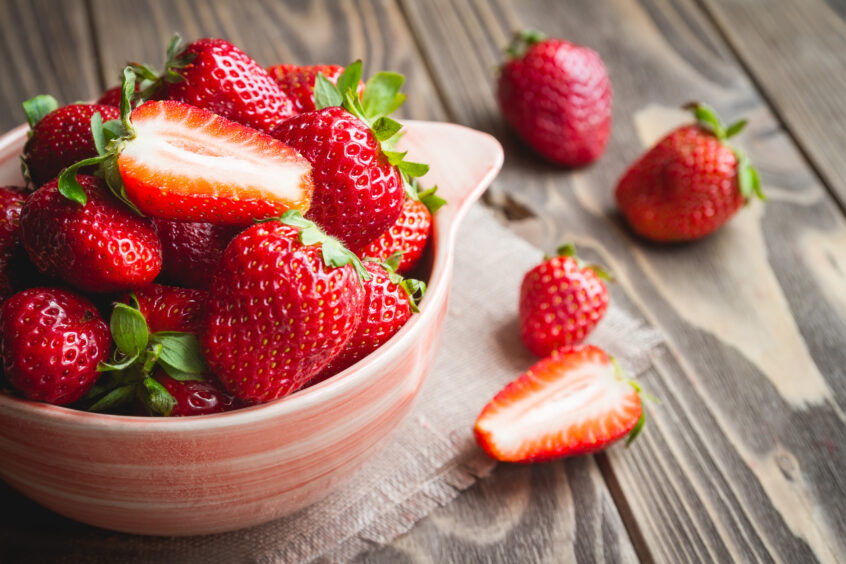 With the launch of a new strawberry variety, Singrow has commercialised its proprietary genomics platform for the development of climate-resilient food supplies. 
Singrow has combined a number of genomic engineering techniques to develop a variety of strawberries that can be grown in tropical countries.

 

The startup will now apply its technology to staple crops that are suffering the impacts of climate change, helping to make global food supplies more resilient.

 

Climate-resilient crops can be used to 

avert a major hunger crisis but they 

must be supported by many other solutions.
Singrow, a Singaporean agtech startup, has launched a new strain of strawberries that are purpose-engineered for their ability to grow under different climatic conditions. 
"Warmer temperatures caused by climate change has had significant impact on food production. We believe that molecular and genomics crop-breeding technologies is the future for agriculture, and we are proud to invent the future of agriculture in Singapore and tackle the toughest problems to secure the future of food," said Dr Bao Shengjie, Singrow's chief executive. 
Advanced genomics for the development of climate-resilient strawberries
Singrow's crops are grown on its indoor farms, where they are planted on vertical racks and fed by regularly submerging their roots in a nutrient-dense solution. With its patented cultivation system, the company can carefully control the environmental conditions of its units, while collecting real-time data on how its plants are responding to changes in growth factors such as temperature or humidity. 
This continuous stream of information has supported the development of Singrow's proprietary genomics platform, which combines techniques such as genomic sequencing, annotation and CRISPR gene editing to breed plant varieties that are tailored to thrive under specific conditions. 
Having noted both the costs and the carbon footprint of Southeast Asia's strawberry imports, Singrow's first project has been to develop an alternative variety that can be grown in tropical countries, rather than relying on temperate climates. Its final product, the company said, can produce substantial yields at any time of year – presenting a valuable opportunity for regional growers while lowering the cost to consumers. 
Strengthening global food supplies
Following the commercial launch of its strawberry variety, Singrow intends to apply its genomics platform to more crops including rice, corn and a selection of common vegetables. 
These staple crops provide vital sources of human nutrition, while also supporting global economic activity and the livelihoods of farming communities. As the climate continues to change, however, these crucial supplies are becoming increasingly threatened by rising temperatures, desertification, water scarcity and other related issues. 
This rising threat has placed the global population on the brink of a major hunger crisis, with the UN's Food and Agriculture Organization (FAO) warning that around 670 million people will not have sufficient access to nutritious food by 2030. Its conclusion is supported by reports from the World Food Programme, which suggest that the number of individuals experiencing acute food insecurity has already begun rising.  
With global food demand expected to increase by more than 50% within the decade, there is an urgent need to strengthen the resilience of our supplies. By developing climate-resistant crop varieties, Singrow provides a worthy example of the solutions that ought to be further explored. 
Complex problems require complex solutions
It is worth noting, however, that the challenges of the global food system are far too complex to be solved by a single solution. The need for increased food production cannot be allowed to overshadow the need for more sustainable modes of farming, or else we risk the continuation of a vicious cycle whereby the agricultural sector acts as both a driver and a victim of climate change. 
We all have our role to play in delivering the necessary transformation. Policymakers must increase their support of sustainable agricultural practices, while companies ought to pressure their suppliers to deliver more sustainable options. Consumers, meanwhile, must begin to reconsider their dietary choices and the environmental impacts of the goods they choose to purchase. 
These are just a few of the recommendations provided by the UN Environment Programme for the transformation of the global food system. Much like Singrow's solutions, none of these approaches will be able to succeed on their own. If combined, however, there may yet be some hope that the global hunger crisis can be averted in favour of an inclusive, prosperous and sustainable future.