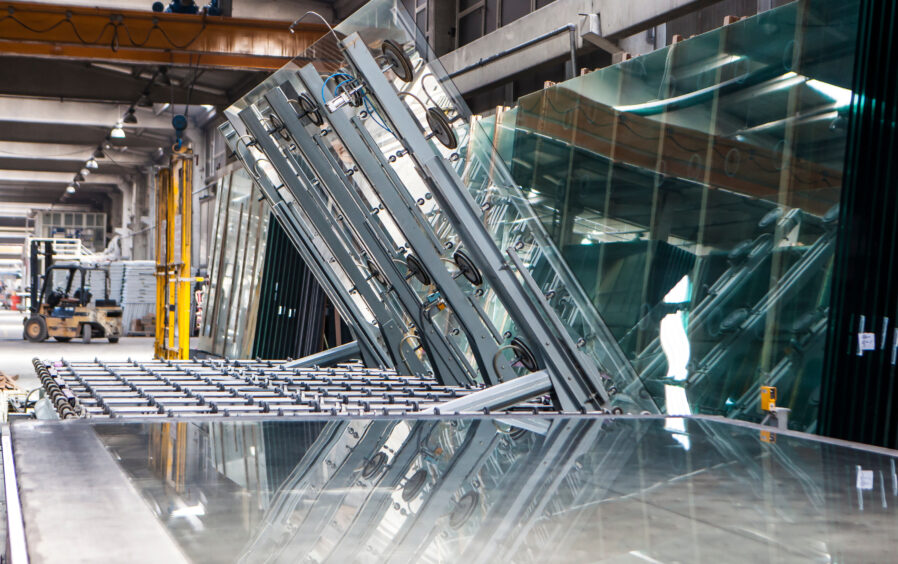 AGC Group (TYO:5201) and Saint-Gobain (LON:COD) have partnered to design a pilot flat glass line that is expected to reduce very significantly its direct CO2 emissions.
AGC and Saint-Gobain are teaming up to decarbonise the production of flat glass.
It is an essential material for heavy-emitting industries such as construction and automotive, but its own manufacturing is extremely energy intensive.
By lowering the carbon footprint of flat glass, AGC and Saint-Gobain can help their customers in reducing the embodied emissions of the final products.
AGC and Saint-Gobain are both manufacturers of various materials, including glass. They are partnering to come up with a flat glass line design with a smaller carbon footprint as part of their commitment to becoming carbon neutral by 2050.
What does the project entail?
AGC's patterned glass production line in Barevka, Czech Republic, will be entirely refurbished into a line that targets to be 50% electrified and 50% fired by a combination of oxygen and gas. The companies said this is a technical breakthrough compared to current technology used in flat glass furnaces fired by natural gas. 
It is intended to be "the most sustainable flat glass line design", contributing to both companies' paths towards carbon neutrality and to the acceleration of the flat glass industry decarbonisation. It is expected to be implemented on the patterned glass line by the second half of 2024.
This development will pave the way for the conversion of industrial flat glass lines in such a way that they can be powered mainly by low-carbon electricity, more efficient than gas solutions, reducing carbon emissions for customers. 
What is flat glass?
Flat glass is an essential material for buildings for glazed facades and windows. According to industry group Glass for Europe, no other material provides such transparency, energy efficiency, safety and durability at an affordable cost in the construction sector. 
It is also essential to build windshields, side windows, sunroofs, backlights and mirrors for the transport sector, and there are many other applications such as solar energy, electronics and digital devices, appliances and furniture.
Its production, however, is extremely energy intensive. Raw materials such as sand, soda ash, limestone and dolomite can only be melted at high temperatures, while kilns need to run continuously for up to 50 hours. Making float glass, which accounts for 80% of all flat glass, requires temperatures of 1,600°C to minimise defects.
Why does flat glass need to be decarbonised?
Most emissions, around 75-80%, come from the use of fossil fuels during the manufacturing process. In its Flat glass in climate-neutral Europe report, Glass for Europe said that biogas could represent an alternative source of energy, although there are currently limited quantities available to the sector.
It called for supportive policies and investment in infrastructure that can guarantee a supply of carbon-free electricity, independently of peak consumption time, through a versatile network and storage facilities. This would be complemented by waste management facilities to collect and recycle end-of-life building glass.
By decarbonising a key material in the supply chain, heavy-emitting industries such as construction and automotive will be able to lower their carbon footprint by addressing the embodied emissions of the final product.
As explained by Joana Arreguy, industrial director glass at Saint-Gobain: "We at Saint-Gobain believe strongly in innovation through collaboration… This reduction in direct CO2 emissions will benefit our customers who look more and more for low carbon products to be integrated in their solutions."