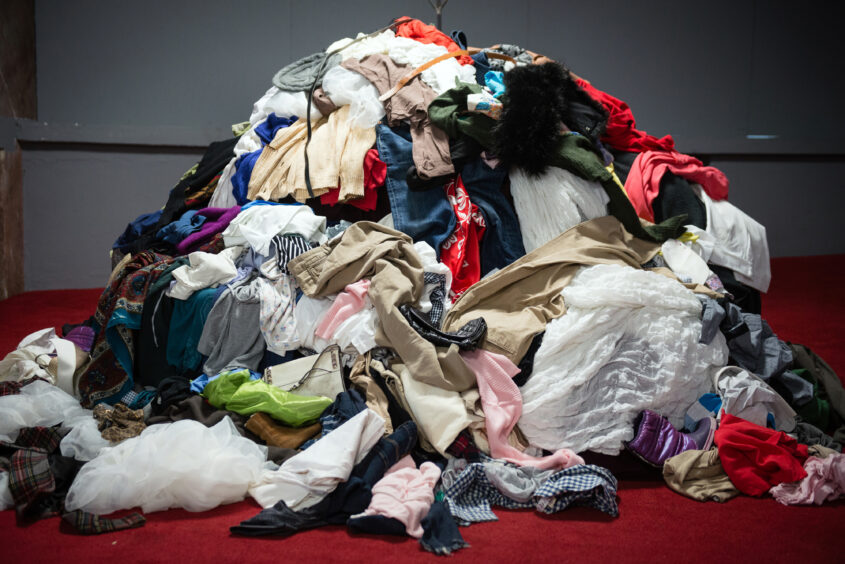 Hydrogen Utopia International (HUI) (LSE:HUI) has partnered with the Ethical Fashion Group to transform textile waste into low-carbon hydrogen and other valuable resources. 
HUI's technology will enable fashion companies to transform their synthetic textile waste into high-value products including hydrogen and other fuel alternatives.

 

Around 69% of the textiles we use are made from plastic materials, which consume significant volumes of fossil fuels, and are usually  disposed of

inefficiently

.

 

Industry collaboration could unlock limitless opportunities for the transition to a circular economy.

 
Under the strategic partnership agreement, HUI will launch a 'Fashion Pollution Solution' that converts plastic-containing textile waste into low-carbon hydrogen and other fuel alternatives. Its technology can be used to transform any materials that are partially or fully comprised of non-recyclable plastic, including polyester and polyamide blends. 
"Consumers are dressing themselves in plastic, often without knowing it, by buying over one trillion items of clothing a year that are destined to end up in incinerators or landfill sites," said Aleksandra Binkowska, founder and chief executive of HUI. "Our Fashion Pollution Solution will give manufacturers access for the first time to technology that turns these items into road-fuel quality hydrogen fuel that will power the next generation of carbon-free vehicles". 
"The technology developed by Hydrogen Utopia means that, for the first time ever, the fashion industry can be part of the solution to the epidemic of plastic pollution facing the planet, rather than part of the problem," added Harold Tillman, co-founder of the Ethical Fashion Group. 
From plastic problem to circular solution
Around 69% of the textiles we use are made from synthetic, plastic materials such as polyester, nylon, elastane or acrylic. Their production relies on the continuous consumption of fossil fuels, with estimates suggesting that around 59.7 million tonnes of oil were used to make textiles in 2020 alone. 
Combined with the energy-intensive nature of making synthetic fibres, this consumption of non-renewable resources has led fashion to emerge as one of the world's most carbon-intensive industries. The problem is only getting worse as the sector continues to grow, with its use of plastic materials having doubled between 2000 and 2020. 
Currently, the vast majority of textiles produced are inefficiently disposed of. Up to 25% of what enters the manufacturing process is wasted without ever being sold, while around 80% of used clothing items are downcycled, exported or landfilled. 
When these wasted textiles contain plastic, they contribute not only to the pointless use of fossil fuels but also to the release of harmful chemical compounds that leach into every crevice of the surrounding environment. 
In an ideal world, we would eliminate this waste and transition to a fully circular fashion system. Until this is possible, the next best option may be to convert the industry's waste into valuable resources.  
By converting plastic materials into hydrogen, for example, the waste that would otherwise continue to devastate the planet could be recycled into a high-demand fuel that could reduce the carbon footprint of emissions-intensive industries such as transportation, steelmaking or chemicals production.  
With hydrogen expected to deliver around 6% of the emissions reductions required to meet net zero by 2050, this option presents a valuable opportunity for the fashion industry. By ensuring that their waste is converted into useful products, businesses may be able to access additional revenue streams while reducing their impact on the environment. 
HUI's technology makes waste-to-energy a reality
HUI's technology may see this scenario becoming a reality. The company has developed a proprietary reaction system that enables it to convert wasted plastics into high-purity hydrogen and a synthesis gas that can be used to produce various base chemicals and fuel alternatives. 
Prior to entering the system, the plastic feedstock must be shredded and dried but does not have to be cleaned or sorted. It is then fed into the first reactor, where it is vapourised at a temperature of around 300°C. Any solid contaminants are cooled and removed, with no reactor gases released during the process. 
Next, the material is heated to 650°C, transforming it into a mixture of gases. Temperatures rise further still in the third stage reactor, reaching up to 900°C and causing the gas mixture to break down into a synthesis gas made up of methane, hydrogen and carbon oxides. 
This synthesis gas is then cooled, cleaned and decontaminated, allowing its hydrogen component to be extracted. The hydrogen is purified using a pressure swing adsorption system, while the remaining syngas can be used to produce various base chemicals or alternative fuels. 
Throughout the process, the reactions take place in the absence of oxygen. This means that they do not involve any combustion, so are able to avoid the conventional emissions of fuel production. Furthermore, HUI's use of green electricity ensures that its high temperatures can be reached without relying on the consumption of fossil fuels. 
Industry cooperation for the scale-up of circular technologies
With its 60,000 business members across 140 countries, the Ethical Fashion Group could well have the level of influence required to bring HUI's technology to scale. Although the details of the partnership are yet to be refined, Binkowska perceives it as a means of accessing the support and investment that the company needs. 
Currently, she said that engineering technologies remain largely separated from the problems they aim to solve. In the case of textiles, for example, she said: "Fashion is seen as being very glamorous, while engineering is thought to be boring. When we connect the two, we see that they are not so far apart when it comes to the planet." 
She added that, in an ideal situation, HUI's collaboration with the Ethical Fashion Group could result in additional partnerships with major retailers. These companies would be able to provide financial backing and increased public recognition, thereby enabling the Fashion Pollution Solution to be developed for widespread adoption. 
Such a collaborative approach will be undeniably powerful in the transition to a circular economy, as the waste of one industry may provide valuable resources for another. As industries begin to cooperate with one another, a limitless range of opportunities may soon come to light.