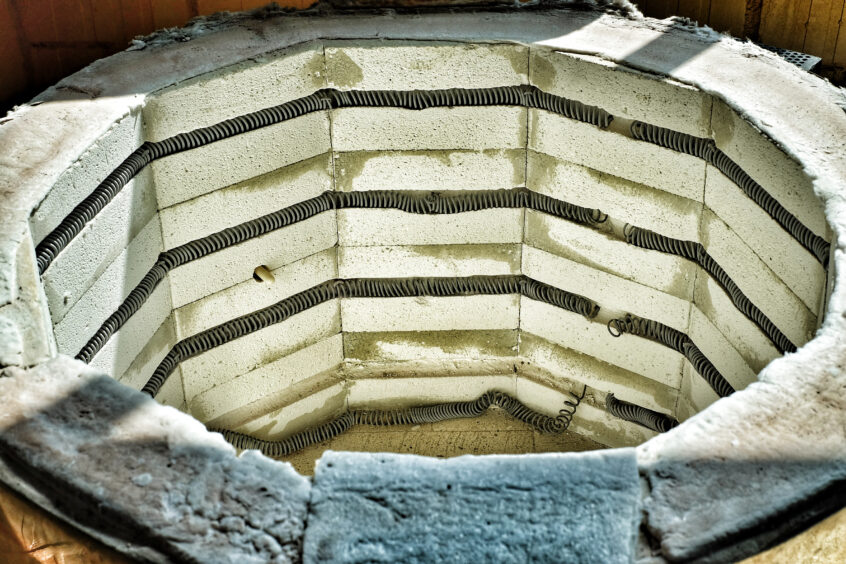 California based DAC specialist Heirloom has signed a Memorandum of Understanding (MOU) with Leilac, for the use of it's electric kiln technology in Heirloom's direct air capture (DAC) solution.
The MoU is intended to support Heirloom's goal of capturing 1 billion tonnes of CO2 from the atmosphere by 2035.
The combination of Heirloom's lime capture DAC and Leilac's electric kiln should support the scaling up of DAC.
Up to 10 billion tonnes of CO2 per year will need to be removed to hit the 1.5˚C target under the Paris Agreement.
The partnership between Leilac and Heirloom brings together two climate technologies to provide what the companies call an 'innovative, highly efficient and easily scalable approach to atmospheric carbon dioxide removal by DAC'. What makes the agreement interesting is the fact that both technologies are scalable and modular, and can be powered by renewable energy.
Heirloom's DAC approach
Heirloom is in the process of building DAC facilities leveraging natural carbon sinks for carbon removal. Carbon will naturally bind to minerals through air and water over long periods of time, eventually turning the minerals permanently into stone in a process known as carbon mineralisation.
The company runs America's only currently operational direct air capture (DAC) facility, using limestone to pull CO2 from the air. With a cost of approximately $10-$50/tonne, limestone is inexpensive and easy to source. Harnessing a cyclic process, the limestone is broken down into calcium oxide rock and CO2 gas using heat from a renewable-energy-powered electric kiln.
The calcium oxide is spread onto vertically stacked trays where it acts like a sponge – pulling CO2 from the air before it is returned to the kiln and the process begins again. The captured CO2 gas is then permanently stored.
In 2022 the company received investment from Microsoft, which also agreed a deal to buy carbon removal offsets through to 2025. In early 2023, Heirloom announced (with Carbon Cure and Central Concrete) what they believe was another world first – the permanent storage of CO2 in concrete.
Heirloom specifically focuses in the use of low-cost and abundant limestone, which Leilac's kiln technology is specifically designed for.
Leilac's electric kiln technology
Leilac's calcination technology efficiently separates and captures carbon dioxide from limestone to produce decarbonised lime. Its unique indirect heating approach requires no additional chemicals or processes and can be directly powered by renewable electricity. By keeping the process CO2 emissions pure, Leilac's technology removes the need to separate gases from gases, enabling it to target the lowest cost solution for the capture of CO2 from limestone.
Leilac's technology is proven at pilot scale, including through its pilot plant, Leilac-1, and three smaller electric units. In operation since 2019, Leilac-1 has a capture capacity of 25,000 tonnes of CO2 per year and is currently the largest carbon capture installation for cement in the world, outside China.
Leilac-2, a demonstration plant with a capture capacity of 100,000 tonnes of CO2 per year is due to open in 2024. Multiple engineering studies are in progression for full-scale installations of the Leilac technology at cement plants with capture capacities of ~1 million tpa of CO2.
Leilac CEO, Daniel Rennie said: "Over more than eight years, Leilac's decarbonisation technology has been developed for, and in partnership with, the cement and lime industries." Currently, Leilac's proven capacity is more than double the current combined capture capacity of all DAC facilities globally.
Combining the technologies
The technology partnership leverages eight years of significant investment from the European.  Leilac's decarbonisation technology was developed for, and in partnership with, the cement and lime industries. It provides an efficient solution for the separation and abatement of unavoidable process emissions released in the production of cement and lime and is designed to be powered by renewable energy sources and clean alternative fuels.
Heirloom will apply the same core Leilac kiln technology for direct air capture of CO2 emissions from the atmosphere. The partnership will also further accelerate development of Leilac's decarbonisation solutions for industrial emissions in cement and lime, helping to pave the way for full scale industrial electrification and CO2 abatement.
Heirloom's DAC technology  accelerates the natural binding of CO2 and lime from a period of years to just three days. After binding and removing CO2 from the air, the reformed limestone is fed back into the renewably powered Leilac kiln, where the CO2 is separated and captured, and the cycle begins again.
The CO2 removed from the air will be mineralised, where it is bound to rocks or other materials, or injected underground into existing natural geological structures, where it remains safely and permanently stored.
The integrated Heirloom and Leilac DAC solution will be 100% renewably powered to deliver the maximum net reduction of atmospheric CO2.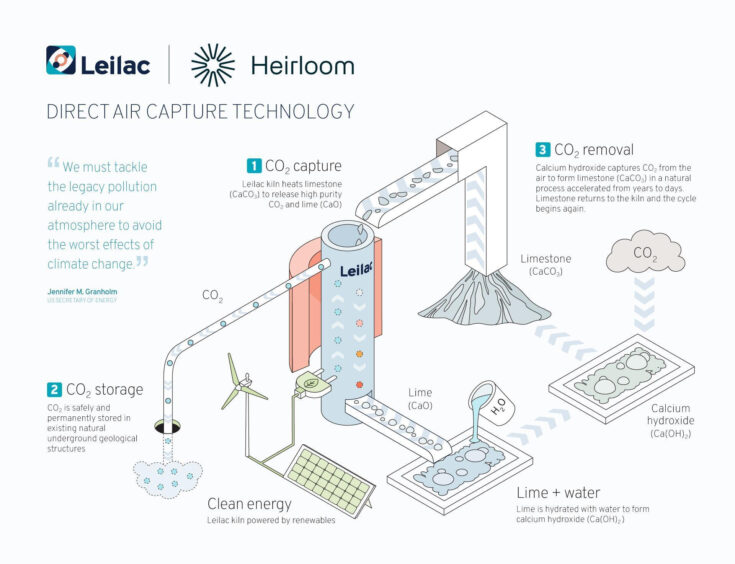 Role of carbon removal in the carbon offsets market
According to research from the Net Zero Asset Owner Alliance, net zero will require  carbon dioxide removal in the order of 1–10 billion tonnes of CO2 per year could mitigate residual emissions and, in most scenarios, achieve net negative emissions to return global warming to 1.5°C, following a peak.
Even the most aggressive emissions reduction projections from the IPCC will require the removal of 6-10 billion tons of CO2 per year by 2050 to stick to a 1.5˚C warming pathway. According to the International Energy Agency,  only 36 billion tonnes were removed in 2021 which shows that there is a long way to go to achieve the necessary scale.
DAC technologies are seen as some of the most promising methods of carbon dioxide removal, despite concerns about scale and land use. They have received government backing around the world, and recently received large investments from the US government through the Department of Energy's $3.5 billion DAC hub programme and the Inflation Reduction Act.
As a carbon offset, carbon removal can offer more permanent solutions compared to the highly popular forest carbon offset, which in some cases can actually emit more carbon than it claims to remove. For example, wildfires in California have destroyed the state's natural carbon sinks and the established carbon offset system cannot balance out the emissions released from the burning of trees.
Modular, scalable and low cost DAC technology, paired with geological carbon storage, can offer a path to removing ambient CO2 at the gigatonne scale. The MOU outlines the key terms for a global and binding licence and collaboration agreement, expected to be executed in the coming weeks.