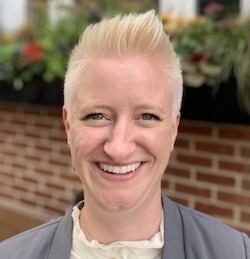 The circular economy is a solution that we're all familiar with these days – we recognise it's critical if we are going to reduce plastic pollution, overall raw material consumption and total greenhouse gas (GHG) emissions. More and more companies are establishing and activating strategies to increase the circularity of their products and packaging.
Bio-based products use plant-derived material in their formulations to absorb and store carbon.
An easy way for companies to begin decarbonising their supply chain is by exploring bio-based materials and products.
There is growing interest and awareness of bio-based products and the market is developing rapidly.
But until we make progress on circularity, where will our new raw materials come from? And how will we keep from going past the climate tipping point in the meantime? This is where bio-based materials, which store carbon pulled from the atmosphere, can play a vital role in helping companies reduce their climate impacts.
Bio-based materials are part of the inherently circular processes found in nature, leveraging the ability of plants to absorb and store carbon from the air. Products using bio-based materials go beyond the idea of reducing plastic waste and instead focus on reducing the amount of waste carbon in the atmosphere – an essential innovation that is growing in popularity as we collectively look for ways to keep global temperatures at safe levels.
Let's take a deeper look at what bio-based means and how these products can help organisations reach their sustainability goals.
A deeper look at bio-based materials
Collectively, we need to move away from virgin petroleum-based materials. And, while increasing recycled content for products has been and will continue to be an effective strategy, we're seeing more companies look to bio-based materials as another solution.
A bio-based material is, put simply, a product made from living or once-living organisms. An example of this would be kitchen utensils made from bamboo or a candle made from beeswax. These are more consumer-facing uses of bio-based strategies, but manufacturers are also integrating these materials into more unexpected products, like carpet tile, concrete and fiberglass.
These products do not themselves take carbon out of the atmosphere but instead use plant-derived material in their formulations to replace non-renewable materials.
It is the plants that absorb carbon from the atmosphere through photosynthesis and convert it to biomass, which can then be stored in our products and materials. By doing this, companies and manufacturers can keep previously absorbed carbon from re-entering the atmosphere and significantly reduce the carbon footprint of the product.
In 2020, our team at Interface launched the first-ever carbon negative carpet tiles. By using recycled content and bio-based materials in an innovative way, we created carpet tile backings that store carbon, preventing its release into the atmosphere. These products achieved a negative carbon footprint when measured cradle-to-gate, without the use of carbon credits.
Through innovations like ours, companies can make progress toward reducing the use of virgin raw materials.
How bio-based materials play a role in achieving climate goals
As manufacturers invest in innovation and produce bio-based materials and goods, they also help lower the carbon footprint of their customers' procurement. Many of our global customers at Interface are choosing products with carbon negative backings or carbon negative carpet tile to support their own climate ambitions.
This forms part of a larger trend of organisations looking more closely at how what they purchase or consume contributes to climate change.
While companies normally prioritize Scope 1 and Scope 2 emissions, it's becoming more urgent for the corporate sector to engage its supply chain to drive reductions in , including those from purchased goods. In fact, CDP reports that supply chain emissions can be 15x higher than direct or operational emissions for companies. Organisations must act on supply chain impacts and identify alternative processes or materials in order to reduce emissions. However, many struggle with determining where to start such efforts.
An easy way for companies to begin decarbonising their supply chain is by exploring bio-based materials and products. One best practice is to consult your current suppliers and ask if they offer any carbon-storing options or materials – they may already offer a product that you can consider. If they do not, then it may make sense to ask yourself what a product that stores carbon would look like for your organisation. Consider what you currently buy that could be made carbon-storing, who should you engage to make it happen, and how will you use it.
We recommend looking at your building materials first, as they represent a large opportunity to select products with a lower carbon footprint. Because the building sector is experiencing growth in the use and availability of recycled or bio-based materials, it is likely carbon-storing options exist that meet your organisation's needs.
What's driving interest in bio-based
It's important to increase awareness and understanding of bio-based products. We predict that interest in these kinds of materials will continue to grow rapidly in the coming years, and more customers will be asking suppliers if they have carbon-storing products available.
The USDA BioPreferred® Program aims to increase the purchase and use of bio-based products. It offers a catalog of bio-based products free to the public to drive awareness of products currently available for purchase.
In addition, requirements for federal purchasing include choosing USDA Certified bio-based products, when possible, for specific categories. To date, USDA has identified 139 categories of bio-based products for which agencies and their contractors have purchasing requirements. Each mandatory purchasing category specifies the minimum bio-based content for products within the category.
While the federal government is currently driving bio-based purchasing efforts, we anticipate that the private sector will follow suit over the next few years. This will give more consumers the opportunity to consider how their purchases impact global warming and encourage suppliers to invest in carbon-storing innovations.
Bio-based materials create the possibility of a circular economy for manufactured products, which helps create a climate fit for life.