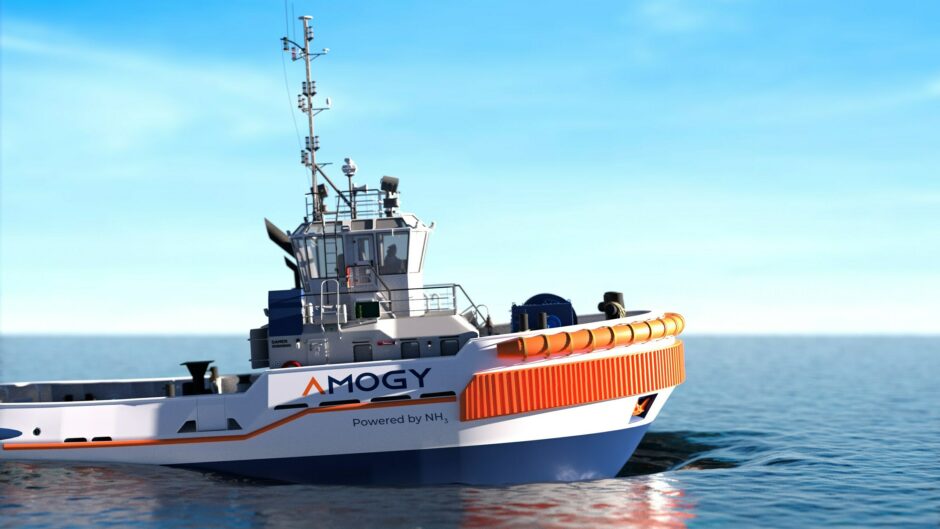 The use of green ammonia to decarbonise shipping may get a major boost when US-based startup Amogy demonstrates its technology to power a tugboat in late 2023, but policy support is needed to deploy the fuel at scale.
Amogy's zero-emission tugboat is scheduled to be demonstrated in late 2023, in what could be a major milestone in zero-emissions shipping.
According to the International Energy Agency (IEA), ammonia would be the leading fuel source for maritime shipping in a net zero by 2050 scenario.
While alternative fuels green ammonia will be key to reducing the maritime shipping sector's greenhouse gas (GHG) footprint, they will need policy to support the development of scale and supply chain.
Green ammonia has the potential to provide huge benefits to the maritime industry. Of the 6,000 container ships plying the oceans daily, 90% are powered by heavy-fuel oil –converting all of them to green ammonia power could save almost 1 billion tons of CO2 every year.
What does Amogy do?
Amogy is a US-based startup focused on delivering green ammonia-based, high-energy-density power solutions to enable the decarbonisation of the heavy-duty transportation sector.
Founded in 2020, the company has demonstrated its technology in powering a drone, a heavy-duty tractor and a semi-truck. It has so far raised $70 million in funding from investors such as Amazon (NASDAQ:AMZN), Saudi Aramco (TADAWUL:2222), SK Innovation, AP Ventures and DCVC. 
Amogy intends to extend the demonstration of its technology by sailing a tugboat later in 2023 in upstate New York, subject to additional safety testing and regulatory steps. The tugboat will be fitted with a 1-MW version of its system, three times the size of the one used in semi-truck field tests. 
The energy density of Amogy's power system is based on feeding liquid ammonia through its cracking modules, converting it to hydrogen, which in turn is integrated into a hybrid fuel cell system, driving the electric motors.
"We're incredibly proud of unveiling the first ammonia-powered vessel later this year — especially because of the hope, promise and anticipation that ammonia has built as a zero-emission fuel in the heavy transportation industry — specifically in regards to maritime shipping," said Seonghoon Woo, chief executive of Amogy. "This is the first milestone of many you will see from Amogy in accelerating the accessibility and scalability of clean energy in the global maritime industry. With successful demonstrations of our ammonia-powered drone, tractor and semi-truck under our belts, we look forward to presenting the first ammonia-powered ship in 2023, with a target to fully commercialise in 2024."
Ammonia to become the leading fuel source for maritime shipping by 2050
In the IEA's net zero scenario, while emissions from shipping are estimated to decline by 6% per year to 120 million tons of Co2 equivalent by 2050, the sector is one of the few transport modes that does not achieve zero emissions. This is due to the 25-30 year lifecycle of vessels and a lack of availability of low-carbon options for the sector.
Near-term emissions reduction, however, can be reached by using operational efficiency measures such as slow steaming and wind assistance technologies. To achieve sizable emissions reductions over the medium- to long-term, however, the IEA envisaged the use of low-carbon fuels such as hydrogen, ammonia and biofuels.
Ammonia and hydrogen appear to be good candidates, as they can achieve industrial scale while providing high energy density. The IEA estimated that the two will combine to account for over 60% of the energy consumed in shipping by 2050, with ammonia accounting for over 45%. 
Green ammonia for Amogy's demonstration will be provided by Yara Clean Ammonia (YCA), a subsidiary of Norway-based Yara International (OSL:YAR), which claims to be among the largest global producers and shippers of ammonia. 
What is needed to deploy green ammonia at scale?
The lack of low-carbon fuel alternatives and a rise in shipping traffic may leave international shipping's contribution to global GHG emissions unchanged, or even rise above the current 3% as other sectors reduce their carbon footprint.
Amogy has developed a proprietary ammonia-to-power technology that the company claims converts green ammonia to electric power effectively and efficiently. The deployment of this technology at scale, however, will require regulatory and policy support across the value chain, including increasing the availability of renewable energy capacity, and the development of infrastructure to support distribution and transportation. 
Despite tailwinds from policy initiatives such as REPowerEU and the US Inflation Reduction Act (IRA), along with ambitious national targets and plans, the implementation, tendering and permitting for renewable energy build-out is clearly lagging behind. This may affect the rollout of green ammonia, even though there has been a substantial decline in the cost of renewable energy.
A further requirement to deploy green ammonia at scale is to facilitate investment, which can help ramp up electrolyser capacity. According to the IEA, a 44% increase in capacity is needed by 2030 to develop the green ammonia and hydrogen capacity needed to achieve net zero by 2050.
The pressures of climate change provide the rationale to invest in the energy transition. Combined action from all stakeholders, including policymakers, the financial community and industry, including innovators such as Amogy, will be key to fuelling the transition.