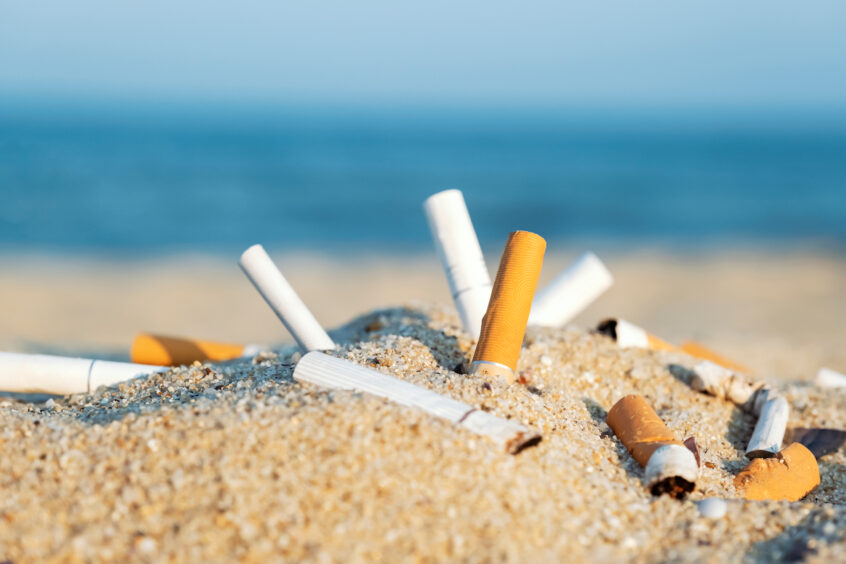 The City of Melbourne is set to host an unusual research project, using native fungi to recycle the discarded ends of cigarettes. 
The CigCycle project will use Australian fungi to upcycle cigarette litter into valuable resources.

 

Cigarette butts are the most common type of litter on Earth, with devastating impacts on the planet and its inhabitants.

 

Innovations in biotechnology will drive the transition to a circular economy.

 
Melbourne-based biotechnology startup Fungi Solutions has partnered with No More Butts, an Australian charity organisation, to launch its CigCycle research project. Funded by Sustainability Victoria, the project will explore the use of native fungi for the recycling of littered cigarettes. 
The most common type of litter on Earth
With an estimated 4.5 trillion discarded each year, cigarette butts are the most common type of litter on Earth. As well as detracting from the beauty of the natural environment, these butts have a devastating impact on the surrounding ecosystem. 
Each discarded cigarette end leaches toxic chemicals and plastic microfibres into local soils and waterways. These tiny components impact the health of plant and animal species, and can easily enter the human food chain. When consumed whole, as they often are by birds, small mammals and sea creatures, cigarette butts can have severe impacts on digestion before leading to poisoning or starvation. 
The cellulose contained within the compressed and plasticised acetate used to make cigarettes is particularly difficult for microbes to access. This lengthens the process of natural decomposition, with research suggesting that discarded cigarette butts remain in the environment for around 14 years.  
Given the rapid accumulation of such long-lasting waste, the footprint of cigarettes also involves hefty financial costs. As local authorities attempt to mitigate pollution, taxpayers' money is spent on removing the problem. In Australia alone, tobacco-related litter removal costs an estimated AUD$73 million per year.  
CigCycle project uses local fungi to clean up cigarette waste
Fungi Solutions has developed an unusual approach to waste management, which uses Australian fungi to convert untreated materials into useful resources.  
Waste streams including sawdust and media production backdrops are collected from local businesses before being shredded, hydrated and sterilised. The cleaned feedstock, known as substrate, is then used to grow a fungi culture that binds the waste and moulds it into a new form. 
Once harvested and heat-treated, this structure provides a stable material that can be upcycled into a replacement for single-use plastics, synthetic foams, polystyrene and similar products. These resources are both thermally and acoustically insulating, while also being fully compostable, fire-resistant and light in weight. 
Under the CigCycle initiative, Fungi Solutions will explore whether its approach can provide a viable method of dealing with discarded cigarette butts. Hospitality venues, construction sites, health care centres and industrial estates within the City of Melbourne will be invited to participate in a free trial, gathering their cigarette waste for collection by Fungi Solutions and No More Butts. 
"We're hoping that over time and with generations of cultivation, the fungi will become more targeted towards digesting cigarette butts. Then we hope to see them partially decompose the filter materials and break down some of the toxic components to create a clean by-product," explained Amanda Morgan, founder of Fungi Solutions. 
"We're essentially looking for any businesses that already collect cigarette butt waste through ash trays and bins," added Shannon Mead, founder of No More Butts. "Instead of letting these butts end up in landfill, we'll intervene, we'll pick them up for you and use them in our research." 
Biotechnology enabling the transition to a circular economy
Fungal biotechnology is already gaining traction, with mushrooms being used to develop sustainable products ranging from leather-like textiles to alternative proteins. Fungi's ability to break down complex materials has been successfully trialled in a number of applications, enabling burdensome waste to be converted into revenue opportunities. 
As the world faces major challenges including climate change, pollution and biodiversity loss, the rising demand for sustainable products and services is driving the rapid growth of the biotechnology industry.  
Recognising the sector's potential, national governments are supporting this growth with the development of dedicated policy measures. In doing so, they are creating a supportive environment that facilitates investment and enables future research, as demonstrated by the CigCyle project's funding from Victoria's statutory environmental organisation. 
With continuous innovation, biotechnology is enabling each stage of the conventional product lifecycle to be fully reimagined. Novel approaches are increasing the use of renewable materials, producing useful products that are tailored to deliver desired properties. These resources can be designed to have longer lifespans than conventional alternatives, and can often be disposed of without harming the environment. As shown by Fungi Solutions and others in the space, biotechnology is also being used to transform the waste of existing materials into valuable resources. 
Despite the increasing adoption of 'circular' business models that incorporate repair, reuse and other approaches to reducing waste while maximising revenues, the current economic system continues to rely on ongoing production and consumption. By offering alternative materials as well as a truly efficient approach to waste management, the biotechnology industry will significantly accelerate the transition to a sustainable and circular economy.