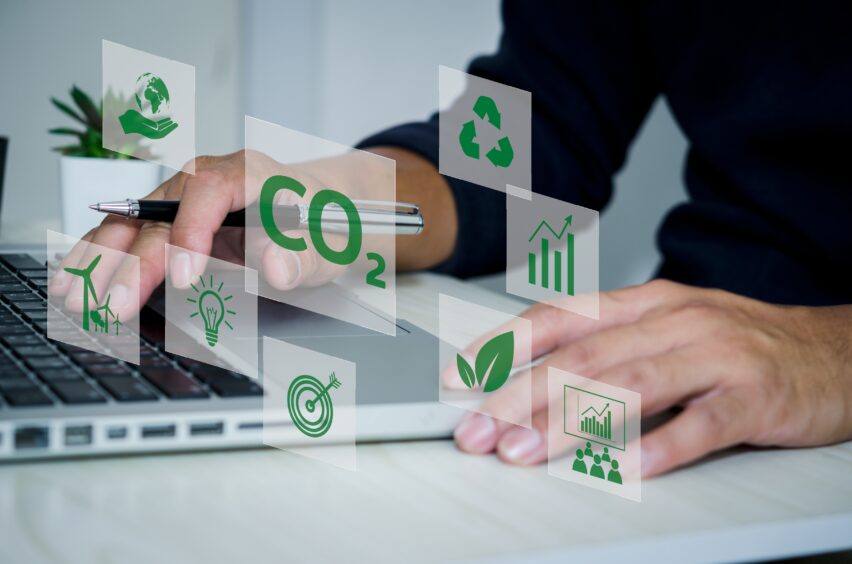 The Bezos Earth Fund announced $34.5 million in grants, as part of its $10 billion commitment to fight climate change and protect nature.
The Earth Fund has unveiled significant grant funding for emissions accounting and reporting, for the GHG Protocol and CDP.
It also announced grants for new approaches to affordable virtual fencing, which may help smallholders and contribute to a reduction in deforestation.
The final announcement was funding for addressing R&D challenges in developing alternative proteins, which are seen as a critical step on the pathway to net zero.
The funds will be used to support the development of some of the critical elements in the transformation to a low carbon economy. The grants are provided by Jeff Bezos's commitment to funding climate and nature solutions with $10 billion, all of which is to be deployed by 2030.
There is little question that companies need reliable information about their greenhouse gas (GHG) emissions and those within their supply chain to set ambitious climate targets and reduce their footprint. Today this is not only about voluntary targets and action, but increasing demand from investors and regulators to provide this information. As they rely on GHG accounting and disclosure services to do this, it is critical that such systems are robust, transparent and have integrity.
Given the rapid acceleration in demand for information on GHG emissions and corporate impact on the wider ecosystem, the Bezos Fund believes that the organisations behind the current standards and infrastructure for necessary corporate action need urgent updates to their guidance, systems, governance, and infrastructure to keep up with the rising demand for quality standards and services.
Supporting development in corporate climate accountability and disclosure
"The global demand for greenhouse gas accounting and disclosure is skyrocketing and must be scaled and modernized to deliver needed standards, tools and training," said Dr Andrew Steer, president and chief executive of the Bezos Earth Fund. "Trust in these systems is paramount and this investment in two critical corporate climate and accountability disclosure initiatives will help enable companies to take urgent climate action."
The Earth Fund is therefore supporting this effort with $19.1 million in new grants to CDP and the GHG Protocol. These build on earlier grants to drive ambitious corporate climate action to the Science Based Targets Initiative, The Integrity Council for the Voluntary Carbon Market and the Voluntary Carbon Market Integrity Initiative totaling $21 million.
Greenhouse gas accounting and disclosure
The GHG Protocol is the most widely recognised international standard for calculating and reporting GHG emissions and is embedded in all major climate standards and initiatives. The Earth Fund, in partnership with World Resources Institute and the World Business Council for Sustainable Development, is supporting this critical work with a $9.25 million grant. The funding will allow the GHG Protocol to update and clarify existing standards, develop new guidance, improve efficiency, and provide additional technical services to companies to improve the greenhouse gas data and reporting essential for a low carbon transition.
CDP, which has been recognised as the primary global mechanism for environmental disclosure, is to receive a $9.9 million grant to be used to update its disclosure framework and technical systems. This grant supports the update of CDP's processes and systems to improve performance and usability, as well as broader efforts to ensure that crucial climate data is publicly available.
It is increasingly clear, however, that limiting disclosure to emissions alone will be insufficient to drive the necessary change. As CDP's founder Paul Dickinson famously said: "you can't manage what you don't measure", so the Fund is exploring support for other approaches to disclosure.
Advancing sustainable agriculture
The food system is the second largest source of greenhouse gas emissions, and it is important to understand the pressures that climate change is putting on it. That means work must be done on how to transform how to deliver healthy and diverse food to a growing population, using less land and drastically reducing emissions.
The Earth Fund is to partner with Cornell University's College of Agriculture and Life Sciences and the Good Food Institute (GFI) to develop innovative solutions to reduce farming's impact on the planet and support research to develop alternative proteins to help feed a growing population.
There are a number of approaches that will be taken, including the implementation of new technologies. Cornell University's College of Agriculture and Life Sciences, for example, is to receive a grant of $9.9 million in support of a project developing low-cost virtual livestock fencing. It is believed that this will benefit farmers and animals, improve public health in developing countries and combat climate change.
Virtual fencing involves equipping animals with wearable, GPS-enabled devices that discourage animals from leaving grazing areas designated by animal managers. Existing technologies, however, are too expensive for most farmers in low- and middle-income countries.
Considering that the conversion of forests for agricultural purposes is a major cause of deforestation, this technology, by facilitating the introduction of rotation in cattle ranches across the globe, can take pressure off forests and bring about significant potential benefits to climate and nature by lowering emissions.
Accelerating alternative proteins for a sustainable food system
Despite a slowing in investment in alternative proteins in 2022, largely connected to an overall slowdown in global venture capital, plant-based, cultivated meat and fermentation companies across the UK and Europe raised a combined total of £510 million during 2022, nearly 24% more than the previous year.
A report by FAIRR, an investor network focusing on ESG issues in protein supply chains, estimated that plant-based products could reach parity in taste, texture and cost between 2023 and 2031. The alternative protein market size is forecast to represent 10%-45% of the total protein market by 2035 and 25%-50% by 2050.
The drivers for growth in alternative proteins such as plant-based and cultivated meat are the ways in which they can satisfy the growing demand for meat, while reducing pressure on the planet. They are a means of creating more sustainable livelihoods for farmers and other frontline food system workers while increasing resilience across the global food system. To be successful, they must reach taste and price parity to compete with conventional meat and be tailored to markets with high projected growth in demand.
In partnership with the GFI, a non-profit think tank and global network of organisations focused on alternative protein science and innovation, the $5.5 million grant will support research to catalyse the development of alternative proteins. This will include elements including policy, consumer, and market roadmaps to spur and sustain growth in specific geographies and foundational, open-access research grants to solve some of the most pressing R&D challenges in the sector.
"We must find new ways to feed and nourish a growing population without degrading our planet, and we can do it if we think boldly and act innovatively," said Lauren Sánchez, vice chair of the Bezos Earth Fund. "With these new partnerships and our $1 billion commitment to food transformation, we can rethink the food system and drastically reduce its footprint on our planet."