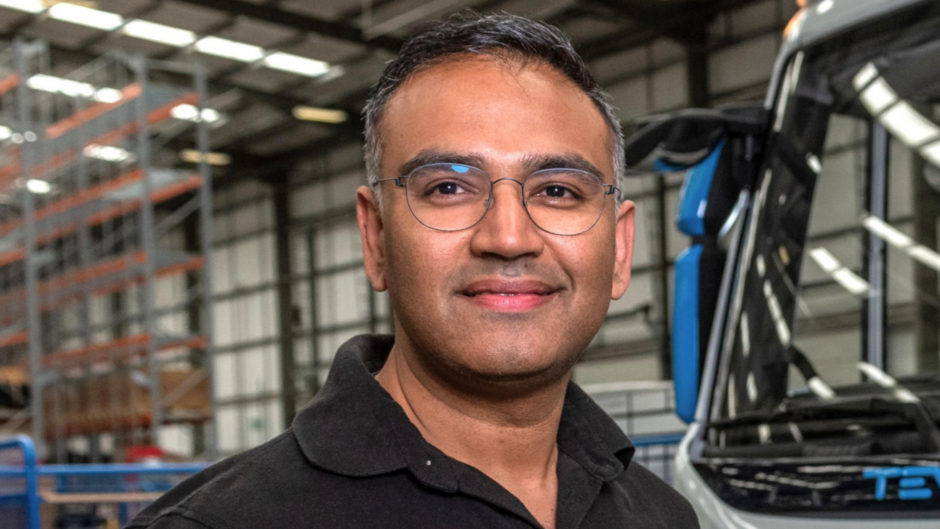 The UK does have a supportive and growing hydrogen ecosystem but the early adopters of hydrogen-powered trucks need support, writes Harsh Pershad, head of hydrogen at Tevva.
Hydrogen should make up 20-35% of the UK's final energy demand if the country is to reach net zero by 2050, according to official figures.
Trucks using batteries or hydrogen fuel cells instead of diesel engines will need to make up the vast majority of new sales by 2040 in order to decarbonise transport.
Their wider adoption, however, needs to be supported by more comprehensive infrastructure and help to the pioneers in the space.
The UK Hydrogen Strategy estimates that to meet net zero aims by 2050, hydrogen will make up 20-35% of the UK's final energy demand (250-460 TWh a year). Hydrogen therefore has a critical role to play in the decarbonisation of industry, power, heat and transport.
Yet in her March 2023 report, the UK Hydrogen Champion found that there is a need for greater clarity on upcoming policy decisions for hydrogen users, the funding available and overall delivery of the hydrogen roadmap to 2030 and beyond. Is the UK really doing everything it can to maintain momentum and realise hydrogen opportunities?
Decarbonising transport is key to reach net zero
Tevva's area of expertise – transport – will have a critical role to play in our country's decarbonisation goals. Worldwide around a fifth of CO2 emissions comes from trucks, and both McKinsey and the Hydrogen Council believe the most competitive use of hydrogen lies in decarbonising trucks.
Trucks using batteries or hydrogen fuel cells instead of diesel engines will indeed need to make up the vast majority of new sales by 2040 under plans to reduce CO2 emissions from medium- and heavy-duty vehicles. Yet, only around 700 trucks that run on batteries or fuel cells were sold in Europe last year – about 0.2% of the total.
The good news is that the economics of owning and operating electric and hydrogen trucks, their total cost of ownership or TCO, are improving rapidly. And with diesel truck prices set to increase with Euro 7, electrification of our sector could happen sooner than previously thought.
The challenges of rolling out hydrogen technologies
Yet there are still serious challenges around the lack of hydrogen refuelling stations and the fact that most fleet operators have no experience of hydrogen, in addition many hydrogen suppliers have no experience of truck fleets.
As an early adopter and developer of hydrogen technology, Tevva is playing an important role in demonstrating the potential for hydrogen electric trucks. We showcased our concept prototype 7.5t and 19t hydrogen electric trucks at the IAA in Hanover last year and have been encouraged by the high level of interest in these dual energy vehicles.
In January we took the 7.5t prototype on a 'border run' to Berwick-on-Tweed, England's northernmost town. On the way up we stopped at an Element 2 refuelling station in Teesside, and the return journey saw us cover almost 350 miles without needing to stop at all. This was made possible by the truck's hydrogen fuel cell which tops up the range-extended vehicle's lithium battery when needed.
Still, there is an urgent need for a more comprehensive hydrogen refuelling network in the UK, and the speed and scalability of hydrogen refuelling systems will be crucial to adoption while keeping costs under control. Element 2 is doing great work in this space. They are in the process of putting a skeleton network in place with 100 miles between each refuelling station, giving confidence to any haulage company that is considering hydrogen electric trucks.
UK needs to seize the opportunity
Today the UK has pockets of megawatt (MW)-scale hydrogen activities that are evolving alongside ambitious proposals for gigawatt (GW)-scale low carbon hydrogen clusters by 2030. Learning from initiatives in Europe, Asia and North America, as well as the UK's own experiences, coordination is vital to minimise costs and maximise the benefits of hydrogen infrastructure. The opportunity is now for UK central, regional and local government bodies and industry to plan and invest jointly to grow hydrogen transport systems holistically.
The UK does have a supportive and growing hydrogen ecosystem with many public bodies, new and established companies, universities, and others building their hydrogen capabilities and strategies. However, the experience of individual organisations and maturity of cross-industry collaboration in dealing with hydrogen systems is typically orders of magnitude lower than for traditional fossil fuel systems.
Therefore, in the short term early adopters need more support to overcome the limited infrastructure and complexity of supply chains, higher unit costs, and long or uncertain lead times for hydrogen products and services.
As low-carbon hydrogen becomes cheaper and more widely available, hydrogen refuelling has the potential to become as simple as diesel refuelling is today. We are committed to making hydrogen convenient, affordable and sustainable for truck fleet operators. Achieving the UK's net zero goals depends on it.
The opinions of guest authors are their own and do not necessarily represent those of SG Voice.