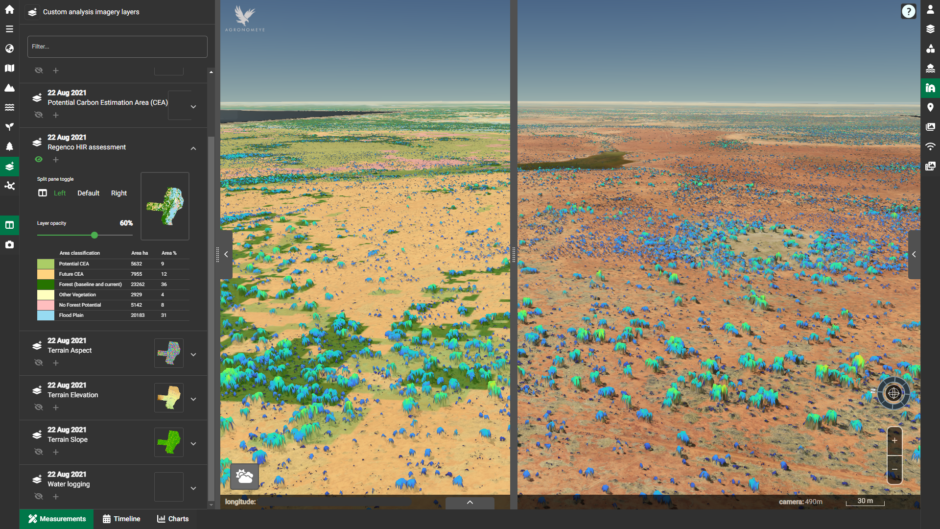 RegenCo and Agronomeye, have partnered to help Australian farmers calculate their potential contribution to the carbon markets. 
RegenCo and Agronomeye have developed 3D technology for farmers to understand the limitations or possibilities of their land.
The initiative follows an independent review of Australia's carbon credit scheme that called for more transparency in the market.
Carbon trading can play an important part in the country's net zero journey while delivering benefits for farmers, but needs to be implemented with integrity.
RegenCo is a natural capital business, specialising in agricultural productivity, land management and carbon projects, which has registered carbon projects across four million acres. Agronomeye develops digital technology to create maps and models of farms, helping landowners and managers understand what's going on across their property, in real time. 
How does it work?
The partnership utilises a 3D model that allows farmers to combine data sources such as yield maps, machinery, weather and on-farm sensor data, with ongoing tracking of a landscape using lidar technology. Agronomeye's technology creates 3D whole-of-farm models that show ground cover, areas of forest and native vegetation, down to the individual tree, along with water flow and topography. 
This allows farmers to understand the limitations or possibilities of their land, supporting them in their decision-making. It also helps users to identify areas of land that are suitable for carbon farming.
Meanwhile, RegenCo's team will work closely with landholders to identify opportunities for carbon farming and human induced regeneration – the sequestration and storage of carbon at the farm level and in vegetation, respectively.
These models provide data on what is already being grown on the land, what areas of the farm are suitable for carbon farming and what areas cannot be used. Data updates are regularly provided to users, allowing farmers to measure changes to the landscape, adding a layer of transparency and integrity to the carbon trading model. 
"While there is no independent mechanism to directly verify the modelling, Agronomeye collaborates with reputable providers of LiDAR data, ensuring quality assurances are embedded in their offerings," the company said. "Through accuracy statements and established processing pipelines, we maintain a strong assurance that the underlying input data can be easily verified against industry standards. Our commitment to working with trusted LiDAR data providers ensures reliability and adherence to quality benchmarks, to assure confidence in the accuracy and credibility of our modelling."
The carbon market opportunity for farmers
Australia has committed to a 26-28% reduction on 2005 emissions levels by 2030 and is looking to achieve net zero by 2050. Carbon trading is considered an important tool to get there as well as involving existing industries, such as agriculture.
In particular, carbon farming can deliver a range of socio-economic benefits, such as improved biodiversity, reduced soil erosion and salinity control, as well as indigenous community development, increased income for farmers and avoiding land conversion.
According to the Carbon Market Institute, carbon farming could deliver 360-480 million tonnes of CO2 abatement in Australia alone, generating revenue of AU$10.8-24 billion and 10,500-21,000 direct and indirect jobs – all by 2030. The development of a new market, however, requires significant engagement between stakeholders and the authorities, including widespread clarity on its mechanisms and effective measurement of the potential for carbon sequestration.
Call for more integrity and transparency in the Australian carbon market
RegenCo chief executive Greg Noonan said that the project will help improve the integrity of the Australian Carbon Credit Unit (ACCU) scheme. 
ACCU is a government initiative to remove greenhouse gases from the atmosphere, or to prevent their emission. It supports carbon farming initiatives leading to the allocation of one ACCU for each tonne of carbon abatement. It also allows some ACCUs to be purchased by the Australian Government, some by emitters to offset a proportion of their continuing emissions, or traded on the domestic market.
The Government sees it as a key tool to achieve its net zero ambitions, but the integrity of the scheme has been called into question over accusations that the level of abatement has been overstated.
An independent review published in December 2022 found that there was evidence both proving and disproving this point, with the panel concluding that "the scheme was fundamentally well-designed when introduced" but could do with some improvements. It recommended the market to be more transparent, for example by removing unnecessary restrictions on data sharing and improving information and incentives, including in relation to non-carbon benefits and attributes.
All of RegenCo's human induced regeneration projects fall within the Australian Government's Emission Reduction Fund (ERF) and, as it supports landholders and farmers to create and sell ACCUs, it abides by regulations established within the Australian Government's Carbon Farming Initiative.
"The Independent Review of Australian Carbon Credit Units (the Chubb review) called for greater transparency in Australia's carbon offset scheme but provided no specific tools or strategies on how to address this," Noonan said. "Our partnership will put the farmers in the driver's seat by supporting decision making, protecting the environment and enhancing productivity and profitability."