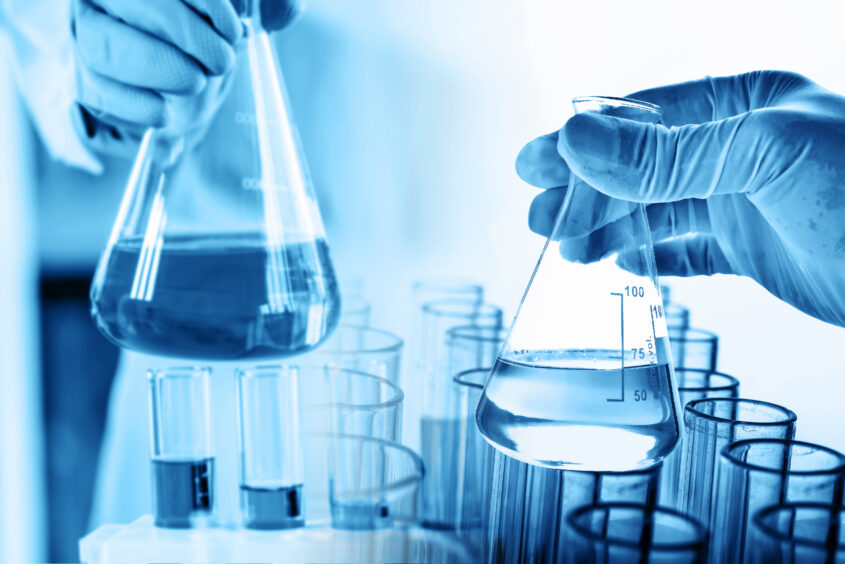 Together for Sustainability (TfS), a network of 47 international chemical companies, will use Siemens' (LSE:0P6M) technology to accelerate the decarbonisation of the industry's value chain. 
TfS will pilot the Sigreen solution for the calculation and communication of carbon emissions that are generated across the supply chains of chemical products.

 

The chemicals industry is on track to increase global temperatures by around 4°C, but the difficulty of assessing its suppliers' emissions is hampering its decarbonisation.

 

Digital technologies could serve as an enabling condition of the collaborative approaches that will ultimately deliver the net zero transition.

 
Siemens, the multinational technology conglomerate, has partnered with TfS to support the chemicals industry in calculating and communicating its Scope 3 emissions. The company's Sigreen solution will be used to determine the lifecycle footprint of individual products, enabling businesses to discover and collaborate on new opportunities for carbon reductions. 
Ultimately, the partners hope to prove that Product Carbon Footprints (PCFs) can be communicated across an entire industrial segment. Following an initial pilot of the technology, Siemens' solution will be deployed by every TfS member to create a standardised approach to the exchange of emissions data. 
"The partnership with TfS is a major step for the global chemical industry," said Roland Busch, Siemens' president and chief executive. "Sigreen allows companies [to] exchange emissions data from their supply chain securely and confidently. With this information, they can make better decisions to reduce their carbon footprint."   
Digital platform enables transparent communication of sensitive data
The Sigreen platform enables companies to gather data from their suppliers and map out the carbon emissions that are generated at each stage of a product's value chain. This is intended to help them develop more effective decarbonisation strategies.
Rather than relying on static datasets of industrial averages, the Sigreen technology gathers data in real time. Each organisation involved in the value chain calculates its own direct emissions and aggregates its figures with those of previous and subsequent parties. This produces a dynamic flow of data that reflects the emissions of specific suppliers, as each entity can communicate any changes by updating their reported values at any time.  
According to Siemens, the Sigreen platfomr can ensure that sensitive information is securely protected. Digital credentials are assigned to every value provided, containing relevant metadata that supports the verification of reported figures while allowing each company to retain control of its records. 
Sigreen's use in the chemicals industry
With its excessive consumption of fossil fuels, the chemicals industry is on track to increase global temperatures by around 4°C by 2050. In doing so, it would single-handedly obliterate the targets established under the international Paris Agreement of 2015. 
Evidently, the sector is in urgent need of rapid decarbonisation. As of August 2022, however, only 17% of the industry's players had committed to targets that aligned with the Paris Agreement's goal of limiting global warming to a maximum of 1.5°C. 
To some degree, this failure can be attributed to the complexity of calculating the emissions that are generated either upstream or downstream of each entity's operations. These Scope 3 emissions are thought to account for around 77% of the average chemical company's overall footprint, but their measurement has emerged as a major challenge. 
The overwhelming number of processes, technologies and ingredients that are involved in chemical production has made it difficult to develop a standardised approach for the calculation and comparison of Scope 3 emissions. 
These are the challenges that TfS intends to resolve. With members including Henkel (XETR:HEN3), Merck (NYSE:MRK) and BASF (XETR:BAS), the coalition's global annual turnover of around €800 billion could be extremely influential. 
In 2022, TfS released its sectoral guidelines for the calculation of PCFs. The framework adopts a collaborative approach to the collection and sharing of carbon data, encouraging members to engage with every single one of their suppliers.  
By standardising this approach, the TfS initiative hoped to strengthen the transparency of the chemicals industry, making it easier for companies to benchmark their progress and for stakeholders to base their decisions on reliable comparisons. 
The partnership with Siemens will support these goals by aiding the framework's implementation while ensuring that industry suppliers feel safe in disclosing their data. Chemical companies will gain detailed and accurate insights into the emissions that are generated across their products' value chain, with consistently updated values informing their decisions in real time. 
"Sigreen will equip us with the solution for embedding our Product Carbon Footprint Guideline in operations at scale," explained TfS president Bertrand Conquéret.  "A trusted environment where all partners can safely share their PCF data powered by the Together for Sustainability PCF Guideline is a vital step and accelerator in driving decarbonization across the chemical industry." 
Industrial collaboration as a driver of decarbonisation
Individual chemical companies tend to be positioned somewhere in the middle of a particularly complex, global value chain, working with businesses of different sizes, models and motivations. In such a diversely scattered context, it can be difficult to address issues as complex as carbon emissions. 
As a multi-stakeholder initiative, TfS is creating space for collaboration. Its PCF Guideline encourages companies from across the industry to adopt a standardised approach to calculating carbon footprints before working together, in order to reduce the cumulative impacts of the entire sector. 
Given that chemical products are used in downstream activities across all sectors of the global economy, this work could help to accelerate the decarbonisation of fellow industries. For example, downstream buyers will be able to select low carbon options that allow them to accommodate consumers' demands while complying with new regulations. 
The collaboration between chemicals companies could also serve as inspiration for other sectors. Most legacy industries face a similar challenge when it comes to the standardisation of carbon calculations, which they will struggle to overcome unless they start sharing their knowledge and expertise. 
With the reporting of Scope 3 emissions being incorporated as a mandatory requirement of major international standards, industrial collaboration may soon be advanced out of sheer necessity. For those that are not yet ready to openly share their information, technologies such as Sigreen could be an important enabling factor.