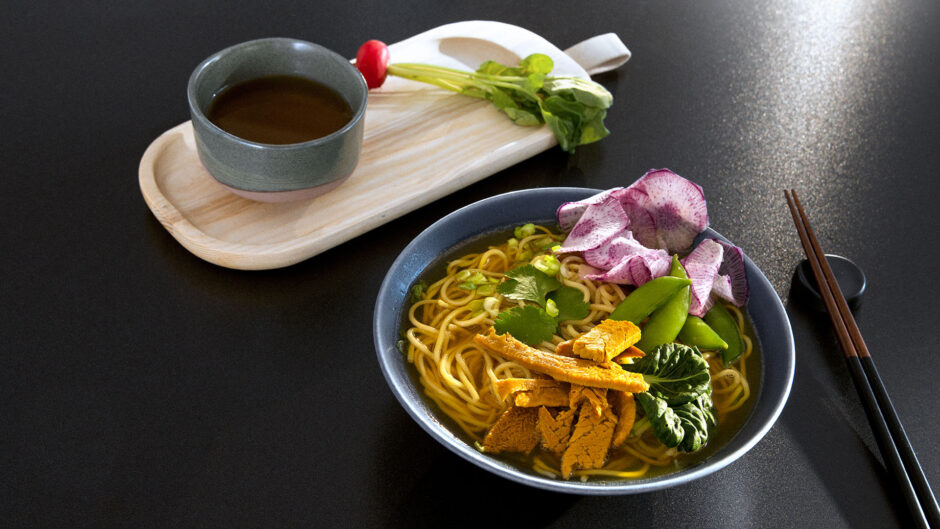 Solein, a novel protein ingredient made from thin air and electricity, is approaching commercialisation following its first official sampling in Singapore. 
Solar Foods has developed a high-protein ingredient that is made without any agricultural inputs.
The world is on the brink of a global hunger crisis, but conventional agriculture is rapidly exhausting its resources.
Singapore's acceptance of novel ingredients is an example of the enabling conditions that will be needed to achieve a sustainable future.
On 25 May 2023, a select group of guests was invited to sample an unusual tasting menu. Each recipe had been purposely designed to champion the use of a novel protein ingredient made from nothing but microbes, thin air, electricity, nutrients and minerals. 
The ingredient, known as Solein, is the creation of Solar Foods. The Finnish startup has been working on its development since 2017, with the recent sampling in Singapore being its first official tasting. 
"This is the first time in history humankind can be provided with edible calories that at no point require photosynthesis," said Pasi Vanikka, chief executive of Solar Foods. "So far photosynthetic plants have been the only feasible way to receive energy from the sun to feed humankind. Now, this process can be by-passed in its entirety." 
Microbial fermentation for farm-free food
Solein presents as a yellowish powder with a starch-like texture and what has been described as a mild umami flavour. It can be used in a wide range of foods including sauces, spreads, noodles, pasta, bakery items and meat alternatives.  
The powder is low in fat, high in complete protein and a rich source of vitamins and minerals. In theory, it can be used to enhance the nutritional profile of conventional products and recipes without altering their taste or texture. 
What makes Solein unique, however, is the technology behind its production. Rather than relying on agricultural cultivation, it is produced through microbial fermentation. 
First, renewable electricity is used to extract hydrogen, oxygen, nitrogen and carbon from the surrounding atmosphere. These components are placed in a bioreactor, where they are consumed by naturally occurring microbes. 
As they are fed, the microbes continue to grow and multiply, thickening the water contained by the reactor. This slurry can then be removed and dehydrated, with the resulting powder ready for its use as Solein. 
According to Solar Foods, this novel process is 20 times more efficient than the photosynthesis of crop production and around 200 times more efficient than rearing livestock. Its yields are not dependent on suitable climate conditions, and the only land required is the space of the lab. With no need for sunlight, chemical inputs or fertile soils, Solein can be produced from anywhere in the world with minimal impact. 
Climate-resilient production to avert a global hunger crisis
While it may seem futuristic, there is little doubt that Solar Foods' innovation has come at a critical time. Food insecurity is on the rise, with projections suggesting that around 670 million people will be lacking sufficient access to nutritious food by 2030. 
At the same time, the climate is becoming less and less hospitable to the production of additional supplies. Vital resources are growing scarce, while those that remain are increasingly threatened by rising temperatures, desertification and disastrous weather events. 
Even if we were able to continuously expand our existing methods of food production, we may cause more harm than good. The current food and agricultural system accounts for a third of the world's greenhouse gas emissions, placing it among the biggest contributors to the very same challenge it faces. 
Of these emissions, around 39% come directly from agricultural production. Changes in land use account for a further 32% while the remainder are the result of supply chain activities such as retail, transport, consumption and waste.  
By replacing these operations with microbial fermentation, global emissions could be drastically reduced. There would be less need to fight over scarce resources, and food producers could be assured that climatic changes would not interrupt their supplies. Ultimately, a greater quantity of food could be produced, averting the risk of global hunger. 
Singapore's acceptance marks a step in the right direction
Despite the clear advantages of this biological approach, the adoption of such technologies will depend on multiple factors. The general public will have to be convinced of new products, and investors must be persuaded to take on the risk of unproven technologies.  
Among the current limitations of fermentation-derived ingredients is the lack of regulatory support. In most countries, such ingredients must meet certain criteria to be considered as "novel" before being subjected to stringent approval processes. 
In the EU, for example, these ingredients are assessed on a case-by-case basis. For ingredient manufacturers, this is a time-consuming procedure with little guarantee of success. In the US, meanwhile, new ingredients must be approved by the Food and Drug Administration (FDA) unless they are already generally recognised as being safe. 
Other jurisdictions are a little more friendly, with Singapore leading the way. In 2020, it became the first country to approve the sale of cultivated meat and adopted a dynamic approach to the regulation of emerging ingredients. Since then, Singapore has consistently updated its guidance on novel foods to provide the utmost transparency while incorporating the feedback of industry players. With this flexible approach, it has been able to respond to emerging innovations in the rapidly evolving sector.  
Solar Foods is among the many beneficiaries of this enabling environment. In September 2022, it was awarded Singapore's approval for the sale of its powdered ingredient. 
Now that Solein has been sampled, Solar Foods' next step will be the completion of its scaled-up production facility. Construction in Finland has already begun, with the factory to open in 2024. With this expanded capacity, the company hopes to reduce its commercial prices before partnering with Singaporean food companies to launch some initial products. 
Solar Foods' trajectory highlights the role of national policymakers in the adoption of novel solutions. Without the support of Singaporean legislation, the company would most likely be stuck in a bureaucratic process of securing approval.  
This is a vital lesson to be learned, as without enabling conditions we cannot hope to deliver a sustainable future. Without the support of national policies, there is only so far that innovation can go.