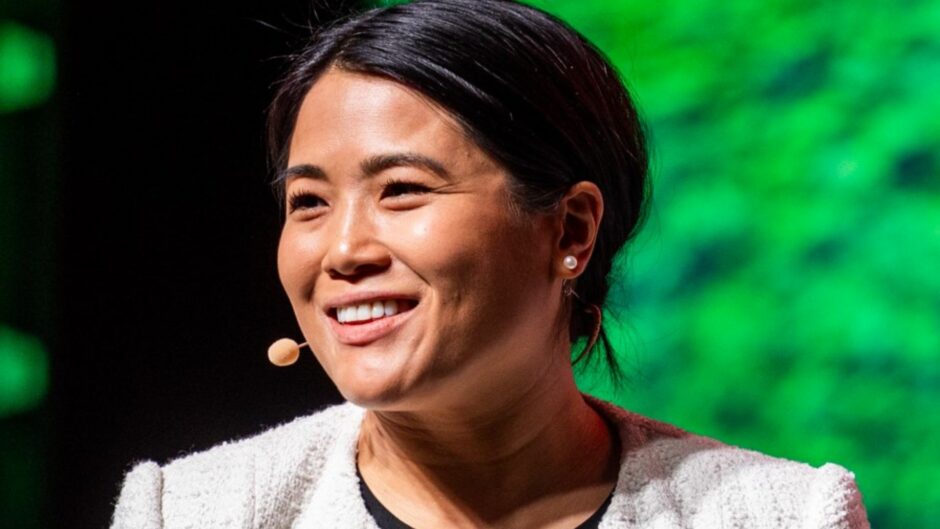 More businesses are embracing circularity practices that reduce waste and resources, as well as recirculate products and components to extend their lifespans. Frances Iris Lu, head of sustainability at Danfoss, explains how circularity is impacting the development of new products.
Circularity enables us to tackle the triple crises of climate change, biodiversity and pollution. Today the world consumes 100 billion tons of materials, and we are on track to reach 190 billion tons by 2060.
Nearly half (45%) of global CO2 emissions are associated with making products, but keeping components and materials in use as long as possible helps reduce their impact on the environment and ensures efficiency.
The circularity challenge cannot be solved by a simple snap of the fingers but, by making progressive change to the design of new products, we can cut emissions and reduce waste.
Danfoss has chosen circularity as one of our three major focuses of our ESG ambition, alongside decarbonization and diversity, equity & inclusion. We recognize that the manufacturing industry has a pivotal role to play in decarbonization, including through circular business models.
The circular economy principles – eliminate waste and pollution, circulate products and materials, and regenerate nature – sound simple enough, but they are more complex to apply in practice. In Danfoss, our focus is on mechanical and electronics products, and we recognize the importance of working with industry peers, suppliers and customers to start innovating best-in-class circular products. Our approach is based on the three principles of 'Rethink, Reduce and Recirculate'.
Rethink: designing for a better future
The Rethink principle asks us to reconsider the way a product is offered to the market. Product design and development are essential for a circular transition. Circularity decisions, such as those concerning the type of material, assembly method, and expected lifespan, made during the early design stages will significantly influence a product's quality, cost, esthetics, sustainability, and circularity performance over the product lifecycle. It's important to consider circularity parameters very early in the design stages of the product, where most changes can be deployed with the lowest impact on the product and its cost.
Close attention can be paid to how products and materials are kept in circulation through processes such as reuse, repair, remanufacture and recycling. Other considerations include reducing the amount of material used in the product, focusing on reliability and durability, preparing for future disassembly or recycling of components, or increasing the use of recycled materials.
In the plastic department at one of our manufacturing sites in Denmark, we now reutilize plastic that would otherwise have been wasted to cast new plastic items. The manufacturing process for plastic parts generates waste from the inlets in the plastic tools used during the molding process.
Historically, this plastic waste has been sent for either recycling or incineration. But, by establishing grinders on the plastic molding machinery, we are now capable of reusing the plastic for casting new plastic items. By 2023 we have a goal in the plastic department to reduce CO2 by 97 tons, equivalent to the amount that eight houses in Denmark emit annually.
Reduce: minimize waste, increase energy efficiency
The Reduce principle focuses on using fewer raw materials, creating more efficient designs, decreasing waste and increasing energy efficiency in production. The aim is to use fewer materials overall, especially scarce materials, and to choose materials which have a high recycling rate and available recycling technology.
In our Climate Solutions segment, we have optimized the printed product manuals of one of our production lines to achieve a savings of 1.1 million A4 sheets of paper with a cost savings of almost €14,000. This has been achieved simply by optimizing the layout of the product manuals from A4 to A5-sized paper, as well as by printing the instructions on the packaging of the product itself where possible. Meanwhile, in our Power Electronics and Drives segment, it's been possible to cut the size of some product manuals down by 70%, resulting in 16 million sheets of paper being saved or roughly 1,600 trees.
During manufacturing, the focus should be on eliminating waste by recovering valuable resources from production scrap and reusing it to make new products, alongside recovery of process materials such as water and excess heat. Excess heat is the world's largest untapped source of energy. In the EU alone excess heat potential amounts to 2,860 TWh/y, corresponding almost to the EU's total energy demand for heat and hot water in residential and service sector buildings.
Recirculate: returning components to the life product life cycle
While the overall aim of circular product design is to strive for extended use of a product through durable parts and options for upgrades and repairs, the end-of-life stage is also critical. The Recirculate principle focuses on how products and materials are re-purposed and returned to the beginning of the product life cycle, reducing waste.
Many products are underutilized or not used to their fullest possible working life. It may be possible to reuse components that are still in good condition and fulfil original functions, or it may be possible to refurbish or remanufacture parts that can be used again – either for a new product or as spare parts.
Environmentally, there are significant savings when you can refurbish or remanufacture a product for a second life or reuse some of its parts. The challenge for many companies is whether this makes an appealing business case. Some roadblocks still exist around reverse logistics, incentives to give back scrapped products and the transport of these items. Other barriers include the need to add assessment processes to decide if a product should be remanufactured, reused or recycled.
Across all three of our business segments, we have options for customers to return some of our products so that they can be refurbished and restored to 'as-new' functionality – with more refurbishment schemes in the planning. This is not only significantly less costly than buying new products, but also much more sustainable.
Circularity– not a walk in the park
Delivering on our promise to innovate the best circular solutions on the market is complex, especially for a company with approximately 800,000 unique product codes. It's certainly no walk in the park, but we are very proud of the first steps we have taken. This year, we launched the Danfoss Circularity Framework, integrating circularity assessments as part of all product development projects, based on the Rethink-Reduce-Recirculate principles. Our next step will be to implement an assessment tool in projects across Danfoss' business segments. We have a goal to cover more than 80% of our newly developed products sold by this framework by 2030. Even though circularity is a competitive parameter, we know we must embark on this collectively if we are truly going to make impactful change.
Innovating best-in-class circular products is not something we can deliver overnight and certainly not alone, but we are determined to accelerate the development of low-carbon products and circularity initiatives across all our business segments in the years to come.
The opinions of guest authors are their own and do not necessarily represent those of SG Voice.