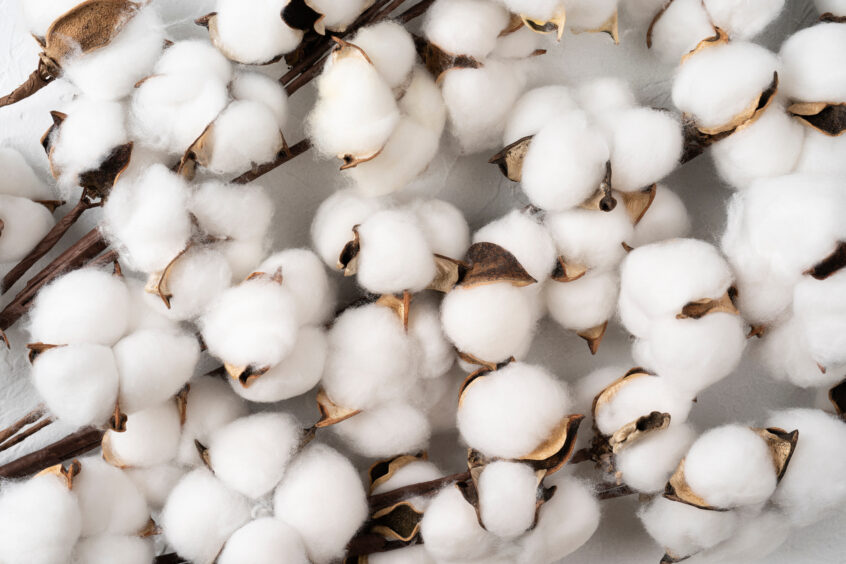 Haelixa and CottonConnect will work together to improve the traceability of cotton supply chains by combining digital and physical techniques. 
Haelixa's physical markers will be applied to cotton fibres and tracked along the supply chain by CottonConnect's digital software platform.

 

Traceable supply chains offer several advantages to companies that are facing increased pressure to adapt their procurement practices.

 

By combining physical evidence with digital records, the new partnership may unlock the next step for traceable cotton supplies.

 
As a dedicated social enterprise, CottonConnect is committed to the improvement of textile supply chains. Its latest partnership will further its efforts by providing an integrated approach to the tracing of cotton. 
Physical marker meets digital solution for total textile transparency
Haelixa has developed a physical approach to the tracking of textile fibres. Its DNA marker is sprayed onto freshly extracted cotton, creating a unique identifier that can be repeatedly detected in later stages of the textile value chain. 
Once applied, the invisible solution cannot be removed, altered or tampered with. This means that each batch of fibres carries its unique identity from the farm gate to the eventual disposal of the product it goes on to make. Along the way, regular testing can ensure that the original fibres are still present within the material. Physical proof of the fibres' origins is intended to reassure stakeholders that the product is what they expected. 
Now, Haelixa's physical markers will be combined with the digital capabilities of CottonConnect's proprietary TraceBale software, which gathers product-level data at each stage of the cotton supply chain. By recording transactions and loss percentages as they occur in real-time, the platform creates a digital overview of the journey taken by its monitored fibres.  
Beginning with a pilot project in India, fibres sprayed with DNA markers will be tracked by the TraceBale software. The combined approaches are expected to complement one another, with the physical evidence of DNA markers being enhanced by the granular insights of digital records. At the same time, the detailed information collected by CottonConnect will be forensically proven by the presence of Haelixa's spray. 
"We're delighted to see new methods of validating our work," said Alison Ward, chief executive of CottonConnect. "The DNA marker is helping deliver an integrated platform that is the future for retailers seeking traceability solutions." 
"As the textile industry begins to focus more on responsible choices, we know there is no one size fits all solution," added Abdelkader Amouche, Haelixa's commercial director. "Leveraging digital and physical traceability together reduces the risk for manufacturers and brands." 
Textile traceability is on the rise
Traceability refers to the capture of granular information as products and materials travel from stage to stage of their value chain. By following specific batches and orders, companies can gather useful insights into the provenance of material inputs, the sourcing practices of different suppliers and the various conversion processes that occur during the product lifecycle.   
Such information can help them to appeal to today's consumers, who are beginning to make their decisions based on the values of the brands available. Surveys have shown that around 78% of shoppers may be willing to pay higher prices for products that are made with sustainable materials, but they must first be convinced by companies' claims. 
Supporting their decisions, consumer watchdogs have begun to crack down on the use of vague language and unevidenced messaging. Those that do not provide sufficient data on their material use risk earning the distrust and discontent of the very consumers they seek to attract. 
Traceability initiatives can also help to reduce a brand's exposure to more serious legal risks. The textile industry faces a particularly unprecedented level of scrutiny, with new regulations being introduced by authorities worldwide.  
In France, for example, the French Decree 2022-748 AGEC (Anti-Waste for a Circular Economy Law) requires retailers to provide consumers with detailed information about the environmental qualities and origins of the products they purchase.  
Similar measures will soon be introduced across the whole of Europe, with the Commission having recently adopted a proposal for a Directive on corporate sustainability due diligence. The bloc has also proposed that clothing brands should be held accountable for extended producer responsibility, with measures including the introduction of digital product passports that would record the contents and origins of consumer products. 
Ultimately, there are several risks associated with reliance on opaque supply chains. On the other hand, there are significant advantages to be gained through increased visibility. With this in mind, it is unsurprising that 68% of supply chain executives perceive traceability as being "very or extremely important" to the continuity and performance of their business activities. 
Research conducted by Bain & Co suggests that traceability may be pursued for various reasons. Its survey revealed that regulatory compliance was a primary motivator, followed closely by consumer engagement and supply chain resilience. Overall, the study concluded that the best traceability systems available would be able to deliver a full range of positive outcomes. 
As the fashion industry has become particularly notorious for its social and environmental impact, the benefits of traceability have grown all the more prominent. Several leading brands have made ambitious commitments to ensure their use of sustainable materials, which are unlikely to be achieved without a clear overview of current supplies. 
Ultimately, traceability will be a critical enabler of a company's progress towards its goals, providing the evidence it needs to develop effective strategies and share its results. Recognising the need for a transparent approach, digital tracking technologies are beginning to gain attention. 
Narrowing in on the cotton context
Accounting for 25% of global textile production, cotton supply chains are plagued by various social and environmental consequences. Each metric ton of non-organic cotton fibre produces up to 1.8 metric tons of CO2 while consuming enormous volumes of water, land and agricultural chemicals. Often established as monocultural plantations, cotton farms are also associated with the erosion of fertile soils and the decline of biodiversity.  
At the same time, changes in the global climate are putting cotton production at risk. Research suggests that 75% of cotton-growing regions will be more exposed to heat stress by 2040, leaving 40% of them to suffer a major loss of productivity. For the 350 million individuals whose livelihoods depend on this vulnerable crop, declining yields could exacerbate socio-economic problems such as multidimensional poverty or limited access to services, technology and information. 
When the social and environmental credentials of more sustainable cotton can be demonstrably proven, however, producers may be able to access higher prices while building their resilience to climatic events. As downstream buyers succumb to the pressure of new regulations and changes in consumer demand, such premium prices will be worth their value in competitive advantage and legal compliance. 
Despite the increasing adoption of traceability technologies, such demonstrable proof remains thin on the ground and irresponsible cotton appears to be thriving within the supply chains of major brands. Fraudulent certifications, unsustainable practices and human rights violations continue to slip through the net, exposing retailers and manufacturers to harsh repercussions. 
By combining physical evidence with digital records, Haelixa and CottonConnect could well be on track to deliver an enhanced solution. With continued advances in traceability, we may one day see the vindication of even the most notorious of materials.