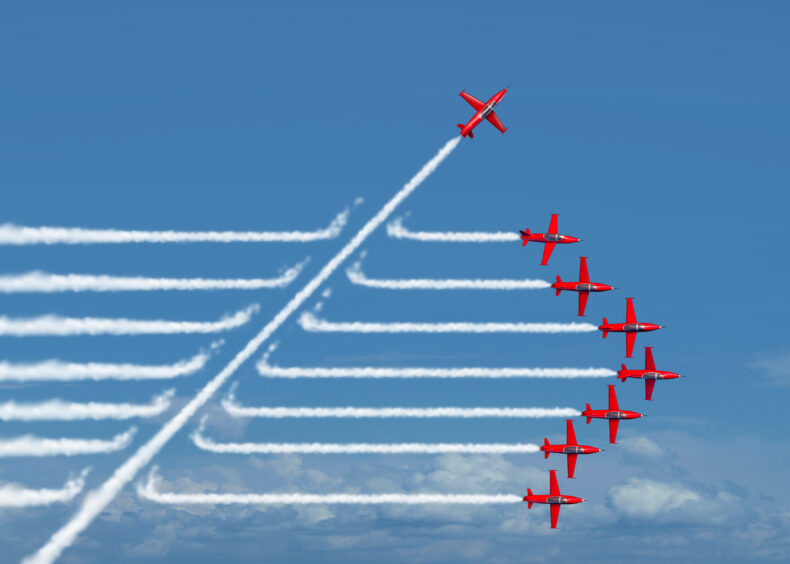 From plastics and packaging to the competitive spirit of startup funding, this weekly roundup explores the headlines in disruptive technology and industrial transformation. 
Plastic negotiations prompt a wave of disruptive announcements
In the midst of this week's debates on the development of a global plastics treaty, it is unsurprising that a number of disruptive announcements have been vying for attention. 
Once agreed, the treaty will inform the development of new regulations on the production, consumption and disposal of plastics. These regulations will impact businesses from a limitless number of industries, no matter their geographic location. 
If such regulations are to be effectively enforced, novel technologies will be needed to monitor and report on compliance. Such platforms will disrupt the status quo by ensuring that businesses are held accountable for their current approaches and planned improvement. Although they may not be absolutely necessary just yet, this week's pioneers may gain an early advantage. 
Founded in 2018, the UK's Polytag is already gaining traction. Having previously partnered with retailers including Ocado (LSE:OCADL) and the Co-Operative, the company's digital traceability technology has now been adopted by Aldi.  
Of course, there is only so much that traceability can do. It is simply a means of gathering data and transparently communicating with stakeholders. Eventually, these stakeholders will start to demand alternative solutions that data alone cannot provide. 
Efforts are underway to develop new technologies and materials that can deliver practical improvements in plastic management. Just this week, Earthodic has closed its first pre-seed funding round, securing just under $2 million for its development of bio-based coatings for pulp and paper-based products.  
Elsewhere in the news, Absolut Vodka has launched a recyclable bottle developed by a Danish startup that has previously partnered with the likes of Carlsberg (CSE:CARL A) and Coca-Cola (NYSE:KO). Pobaco's bottles are comprised largely of paper, with an integrated barrier of fully recyclable plastic that can be disposed of through household collections. 
Although it is nice to see that forthcoming regulations are prompting the disruption of the plastic and packaging industries, it is important to take caution when it comes to determining the most effective solutions. Indeed, recent studies have shown that biodegradable plastics may still pose a threat to biodiversity while modern recycling technologies have been criticised for their consumption of energy and release of polluting particles. 
Competitive spirit fuels the disruption of food and agriculture
Competitive spirit has been driving the disruption of the food and agricultural industries, with several funding competitions announcing their winners. 
SparkLabs Cultiv8, an Australian accelerator, has identified 10 budding startups to take part in an initial cohort backed by Cultiv8 Funds Management. With solutions ranging from the production of carbon-sequestering fertilisers to the automation of climate risk assessments, each company will partake in a six-month programme in support of their future development. 
In Canada, funding of over $500,000 is to be split between six different projects that are changing the status quo of the conventional food system. With the support of the Canadian Food Innovation Network's Innovation Booster Program, the participating companies will continue their development of technological approaches to the production of novel proteins, the reduction of food waste and the monitoring and optimisation of food supply chains. 
Finally, the UK Government has chosen several projects to receive their share of a £30 million fund. More than 50 different programmes have been selected, including genetic research into the reduction of methane emissions, the development of bio-based pesticides and efforts to improve the efficiency of fertiliser consumption 
The announcement comes as part of the Farming Innovation Programme, a long-term scheme expected to award around £270 million over the course of its lifespan. Its next competition has now been opened, inviting farmers and growers to apply for grant funding of up to £1 million. 
When project funding becomes a competitive matter, entrepreneurial startups may be more motivated to pursue ambitious and innovative ideas. Although this week's announcements have largely been focused on the food and agricultural sectors, the opportunities do not end there. With entries invited for less specific awards such as the FNF GreenPitch Challenge or IDEO's Climate Resiliency Challenge, competitive funding is driving disruption across the industrial landscape.  
If you can't beat them, get them on board
For established companies that have grown accustomed to traditional modes of operation, the global shift towards sustainability represents a very real threat of disruption. Tightening regulations and rapid changes in stakeholders' expectations are particularly difficult to follow for those that have dedicated decades to the development of opaque supply chains and linear business models. 
With the never-ending flow of emerging startups, even the largest of corporations may be concerned by the influx of new competitors. When these disruptors are equipped with novel technologies and innovative ideas, their threat may become even greater. 
Partnerships between old and new can provide an apt response to this issue. Incumbent corporations can accelerate their adaptation by tapping into solutions that are already being developed, while early-stage companies can take advantage of the resources available to larger firms. 
Just this week, for example, Unilever (NYSE:UL) has partnered with another biotechnology firm to develop new enzymes for the production of sustainable ingredients. In a similar announcement, the venture capital division of L'Oreal (PAR:OL) has led a $34 million fundraising round closed by Debut, a synthetic biology startup enabling the creation of bio-based skincare products.