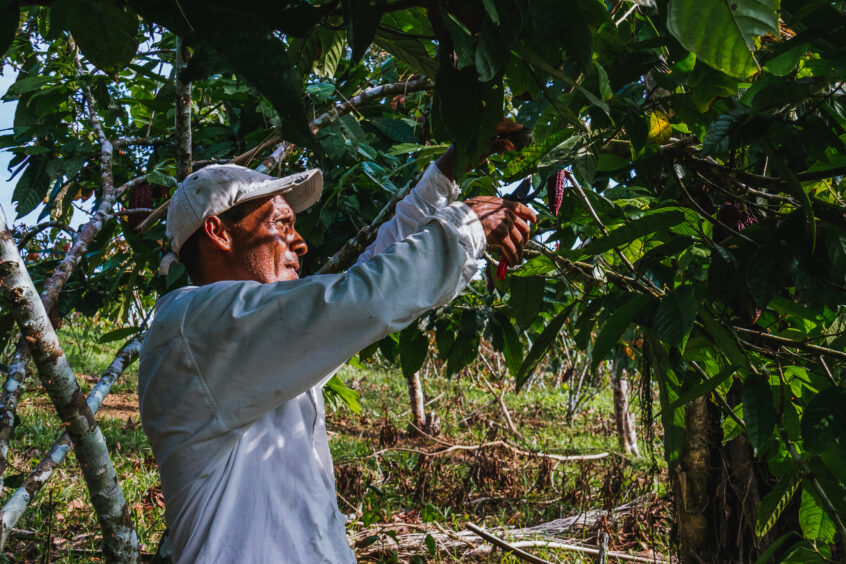 COOKO GmbH, an agtech start-up out of Berlin and Cameroon, has announced a successful €800,000+ pre-seed round to transform value chains into sustainability catalysts.
Globally, agri-produce worth €200 billion gets wasted between the farm and market.
The global cocoa and chocolate market was valued at over $47 billion in 2021 and projected to hit $68 billion by 2030.

Many farmers only earn $0.78-$1.00 per day

, which is well below the international poverty line of $2.15 per person per day established by the World Bank.
Berlin-based AgTech start-up COOKO GmbH, which was founded in 2021 by Ferdi Van Heerden, is focused on developing and deploying connected, efficient and regenerative value chains. According to Van Heerden, COOKO's unique approach to artisanal agriculture and agri-tech is primed to change the industry for good.
Source traceability for cocoa
Six million people earn their livelihood from cocoa farming, with 60% of the commodity being sourced from Côte d'Ivoire and Ghana alone. The global price of cocoa, however, has been volatile due to weather events and politic upheaval in Côte d'Ivoire, as well as speculators betting on price futures.
The cocoa supply chain is a significant concern, in terms of responsible business practices in relation to child labour and child trafficking, the protection and restorations of forests, and decent incomes for cocoa farmers. In terms of the environmental issues, climate change is expected to reduce the amount of land suitable to produce cocoa, while increases in rainfall may create conditions for the spread of pests and diseases.
Cocoa farming is also linked to deforestation. A study by the World Cocoa Foundation and Mighty Earth found that 10% of Ghana's entire tree cover was cleared between 2001 and 2014 to make space for cocoa crops.
There are many human rights and environmental abuses linked to cocoa farming – bad enough that Mondelez recently invested $600 million into a sustainable cocoa programme.
The European Commission recently initiated an informal dialogue in support of a sustainable cocoa sector, at social, economic and environmental levels. It built on the process initiated by Côte d'Ivoire and Ghana in June 2019 aiming at increasing the price of cocoa on the world market. This process led to an agreement with Traders and Cocoa Industry on the Living Income Differential, a $400/t premium paid on top of the price on future markets.
The EU Sustainable Cocoa Initiative is based on the conviction that "prices and sustainability are the two sides of the same coin". In 2022 the European Union agreed to contribute €25 million to enhance the economic, social and environmental sustainability of cocoa production in Côte d'Ivoire, Ghana and Cameroon.
Effectively what COOKO does is provide source traceability so that impact can be tracked. Starting at the point of harvest, COOKO reimagines connected, efficient and regenerative 'value-added relationships' for hard-to-trace commodities, starting with cocoa, by putting the farmer first. The company uses smart, cloud enabled, harvesting containers which, according to the company, turn the value drain of first mile logistics into a value gain through increased quality, decreased costs and pin-point traceability data.
Through its data-driven platform, COOKO empowers farmers, trades, buyers, and the industry with insights, data, and tools to trace agri-commodities, reduce environmental impact, connect people, and improve sustainability practices along the value chain.  By inserting a digital click in the harvesting process, the company creates a connected value chain providing valuable, unique and essential data.
Effectively it results in a cloud based commercial platform to facilitate trade, engage unbanked communities and provide direct e-commerce solutions to rural farmers – as well as futures trading data two weeks before anyone else.
COOKO is raising funds as it deploys its solution
The company made its first sale in May 2023 and closed its seed extension round on 12 June. To date COOKO has raised more than €1.7 million for its process and solution, since incorporating in July 2021. After opening their raise in April 2023, COOKO GmbH's lead investor, a US family office, quickly doubled their existing position, with significant tag-along investments from the earlier friends and family round – indicating trust in the COOKO vision, product, and team.
The investment will accelerate COOKO's mission of transforming the agricultural value chain – with a focus on cocoa. By putting farmers first through innovative technology solutions, COOKO is incentivising first-mile traceability and automating compliance towards pending EU and German legislation. The current round will provide roughly 12 months of runway in which COOKO will focus on strengthening partnerships through a deeper tech bench.
The company inserts a digital click "at-source" to embed traceability data, ensuring fairer payments to farmers and better systems data for the full value chain. "After designing the national traceability system for Cameroon, the fourth largest cocoa producer country, COOKO's unique approach to artisanal agriculture is gaining momentum," said van Heerden.
By tripling revenues from the facility inside three months, COOKO demonstrated that not only was there farmer uptake for the approach, but that the proof of concept was scalable. Van Heerden continued: "By ramping up our owned-and-operated R&D facility in Cameroon's cocoa heartland, COOKO has turned research and development into a cash generating activity – where everyone earns starting with farmers."
According to Van Heerden, operating in the nexus of "ESG data/ fintech/ sustainable-impact" places COOKO in a unique position to leverage multiple revenue streams and high-value data for growth. "COOKO is changing the industry for good by doing good, at source. This investment, in a difficult funding environment, is a vote of confidence in the idea and the industry demand for a real innovation in agricultural value chains," he added.
SGV Take
There is growing interest in the potential for tech-enabled traceability across the supply chain, but with the links to human rights abuses, deforestation and climate risk, agricultural commodities are in urgent need of support.
Traceability refers to the capture of granular information relating to specific ingredients, components, or products. It involves tracking certain batches or orders as they progress along the value chain – and it enables businesses to guarantee the safety and quality of each of their products. This can help them to secure various certifications and to avoid allegations of greenwashing or unsafe practices.
This data-driven approach allows businesses and their stakeholders to verify the exact origins and journey of each individual unit. They are able to assess how each item has been sourced, transported, manufactured and delivered, with trustworthy records leaving little room for doubt regarding provenance. Such insights can help companies to reduce their risk exposure while improving their overall performance.