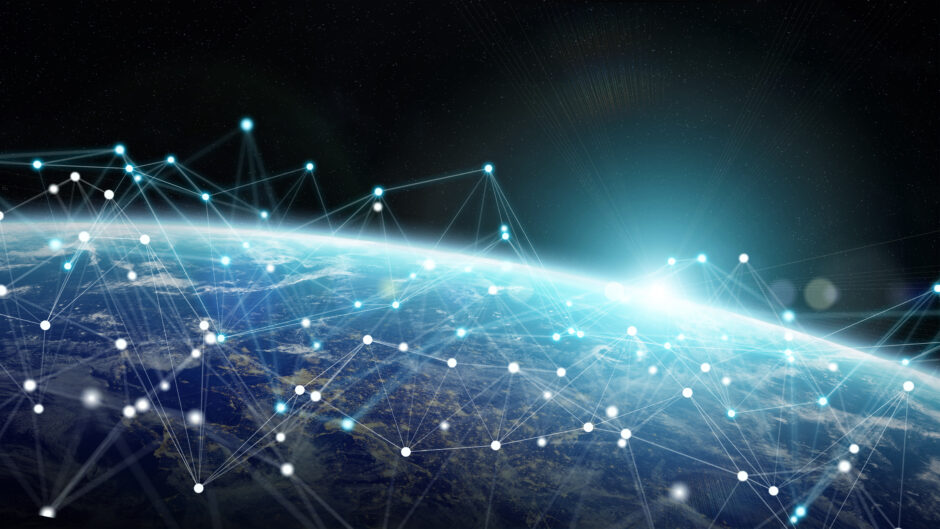 Without a comprehensive understanding of the problems we face, the effective solutions available and our shared responsibilities as we navigate between the two, there can be little hope of realising the transition to an inclusive, sustainable future.
With this in mind, this week's roundup explores how disruptive data technologies are driving transformative change. 
Data, data, data
Of the many shifts that are taking place in our rapidly evolving world, the energy transition has taken a central place on the global stage. This is hardly surprising, given our dependence on energy in every of our daily lives.  
For centuries, most of our energy has been provided by fossil fuels. Now, however, science tells us that continued extraction will push our planet beyond its survivable limits. New solutions are undoubtedly necessary, but how can we know which pathways to follow? 
Orennia, a Canadian startup founded in 2021, has raised $25 million to answer this question. Its platform combines the knowledge of industry experts with market analytics and real-time data to help investors and businesses to make informed decisions when allocating their capital. Its proprietary insights cover several relevant areas such as renewable energy, energy storage, clean fuels and decarbonisation. 
A second major challenge of the 21st Century is the way in which we manage our land and all of its natural ecosystems. The rapid decline of vital resources – such as fertile soils, fresh water or tropical forests – threatens every industrial sector, including those that provide us with food, clothing and other necessities. 
Once again, we need proper data to help us in understanding and addressing these issues. This is where Meteory steps in, having successfully raised €550,000 to further develop its software-as-a-service solution.
The software uses machine learning algorithms to analyse the captured by an extensive satellite network, enabling its users to monitor their environmental impact on a continuous basis. With Meteory's insights, customers can identify potential risks and opportunities before they arise, informing their decisions on how to proceed. 
In similar developments, Varda has partnered with DigiFarm to map the world's fields and support greater collaboration across the global agricultural value chain. Under the new agreement, DigiFarm's precise field boundary data will be incorporated into Varda's GlobalFieldID, which assigns a unique ID to every field. Together, the pair will create a geospatial reference framework through which stakeholders can easily exchange their relevant data. 
Under heightened scrutiny, transformative change is expected
The solution provided by Varda and DigiFarm has numerous advantages to offer. It could be used to identify sustainable practices before gathering evidence of their success, guiding others on their implementation, attracting investment and developing supportive policies. It could also be used to hold land managers to account for perceived failings, faults or offences. 
Much the same could be said of Greyparrot's technology, which has recently secured it a $500,000 investment from Amcor (NYSE:AMCR). The UK startup has developed a powerful waste recognition system which uses artificial intelligence to monitor and typify large flows of waste. Waste managers, producers and regulators can use the data either to improve their current processes or to identify those that are failing to play their part. 
In each of these examples, data-driven technologies are being used to ensure that powerful actors are acting responsibly. Granular data is being traced back to specific entities before being shared through transparent and accessible platforms. 
This focus on traceability and transparency has become an emerging trend, with Seedtrace having also secured investment this week while Alitheon has partnered with Peer Ledger to link physical identification with digital records of product journeys. 
Under the heightened scrutiny of these emerging technologies, companies will be supported in identifying problems and adopting sustainable solutions. More cynically, they will quickly be called out for any failure in doing so.  
Regulators will be able to enforce their rules, while consumers and investors will have a more solid ground on which to demand improvement. Incumbent industries will be forced to make changes, with traceability technologies as an increasingly disruptive force. 
Disruptive technologies coming to market
Of course, technological innovation is only one step in the disruption of traditional markets. For any idea to be adopted more widely, it must first tap into market demand. 
Thankfully, these emerging trends are starting to fuel one another. Comprehensive data and increased traceability are raising the standards for corporate action, prompting companies to search for novel amendments to their traditional products and services. Their hunt is creating new opportunities for nascent startups and new technologies to reach their commercial potential. 
Just this week, for example, Innolith announced the first five deals for its alternative battery technology. C-Crete confirmed the inaugural pour of its low-carbon concrete, and Avnos secured a swathe of major financial commitments for its hybridised carbon capture.