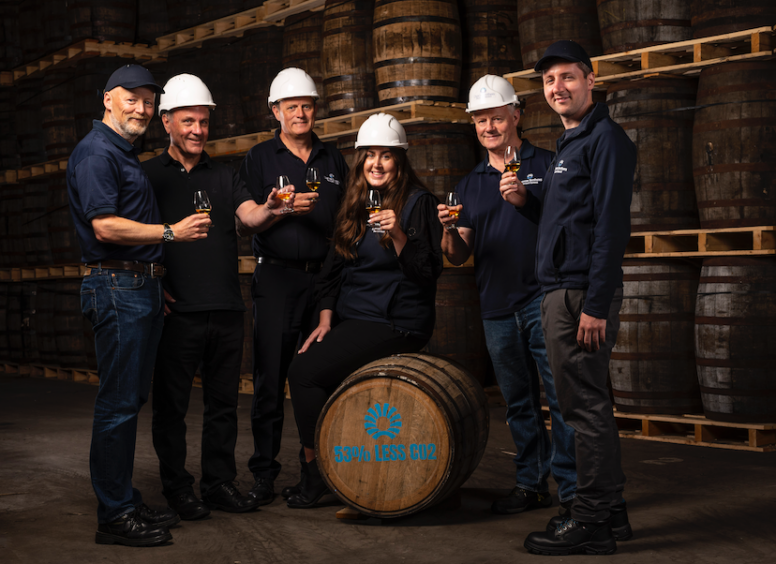 After halving the carbon emissions of one of its Scottish distilleries using heat recovery, Chivas Brothers has published a case study to help industry peers do the same.
Scotch whisky maker Chivas Brothers has applied enhanced heat recovery technologies to reduce the carbon footprint of a distillery in Scotland.
Distillation is a carbon-intensive process that takes a lot of energy to run the stills, producing a significant amount of heat that traditionally goes to waste.
Industrial plants are well-placed to use recovery technologies as they are major sources of excess heat and can draw significant benefits from making the switch.
Chivas Brothers, the Scotch whisky business of Pernod Ricard (EPA:RI) and maker of brands including Chivas Regal and The Glenlivet, has made the methodology of the integration of enhanced heat recovery technologies 'open source'. It came after the application of the technology at its Glentauchers site halved carbon emissions, suggesting the potential for the industry if adopted at other suitable distillation sites.  
What is enhanced heat recovery?
Distillation is a carbon-intensive process that takes a lot of energy to run the stills, producing a significant amount of heat that traditionally goes to waste. Excess heat from industrial processes, however, has a huge – but mostly untapped – potential to be reused as a source of energy. 
According to Danish engineering group Danfoss, the EU alone emits 2,860 TWh of excess heat per year, corresponding almost to the bloc's total energy demand for heat and hot water in residential and service sector buildings. While red tape prevents the redirection of excess heat to these buildings, industrial plants can install equipment to power their own. 
That's exactly what Chivas Brothers did by installing Mechanical Vapour Recompression (MVR) and Thermo Vapour Recompression with the help of its supplier, Piller Blowers & Compressors. 
MVR captures heat created during distillation and upgrades and recycles this to heat drive the still, reducing the energy required in the whisky distillation and, therefore, the carbon emitted during production. It captures heat and vapour that would otherwise be lost and passes it through fans, increasing its pressure and therefore also its temperature. This vapour is then used as a heat source for the remainder of the distillation process, making this more efficient. 
How did Chivas Brothers' experiment do?
The new installations reduced total energy consumption by 48% at Chivas Brothers' Glentauchers distillery, near Keith in Speyside, Scotland, reducing the site's total carbon emissions by 53% as a result. This represents an energy-saving equivalent to powering 4,979 average UK homes for an entire year, based on Ofgem estimates.
The company now plans to roll out these integrations across all viable sites as part of its goal to achieve carbon-neutral distillation by 2026. These technologies are expected to reduce its overall energy consumption and carbon emissions in distillation by 31%, or more than 30,000 tonnes of CO2 per annum.
Chivas Brothers said that they are not suitable for every distillery and each site needs a bespoke solution based on its size and layout. A spokesperson said: "Some have been around for centuries, are heritage listed and they simply weren't built with this technology in mind. It's because of this nuance that each implementation requires a bespoke solution along with the space to fit them, without compromising the production efficiencies of each site."
The company published a case study, outlining the benefits and savings achieved, plus additional detail on the basis of design used. The business will also host a series of dedicated open house events at its Glentauchers site, creating an opportunity for other distillers to see the technology, how it has been integrated and facilitate industry learning, while aiming to demystify some of the recurring hurdles around the implementation of these technologies. 
What is the carbon footprint of the whisky industry?
The Scotch Whisky Association has pledged to achieve net zero Scope 1 and 2 emissions by 2040, with an interim goal of cutting them by 40% by 2030, from a 2018 baseline of 528,792 tonnes of CO2 equivalent. Generating heat for distillation is the primary source of emissions in the industry, with the trade body looking at new technologies such as anaerobic digestion, biomass, hydrogen, and high-temperature heat pumps.
Chivas Brothers, however, estimates that if enhanced heat recovery was applied by the wider industry's malt distilleries alone, this could equate to a saving of some 1,756Gwh per year – enough to power 605,000 average UK homes for a year. 
Jean-Etienne Gourgues, chairman and chief executive of Chivas Brothers, said: "Collaboration across our industry will be fundamental if we are to meet collective ambitions around sustainability, safeguarding the long-term future of our product and our planet. Understandably, this technology won't be right for every distillery, but we encourage our peers to explore whether it has the potential to reduce their own carbon output."  
SGV Take
While the Scotch Whisky Association is considering new technologies, some of which are unproven, to cut its footprint, Chivas Brothers seems to have cracked the code with what can be a relatively cheap and simple solution. Excess heat is massively overlooked around the world but the equipment to use it already exists.
Carbon-intensive industrial plants are the best placed to employ recovery technologies. This is because not only they are the major sources of excess heat, but also they would not encounter the same level of red tape as other types of users, such as residential buildings, in installing the equipment.  
Doing so will create cost benefits from boosting energy efficiency while accelerating decarbonisation efforts, which in itself brings in a wide range of benefits such as attracting green finance and elevating their public image.