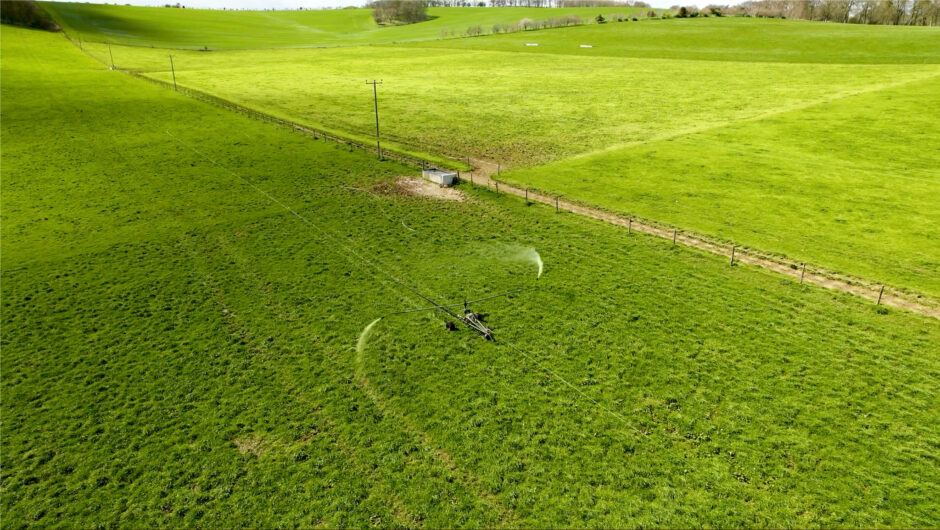 Agtech Origin Digital and Aspia Space have announced the launch of a technology that would allow farmers to measure the height of grass from space.
Origin Ditigal and Aspia Space announced the launch of a technology designed to maximise grassland farming.
Using AI and satellites, it is intended to allow farmers to measure the height of grass from space, cutting costs and manual labour.
This technology can help not only farmers but any businesses involved in grass management, including local governments, enabling them to continue to embrace sustainability practices. 
Origin Digital, which provides digital agronomy services and technology to support sustainable and profitable farming solutions in the UK, and Aspia Space, which provides cloud-free earth observation data to help make accurate predictions and informed profitable decisions, have jointly announced the launch of a technology powered by artificial intelligence (AI) later in 2023.
As part of Origin Digital's GrassMax service, an app that helps livestock farmers optimise grass utilisation, nutrient planning, and operational efficiency, through the use of AI and satellites, this new technology would allow farmers to accurately measure the height of grass from space. 
How does the technology work? 
The technology, launching in Ireland later in 2023, would estimate grass height to within an accuracy of just 1.5 centimetres from satellites nearly 700 kilometres above the ground. 
Duncan Robertson, head of research and development at Origin Digital, said: "This is a game-changing moment for grassland farmers and the businesses that partner with them. For the first time, they can remotely and automatically calculate the quantity of grass in their fields and paddocks, on a regular basis and at scale".
"This enables farmers to make better-informed decisions regarding grazing schedules, animal nutrition, and silage cuts for example, resulting in less waste and a more stable, sustainable food supply".
Proveye, a University College Dublin spin-out company founded by Jerome O'Connell and Professor Nick Holden, received €225,000 in funding to commercialise its grassland management platform, which uses unmanned aerial vehicles, satellites and AI to provide a higher level of accuracy and clarity in grassland mapping. It also received €1 million in seed funding earlier in 2023 to advance the company's growth.
A not so laborious task anymore
Grasslands account for around 70% of the UK's agricultural land, so, by using this technology, farmers would be able to eliminate a laborious manual task, according to Kieran Holden, a grassland digital specialist at Origin Enterprises. 
"As a farmer myself, I'm really excited about the ability to measure grass height remotely, because it brings huge benefits to grass management while eliminating what is currently a laborious manual measurement process," he said.
Holden added that this new technology would also allow Irish farmers to save about two hours per week or €1,600 per year. "It's remarkable to consider that grass utilisation alone accounts for 44% of the variation in net profit per hectare on dairy farms. In Ireland, each additional tonne of grass utilised per hectare translates to a €256 increase in profit," Holden said. 
Governments could use it, too
Grasslands are areas primarily used for agricultural farming, often for crops and livestock. The UK is among the countries to have the ideal climate for growing grass, with temperature in the summer averaging between 9-18°C, according to British Council.
Devlyn Hardwick, GrassMax product manager at Origin Digital, said that the AI-powered technology will help businesses and farmers achieve sustainable growth as well as verify sustainability practices and Scope 3 emissions on farm, while enhancing supply chain security and sustainability.
"In particular, GrassMax enables businesses to track live and forecasted grass yield, how many days animals are at grass in the fields, and a host of other metrics targeted at increasing fertility, yield, and efficiency to meet the growing demand for milk and dairy products sustainably."
This new technology is expected to boost farmers' profit margins and reduce their inputs and production costs. These benefits could extend to any businesses involved in grass management, including local governments, enabling organisations and businesses to continue to embrace sustainability practices. 
Satellites are at the forefront of the technology used for sustainability purposes. For example, National Grid started an initiative in 2022 to use satellite imagery and data analytics to improve energy grids' monitoring and maintenance, while ERM, a multinational consultancy firm, joined forces in 2023 with Planet Labs to provide satellite imagery services to help its clients advance their sustainability strategies. 
Italy started experimenting with satellites to measure the height of grasslands in 2017, according to the country's National Institute for Statistics, which at the time did not result in a fruitful outcome.
SGV Take
Satellite technologies hold huge promise for the agricultural sector and can be used in various applications, such as detecting and controlling pests and diseases, monitoring water and nutrient status, planning crop nutrition programmes and more.
It will be interesting to see how the industry takes up these new technologies, and how the use of AI-powered tools will spread across the globe in the pursuit of a more sustainable food system.