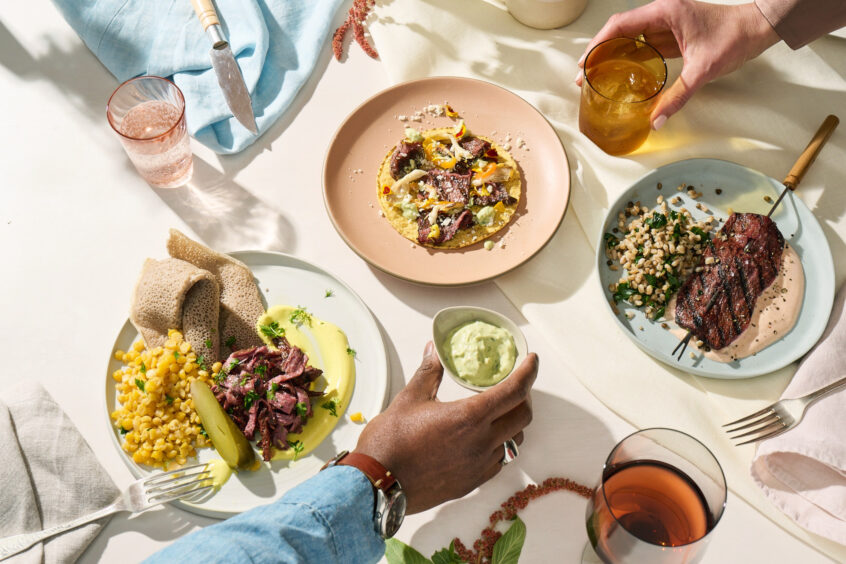 Israeli startup Aleph Farms has submitted an application for regulatory approval to sell its cultivated meat in Switzerland, becoming the first-ever company to do so in Europe.
Israeli startup Aleph Farms partnered with Migros, Switzerland's largest food enterprise, to bring cultivated meat to the country.
Lab-made proteins have already been approved by countries such as Singapore and the US, though Europe has somewhat lagged behind.
This announcement is perhaps indicating a potential snowball effect in the space as more people and businesses show an appetite for cultivated meat.
Founded in 2017, Aleph Farms is an Israel-based food technology company focused on cultivated meat. 
What is its latest milestone?
Aleph Farms has submitted an application for regulatory approval to the Swiss Federal Food Safety and Veterinary Office (FSVO) to sell its cultivated meat in Switzerland. The process includes a safety assessment and extensive toxicological studies to demonstrate the safety of the food and is expected to take at least 12 months. 
The FSVO provides a template for application, which helps companies to navigate the process so they know what is expected of them. The company worked with Migros, one of its investors and the country's largest food enterprise, which it said "has been instrumental in assessing the country's specific regulatory approval process".
The pair have been conducting extensive consumer research in Switzerland and understanding the intricacies of its regulatory landscape for novel foods. They found that 74% of Swiss consumers are open to trying cultivated meat and are motivated to try it, mostly by curiosity and a desire to align with principles such as sustainability and animal welfare. 
As part of their agreement, the pair will continue to develop a go-to-market strategy that involves the distribution and commercialisation of Aleph Cuts through fine dining food service channels in Switzerland. 
What other countries are opening up to cultivated meat?
Lab-made proteins have already been approved by countries such as Singapore and the US, which issued its first-ever authorisation only weeks before Aleph Farms' announcement. Europe has somewhat lagged behind these regions, with Italy's far-right government even banning the production and consumption of cell-based foods to assuage concerns that they endanger its traditions.
Nonetheless, the bloc seems to have an appetite for alternative proteins, as both the Commission and national governments have committed a total of €477 million for the development of plant-based foods, cultivated meat and fermentation techniques. In July 2023, the Netherlands, in collaboration with companies Meatable and Mosa Meat, became the first country in the bloc to make pre-approval tastings of food grown directly from animal cells possible, even before an EU novel food approval.
Seth Roberts, policy manager at the Good Food Institute Europe, said: "It's fantastic to see Switzerland leading the way for cultivated meat in Europe. Once approved by regulators, Swiss consumers will be able to enjoy their favourite beef dishes, made in a way that could slash climate emissions and create space for more sustainable farming. Cultivated meat represents a huge opportunity for Switzerland to enhance its food security and create future-proof green jobs."
As for the UK, Roberts said that this news "should spur the UK on as it considers reforming its novel foods regulatory framework post-Brexit".
He added: "Several British cultivated meat companies are making great progress, but are considering launching their products overseas. The Food Standards Authority should accelerate constructive conversations with industry, scientific experts and consumer groups to inform a trusted, innovative framework for sustainable proteins that enables them to deliver on their climate benefits." 
Later in 2023, Aleph Farms plans to launch its brand in Singapore and Israel in limited quantities, offering exclusive tastings with select partners, pending regulatory approvals. Its team is working in a similar fashion with regulatory authorities in other markets around the world, including Switzerland, in order to ensure compliance with safety requirements. 
Do we need cultivated meat?
Peer-reviewed research shows that lab-grown meat could cut cause up to 92% less greenhouse gas emissions and up to 94% less air pollution, and use up to 66% less water and 90% less land than conventional beef. It can also be made without antibiotics, helping to reduce the risk of antimicrobial resistance.
Research from the University of California, Davis, however, warned that the global warming potential of lab-cultured meat could be up to 25% higher than that of regular beef. The study, which was not yet peer-reviewed at the time of publishing, called for a more critical analysis of potential disruptors of the food systems – ensuring that all new technologies are implemented following rigorous standards.
Nonetheless, it is undeniable that animal agriculture needs urgent transformation, as its environmental and social impacts are far too damaging to rely on it for the growing population's nutritional needs. While cultivated meat is not a silver bullet solution, it comes as part of a host of technologies that can propel the transition. Because it intends to be an exact replica of animal-derived meat, it is attractive for those people who are struggling to accept the taste of alternative proteins and struggle to give up the real thing.
SGV take
The interest in lab-made meat is growing and the partnership between Aleph Farms and Migros shows the legacy player's willingness to engage with new technologies, suggesting that there is strong market potential. While Singapore's and the US' approvals came three years apart, Aleph Farms' announcement comes hot off the heels of Upside Foods' and Good Meat's authorisations in the US – perhaps indicating a potential snowball effect in the space. A global rollout would be hugely transformational for the food systems with all the environmental and social benefits that come with it.