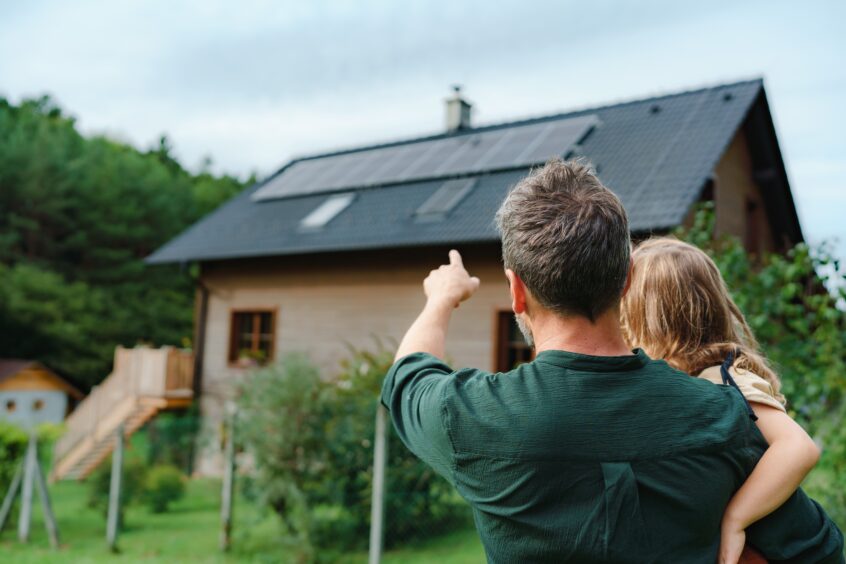 The Crown Estate is launching two pilot housing projects to test different approaches to building net zero homes. 
The Crown Estate's pilot aims to deliver new homes with low levels of embodied carbon while meeting ambitious energy efficiency targets.
Construction uses more raw material than any other sector in the UK, it produces the most waste and is responsible for a quarter of the country's carbon emissions.
Having net zero home projects is undoubtedly a positive step toward addressing climate change and reducing carbon emissions but a comprehensive approach is needed.
The Crown Estate, the property manager of the UK's monarch, is launching two pilot housing projects to test different approaches to building net zero homes. The main objectives of these projects, it said, are to explore the opportunities and challenges of delivering net zero housing developments while promoting sustainability and innovation to reduce operational and embodied carbon.
What are the projects?
The Crown Estate is launching the two pilots in Wootton, Bedford, and Knutsford, Cheshire. The Wootton project covers 15 acres with around 50 homes, of which 30% will be affordable. In Knutsford, the project has consent for up to 60 homes, with 30% being affordable. The projects also include road infrastructure.
The primary aim of these projects, the Crown Estate said, is to examine how new homes can be constructed with less than 300 kilogrammes per square metre of embodied carbon while meeting energy efficiency targets. The ultimate objective, it added, is to contribute to the UK's efforts in tackling climate change and providing sustainable housing solutions.
"Tackling housing supply and climate change are critical issues facing the UK," said Rob Chesworth, head of regional residential at the Crown Estate."We want to work with aligned SMEs and entrepreneurs who are putting innovation and sustainability at the forefront of housebuilding and community-focused development to raise industry standards and galvanise momentum to meet the sector's decarbonisation challenge."
It's important to note that the definition of affordable housing is considered subjective because its definition can vary based on different factors and perspectives. What may be considered affordable to one person or family might be unaffordable to another, depending on their income level, cost of living in a particular region, individual financial circumstances, and personal preferences.
Due to these varying factors and perspectives, affordable housing is a complex and subjective concept. Governments and organisations need to tailor their approaches to suit the specific needs of the communities they serve to ensure housing is genuinely affordable for the intended target population.
The government's net zero plans for the built environment 
The UK's net zero strategy intends to achieve a net zero greenhouse gas emissions target by 2050. It involves a comprehensive approach to reducing emissions across various sectors, transitioning to renewable energy sources, and promoting sustainable practices. The strategy is guided by the Climate Change Act of 2008, which legally binds the government to carbon budgets and requires a net zero emissions goal. 
A 2023 report by Green Alliance found that construction uses more raw material than any other sector in the UK, produces the most waste and is responsible for a quarter of the country's carbon emissions. To address these challenges and transition towards a more sustainable future, the report said a circular construction approach is recommended to ensure. This approach involves better resource utilisation, waste reduction, and increased productivity.
Industry experts agree that the necessary technology and techniques already exist and that what is required is the right support, according to the report. It proposes action in three crucial areas: finance, design, and data, with the potential to reduce raw material usage by 35% while significantly cutting the sector's climate impact.
Moreover, a report by Ulster University, part of a study conducted by the Forum for Better Housing Market NI, revealed that most homes in Northern Ireland require upgrades to enhance energy efficiency to meet the government's 2030 net zero targets. The study indicateds that, on average, properties in Northern Ireland have poorer heat retention compared to those in the rest of the UK and Ireland. The findings highlight the need for improvements in energy efficiency to address climate change and sustainability challenges in the local housing market.
UK's biodiversity net gain
While achieving net zero is a crucial goal, true sustainability encompasses more than just reducing greenhouse gas emissions; it also involves a strong focus on nature conservation and holistic environmental stewardship. The Crown Estate plans to be compliant with the Biodiversity Net Gain (BNG) targets set out in the Environment Act 2021. 
BNG is a strategy aimed at promoting nature's recovery while developing land, ensuring that wildlife habitats are improved beyond their pre-development state. Starting from November 2023, it will be applicable to developments in the UK under the Town and Country Planning Act 1990, with some exemptions, and extended to small sites from April 2024.
This initiative will involve land managers, developers, and local planning authorities. Land managers can receive compensation by selling biodiversity units, while developers must make every effort to avoid the loss of habitat on the land earmarked for development. If habitat loss cannot be prevented, they are obliged to create equivalent habitat either on-site or off-site. This will require careful measurement and assessment of their environmental impacts. Local authorities will need to approve a biodiversity net gain plan before development can commence.
According to Dr Robin McArthur at the Joe's Blooms Academic Council, the impact of BNG extends beyond nature recovery, benefiting climate change by creating wildlife-rich habitats and green corridors. Increased woodland creation aids in carbon dioxide absorption. Additionally, more green and blue spaces in communities improve resilience to climate change effects, like heat waves and flooding, as local ecosystems remain cooler. BNG implementation also helps mitigate flood risks in urban areas and fosters biodiversity gain, crucial for reversing habitat loss and fragmentation in the UK. 
SGV TAKE
A net zero homes pilot project is undoubtedly a positive step toward addressing climate change and reducing carbon emissions from the residential sector – but only the beginning of reducing the environmental impact of the built environment. If successful, the pilot should serve as a blueprint for future housing projects rather than remain an isolated example of best practice.
A comprehensive approach is needed, encompassing energy efficiency, sustainable urban planning, circular economy principles, social equity, behaviour change, and other systemic transformations to effectively address the challenges of climate change and environmental sustainability.