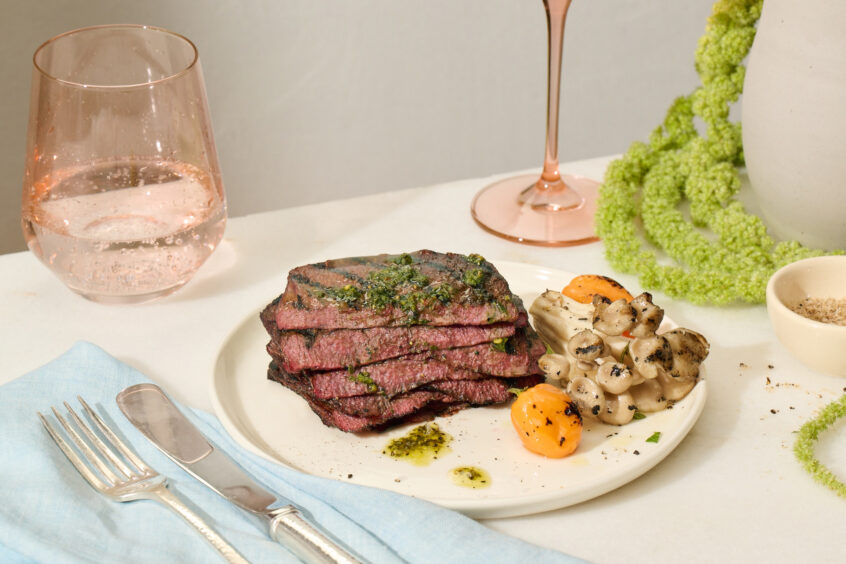 Israeli company Aleph Farms has applied for regulatory approval to sell its lab-grown meat in the UK.
The news comes only a week after Aleph Farms submitted its application to the Swiss food safety regulator.
Cultivated meat has a much lower environmental and social impact than animal products, and can enhance food security.
The UK should ensure that its proposed changes to the novel foods authorisation process are enacted to ensure that these products are brought to market swiftly.
Hot off the heels of applying for regulatory approval to sell its cultivated meat in Switzerland, Aleph Farms has embarked on the same process in the UK. It came a day before the 10th anniversary of the first-ever cultivated beef burger being presented in London by Dutch scientist Dr Mark Post.
What does Aleph Farms do?
Founded in 2017, Aleph Farms is an Israel-based cellular agriculture company that counts Leonardo DiCaprio among its advisors. Its lab-made steaks come from Lucy, a  Black Angus cow from a breeding farm in California. 
The company plans to keep growing its product after collecting Lucy's fertilized eggs only once. In a four-week process, the cells are first placed into a cultivator, where they are given cell feed and start producing duplicates; the young cells are then placed into separate cultivators to mature into different cell types for muscle and collagen. 
Inside a cow, a network of proteins and other molecules would surround, support, and give structure to these cells – this process is modelled with a plant protein matrix made of soy and wheat, enabling the cells to form the shape and texture of a 'real' piece of meat, which can then be harvested.
Why the UK?
Aleph Farms was the first-ever company to submit cultivated meat for regulatory approval in Europe, after sending its application to the Swiss Federal Food Safety and Veterinary Office in July 2023. It has now become the second one (and only) to do so after repeating the process with the UK's Food Standards Agency (FSA).
The company says that the review process to last between 12-24 months and is yet to announce partners in the UK from the food and meat industry – unlike in Switzerland, where it worked with Migros, one of its investors and the country's largest food enterprise. 
It is, however, an advisor on a Just Transition study with Royal Agricultural University, which explores the societal implications of cellular agriculture on livestock farming. It has also contributed to an Independent report for the UK Government on the potential opportunities present by Brexit for the local economy. 
The UK might be ripe for change. The country currently imports around 35% of the beef and veal it consumes, while 85% of the land that feeds the UK is committed to animal agriculture, according to Compassion in World Farming.
A combination of abnormally high temperatures and droughts is impacting the farming of livestock and crops, while the consequences of Brexit have made UK products less competitive in Europe. The FSA itself has recognised that novel foods, including alternative proteins, represent a commercial and economic opportunity for the UK in the immediate future, contributing to food security.
Considering that a third of UK consumers expressed a desire to try cultured meat in a 2022 survey, that number might rise if the FSA gives its green light – creating a significant market opportunity. The Good Food Institute (GFI) Europe notes that it is not aware of any other applications for pre-market authorisation of cultivated meat having been made to the FSA to date. 
UK needs to keep up with novel foods reforms
After Brexit, the EU assimilated the EU's novel foods regulatory framework into UK law. This means that, before a cultivated meat product can be sold in the UK, it must be approved by the FSA. 
The UK Government, however, has recognised that changes to the existing novel foods authorisation process could help bring foods with climate-mitigation potential, such as cultivated meat, to market faster. In June 2023, the FSA published independent recommendations for how these reforms could be implemented.
Seth Roberts, policy manager at GFI Europe, says that it is crucial the UK stays on track with its planned reforms.
He adds: "Several British cultivated meat companies are making great progress, but are considering launching their products overseas. The Food Standards Authority should accelerate constructive conversations with industry, scientific experts and consumer groups to inform a trusted, innovative framework for sustainable proteins that enables them to deliver on their climate benefits." 
SGV TAKE
It looks like Aleph Farms is positioning itself as a pioneer in the cultivated meat space in Europe. While this is great news for the company, it represents huge progress for the industry as a whole.
A green light on its cultivated meat could pave the way for further approvals and is likely to increase consumer trust, at a time when more and more people become aware of the environmental impacts of animal products. Moreover, developing this new market is a significant opportunity to enhance food security while creating sustainable jobs.