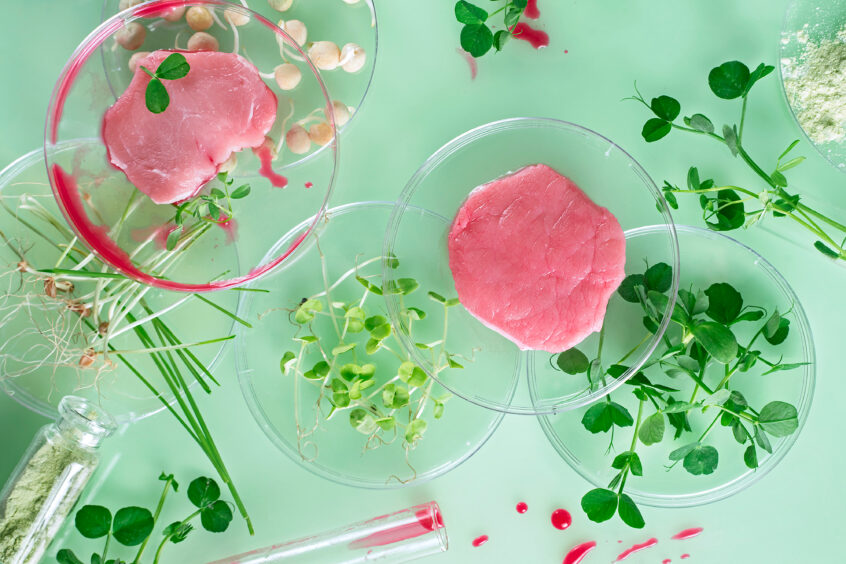 This week's headlines bring news of disruption in the food and agricultural sector, paving the way for a sustainable future.
Disrupting the global food system
Animal agriculture, including both the rearing of livestock and the cultivation of feed, is responsible for 57% of the greenhouse gas emissions associated with global food production, but even this does not represent the whole of the industry's impacts. Livestock farming is also inextricably linked to biodiversity loss, deforestation, pollutant waste, animal cruelty and the illegal occupation of indigenous land.   
Still, meat and dairy account for more than a third of the protein consumed by our global society. With the future of agricultural production being threatened by climate change, we must somehow increase our protein supply while minimising the harm it does to our planet. 
Thankfully, novel alternatives are emerging into the scene. With innovative technologies and creative new products, market disruptors are gradually making their mark. 
Just this week, Clean Food Group has raised a further £2.3 million in advance of its forthcoming series A round. The funds will enable it to expand its biotechnology platform, which uses proprietary strains of oleaginous yeast to ferment leftover food waste food into oils and fats that can be used as direct substitutes for those that typically rely on intensive industrial agriculture. 
Also relying on advanced fermentation, New Culture has scaled up its production of protein that would normally be derived from animals' milk. In doing so, it has lowered its costs by around 80%, paving the way for its commercialisation of affordable dairy-free cheese. 
Following close on New Culture's heels, Vivici B.V. has successfully completed its latest fundraising round. By feeding biologically engineered microbes with fermentable nutrients, the company has created its own version of dairy protein that can be incorporated into numerous products.  
As these new products enter the market, early disruptors will be pushed to continue their innovation. Plant-based meats are no longer competing against dry falafel wraps, but against the realistic tastes and textures developed in shiny laboratories. 
Having already refined their production techniques, they may start to branch out and experiment. Juicy Marbles, for example, has expanded its range of plant-based steaks to include vegan 'ribs' with edible bones. 
Enabling the transformation of conventional agriculture
Others have not been quite as dismissive of conventional agriculture. Rather than abandoning this major industrial sector, they have focused their efforts on enabling it to continue sustainably. 
This week alone, Phospholutions has announced an investment of just over $10 million. The funds will be put towards the commercialisation of its patented RhizoSorb fertiliser. With its efficient nutrient delivery, RhizoSorb is far less polluting than traditional options. 
Oyster Agribusiness, meanwhile, has been awarded $310,000 to expand its offering to smallholder farmers. The company currently works with around 3,000 farmers, providing a range of sustainable inputs including enhanced seeds and environmentally friendly fertilisers. Leveraging technologies such as sensors, aerial imaging and advanced automation, the company also offers expert guidance that can help to increase farmers' yields while lowering costs. 
Sky announces winners of £2 million fund
Food and agriculture are also represented among the winners of the Sky Zero Footprint Fund,  with Grub Club securing at least £250,000 for its sustainable insect farming. Recognising the enormous environmental footprint of conventional animal agriculture, the budding British startup has developed a range of sustainable pet foods made from black soldier flies that can be farmed with minimal resources. 
Grub Club is joined by four other startups in winning its share of Skys £2 million fund. On 7th December, they will undergo a final round of judging to determine which will be awarded the £1 million jackpot, with the remaining million to be evenly split. 
Milliways' funding will enable it to scale up its plastic-free chewing gum, while Ocean Bottle will collect ocean-bound plastic for each reusable bottle it sells. OceanSaver will continue to roll out its sustainable cleaning solutions, and UpCircle will work to bring its natural, refillable skincare products into the mainstream.