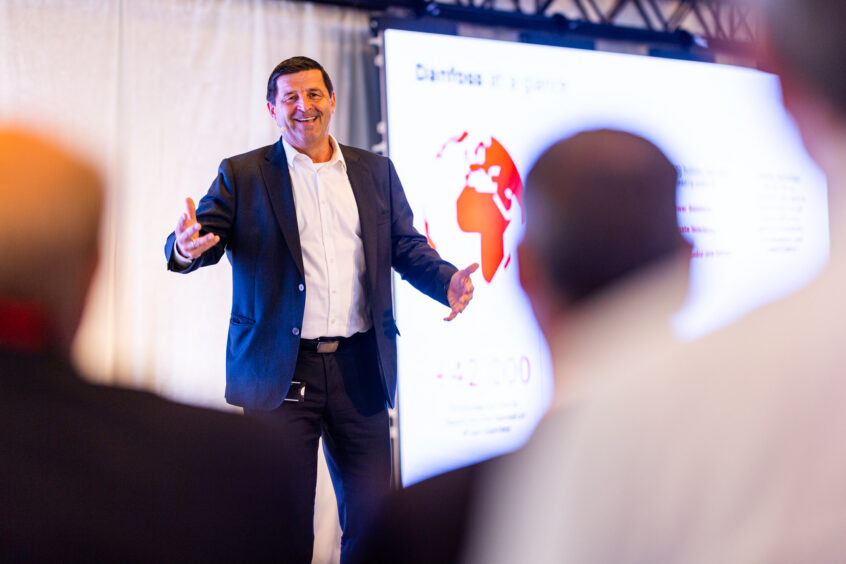 Danfoss has opened a new Application Development Center at its flagship energy-efficient 'Smart Store'. The store operates at over 50% higher efficiency (and lower cost) than traditional approaches and the opportunity for external applications to be trialled only increases the chances of efficiency improvements.
This collaborative test environment will empower original equipment manufacturers (OEMs), contractors, food retailers, and Danfoss engineers to develop new technologies and solutions to enhance energy and operational efficiency for food retail.
The Danfoss 'Smart Store' is a functioning supermarket, providing a unique opportunity to understand how new technology will operate in the real world, while empowering the store managers to focus on their business while saving energy and costs.
The store uses world-class heating and cooling technology and automation solutions with payback times of less than three to four years.
The ADC is based in Danfoss's recently opened 'Smart Store' supermarket near Danfoss' headquarters in Nordborg, Denmark and will be a test centre for energy efficiency technology. It supplements the existing 1,200m2 ADC located at the Nordborg headquarters and joins additional Danfoss ADCs in India, USA and China.
One of its key components is a C02 refrigeration system, around 50% more energy efficient compared to that of a typical supermarket system, and at least 20-30% more efficient than stores using the latest refrigeration systems and multiple energy efficiency solutions.
In the US, the Environmental Protection Agency estimated that $1 (€0.90) in energy savings is equivalent to increasing sales by $59 (€54). Given that the average profit margin for a large food retailer is just 1.7%, cutting operational costs through increased efficiency could play a major role in cost-effective food provision in a cost-of-living crisis.
Why supermarkets matter for sustainability
Beyond a need to cut costs, supermarkets play an important role in the net zero transition for a number of other reasons. Pressure is also growing, in terms of energy demand and emissions, as well as the need to cut down on food loss. If food waste were a country, it would be the third largest emitter behind the US and China, contributing to up to 10% of the world's greenhouse gases. Danfoss says that the resources used to end up as food waste are equivalent to a footprint of 3.3 billion tonnes of CO2.
At the same time, the energy demand for heating and cooling in a supermarket is increasing – it's been estimated that supermarkets in industrialised countries consume roughly 3% of national electricity production. Yet, managed in the right way, supermarkets could even become a centre for the implementation of local heat networks.
The greenest and most cost-efficient supermarket ever?
Danfoss designed its flagship store not only to showcase transformative technologies, but to demonstrate the relatively low cost of technological transformation alongside rapid payback times.
Its high level of efficiency is being achieved through a combination of the most recent heating and cooling solutions, and using the store as a test centre for the latest technologies means that this could be further increased. Any new technologies tested will not interfere with day-to-day operations, as the supermarket has two refrigeration systems that run independently, ensuring that product testing does not clash with the operations of the supermarket.
The store itself is primarily reliant on 100kW of solar panels on its roof for power but it's the use of heat recovery and reuse that is key to its overall efficiency. The system has been designed to recover all waste heat from refrigeration, and that recovered heat is used to heat water – used both for internal use and for sharing through a local district energy network. Danfoss estimates that the heat recovery alone will see a 90% reduction in heating costs.
Other more standard efficiency measures, such as LED use (85% lower electricity consumption than incandescent bulbs), the additional of doors on refrigerators and freezers and the automated monitoring of temperature all add to efficiency.
Co-developing the future of sustainable food retail
The 'Smart Store' supermarket is part of Danfoss's wider Decarbonisation Park, which includes several innovation centres for applications such as heat pumps, heat recovery, next-generation district heating networks, and data centres.
The new Application Development Center will offer the cooling and heating industry the opportunity to access state-of-the-art test facilities and expert support, for field testing new components and cloud technologies for both small and large applications.
Jürgen Fischer, president at Danfoss Climate Solutions, said: "Our new 'Smart Store' proves that the future is now. This supermarket is purpose-built for the world ahead of us; a world of more urbanization, larger populations, greater energy demands, a growing need for cooling, and efficient food storage."
The range of Danfoss's most cutting-edge heating and cooling technology solutions in use in its 'Smart Store' demonstrate the significant savings that can be achieved in supermarkets, with a typical payback time of three to four years – but will also waste less energy and reduce food waste.
The question is how to continue improving and that's the purpose of the application centre – to act as a live testing site for new technologies. Fischer added: "The new Smart Store supermarket is only the beginning….We are proud to officially welcome customers and partners to the Application Development Center today, to take the next steps together to reimagine the future and develop new heating and cooling technologies that pave the way towards zero emission food retail."
SGV Take
The new ADC offers the cooling and heating industry the opportunity to access state-of-the-art test facilities and expert support, for field testing new components and cloud technologies for both small and large applications.
The supermarket itself is a great showcase of the potential for heating and cooling solutions, and it is great for potential customers to be able to see the technologies in action. But it is the potential for complementary technologies, created by others, to be trialled in such a setting that suggests exciting collaboration in the future.