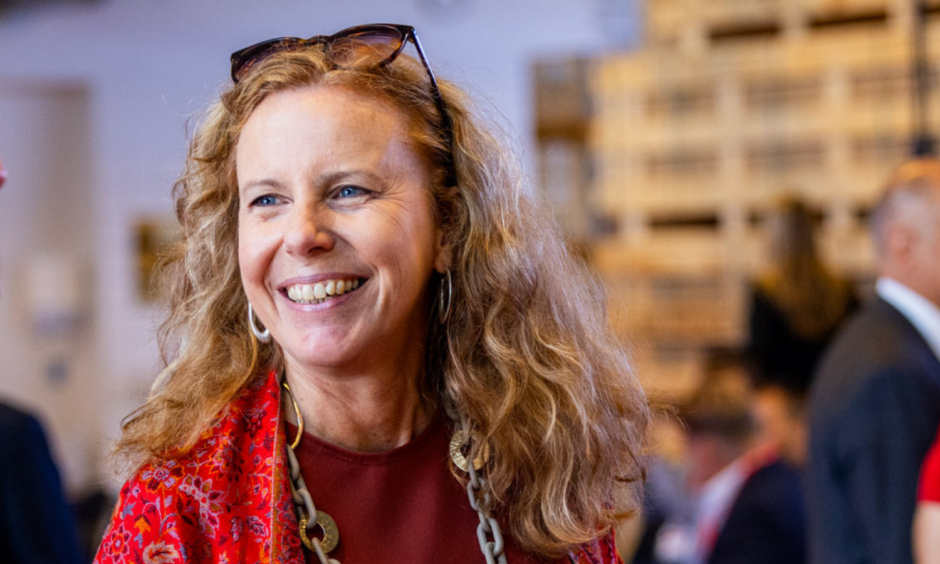 Andrea Voigt, head of global public affairs, industry affairs & communication at Danfoss Climate Solutions, explains what governments and companies need to do to implement sustainable cooling amid rising temperatures.
With global average temperatures expected to keep increasing over the next decades, cooling has become a public health necessity.
Relying solely on air conditioning, however, only exacerbates global warming as it is an energy-intensive technology.
District cooling, where central cooling plants produce chilled water and supply it to buildings through an insulated underground piping network, is one of the most efficient ways to decarbonise buildings.
As yet another record-beating summer approaches its end, we can breathe a sigh of relief – but only temporarily. With global average temperatures expected to keep increasing over the next decades, summer 2024 is likely to be just as hot, if not more.
The good news is that we can implement adaptation strategies to ensure that we are prepared. Relying solely on air conditioning, unfortunately, is not the answer: heating, ventilation, and air conditioning (HVAC) used only for comfort has a huge impact on the very issue that it tries to soothe us from – it generates 15% of global energy-related emissions, exacerbating global warming. With air conditioning energy use expected to triple by 2050 amid extreme temperatures, we need to find other solutions.   
"The first thing we need to recognize before we begin preparations is that cooling is not a luxury; it is a public health necessity. However, there is a concerning lack of understanding of the impact of cooling on public health and on emissions," says Andrea Voigt, head of global public affairs, industry affairs & communication at Danfoss Climate Solutions. "Cooling is an essential part of the solution related to climate change – as an adaptation strategy and as a means to accelerate the energy transition. But it needs to get the attention it deserves. Otherwise, growing demand for cooling could drive a substantial increase in greenhouse gas emissions."  
She notes that the 14th Clean Energy Ministerial Meeting and 8th Mission Innovation Meeting, held in July 2023 in Goa, India, witnessed some good steps in this direction. Ministers, high-level non-state actors and chief executives rallied momentum for global action and increased ambition on cooling, showing strong support for the Global Cooling Pledge which aims to coordinate international action on sustainable cooling.  
As Dan Jorgensen, Danish Minister for Development Cooperation and Global Climate Policy, said in his speech at the event, we need to boost energy efficiency by implementing energy performance standards for appliances and improving building codes, while establishing efficient and renewable cold chains for food and medicine.  
For space cooling alone, we can do so much more to promote more energy-efficient options, which are attractive both from a climate perspective and from an economic one. For example, the energy performance of air conditioning units varies considerably, so energy consumption can be drastically reduced simply by choosing a more efficient option. 
The power of district cooling 
District cooling, where central cooling plants produce chilled water and supply it to buildings through an insulated underground piping network, is one of the most efficient ways to decarbonise buildings, according to Voigt. It supports the transition towards more climate-friendly refrigerants, avoids heat islands in cities and facilitates the phase-in of renewable energies due to its thermal storage capacities, improving air quality. 
"District cooling is a much more efficient way of cooling our cities than the typical AC unit we have grown familiar with," she says. "In terms of quality of life and air in cities, district cooling avoids heat islands in cities, as opposed to air conditioning units which generate heat via their outdoor units. It also does not require any space on roofs or in buildings."  
Two examples of successful implementation include Singapore and the GIFT city in Gujarat, India. Singapore has the world's largest district cooling system, which cut its energy bill by 40%, while also reducing the country's emissions by the equivalent of 10,000 cars per year. In the GIFT city in Gujarat, power requirements could be halved with district cooling as opposed to conventional air-conditioning.  
There are tremendous business opportunities within this space for both established players as well as for startups, but it is crucial to make sure that efficient solutions remain affordable with short pay-back times, and digitalisation is a key enabler to make this happen. As an example, Danfoss collaborates with ANEO Retail to offer energy as a service for the food retail industry. This model allows grocery stores to subscribe to energy-efficient technical facilities as a service, providing the customer with a highly flexible solution that gives access to new equipment without large investments and high up-front costs.   
Other companies include Econsult ecoarchitects in Egypt, which specialises in designing green and cool architecture in desert conditions; the Mahila Housing Trust in India, which provides low-cost cooling solutions and extreme weather warnings for poor communities; CBalance, also in India, which trains architecture students in future-proofing buildings for heat; and another Indian venture, Ahmedabad Heat Action Plan, which has developed a city-wide early warning system. They are part of climate solutions charity Ashden's Fair Cooling coalition of organisations working on passive cooling and low carbon solutions in the global South.
The costs of a rapidly changing climate, particularly rising temperatures, fall hardest on poor and marginalised people. The heat challenges they face include dangerously hot buildings and those with less money generally face higher indoor temperatures but, without access to cooling measures, heat stress increases the risk of death, physical and mental illness.
Scaling up sustainable cooling systems
According to Voigt, investing in the likes of district cooling requires that policymakers and governments prioritise the decarbonisation of cooling.   
"There is still a great lack of awareness and knowledge about district cooling, of energy and city planning and of a regulatory framework that supports its deployment. Of course, it also requires investments into the infrastructure and cooperation across multiple stakeholders groups," she adds. "But as we move towards the decarbonization of our energy system, we will need such solutions if we want to keep the cost for users at a reasonable level while decarbonizing cooling and our buildings."
Implementing these solutions will require a series of actions, Voigt says, such as: 
Involving the private sector when developing policy schemes through stakeholder consultations, public-private consultation groups, and technical assistance projects where the private sector provides concrete input on technologies, as well as transparent procedures, avoiding overlapping rules and legislation, and ensuring policies are streamlined and not contradictory.

Set clear and measurable targets, such as energy consumption in buildings per square foot, minimum energy performance standard (MEPS) for equipment, the share of renewables in the energy mix, mandate energy planning in municipalities to deploy district cooling and, by doing so, decarbonise buildings.

Establish national cooling action plans (NCAPs), which help governments to focus on planning heating and cooling needs, tap into synergies between both, and bundle energy requirements in districts or building clusters.

Facilitate new business models, including cooling as a service to overcome investment barriers for higher efficient technology and promote focus on operational expenditure.

Support training and skills to ensure infrastructure (schools, educational schemes, funding) for adequate education of installers, planners, and consultants to support the deployment of energy efficiency technologies.

Adopt a carrot-and-stick approach, as mandatory requirements such as MEPS can help speed up the transition to energy efficiency. Financial incentive schemes and soft promotion, such as energy labelling schemes and tax rebates, are equally important, and private sector engagement should be facilitated.

Financial incentives/ green bonds/ grants and loans give an active role to the financial sector, privilege sustainable technologies, and can incentivise the private sector by facilitating access to finance based on sustainability criteria, such as emissions reduction targets.
EU leads the way
 The EU is probably one of the regions in the world with the most comprehensive approach due to its European Green Deal, according to Voigt. Dedicated policies tackle energy efficiency in various areas, such as appliances and equipment (Ecodesign Measures), buildings (Energy Performance of Buildings), energy efficiency systems (Energy Efficiency Directive), refrigerants (F-Gas Regulation), renewable energies (Renewable Energies Directive), and others. 
Climate neutrality by 2050 is anchored in the EU's climate law – overarching energy efficiency, renewables targets as well as an emission trading scheme (ETS) help governments to keep overall focus on decarbonisation. Voigt concludes: "These examples show what can be done – the idea is not to call for a replication, but rather to emphasize the importance of a dedicated framework."