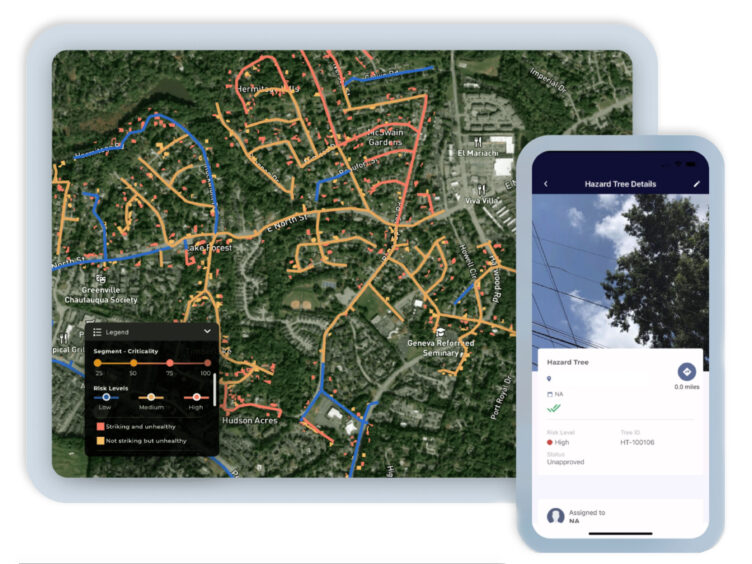 AiDash, a US based AI-first software company, has launched a new AI and satellite technology designed to assist utilities in preventing wildfires.
AiDash has launched a multi-pronged AI platform to address the need for monitoring and management to prevent wildfires and build resilience to extreme weather.
Utilities spend upward of $24 billion annually managing vegetation around power lines to avoid sparking wildfires in increasingly hot weather – a sum expected to hit over $39 billion before the end of the decade.
Resilience to extreme weather is going to drive appetite for AI solutions that simplify assessment of massive amounts of diverse data to gain an overall picture of a problem.
The new system called Intelligent Vegetation Management System (IVMS) 2.0, is capable of identifying risks, advising on necessary mitigation, predicting when and where wildfires will occur, and how they will spread, and speeding up recovery and restoration.
As extreme weather intensifies, utilities are facing more challenges with grid resiliency, fixed cycle manual inspections, and flat-to-declining budgets," said Abhishek Singh, co-founder and CEO of AiDash. "AiDash is driving innovation to address these challenges and bring more intelligence to traditional vegetation management. Utilities can now use an all-in-one software application to ensure vegetation management operations are as efficient as possible, without needing multiple tools."
AiDash launched Intelligent Vegetation Management System (IVMS) in 2020 and works with over 90 utility customers, including National Grid, Entergy, Xcel Energy, and Avista.
"As our industry deals with increased costs, we need to become more data driven and look for operational efficiencies," says Heath Williams, senior analyst of vegetation management for Entergy. "With this intelligent approach to vegetation management, we are able to streamline work management processes, predict areas of future impact, and allow access to data in the field."
AiDash says the technology has the potential to protect nearly 250,000 acres of land from wildfire, prevent 195 deaths, and avoid $1.7 billion in economic losses over the next three years in the US alone.
Extreme weather is taking an economic toll
In today's world, extreme weather events are becoming more frequent and severe. In the US alone, the NOAA's National Centers for Environmental Information has reported that the US has experienced 23 billion dollar disasters to date in 2023.
The 23 events include: 18 severe weather events; two flooding events; one tropical cyclone (Hurricane Idalia); one wildfire event; and one winter storm event. More are expected to follow over the course of the year.
These events caused 253 direct and indirect fatalities and produced more than $57.6 billion in damages (Consumer Price Index (CPI)-adjusted). Other potential billion-dollar events from 2023 that are still under review include Tropical Storm Hilary that impacted southern California and the Southern/Midwestern drought.
Since 1980, when NOAA started tracking these events, the US has sustained 371 separate weather and climate disasters where overall damages/costs reached or exceeded $1 billion (including CPI adjustment to 2023). The total cost of these 371 events exceeds $2.615 trillion.
In Alaska over 300,000 acres have burned during the 2023 fire season (the hottest and driest months of the year), with more than 80% burned in August alone. As it stands the state still has half its average fire season to go.
Therefore, there is an increasing need for technological solutions to help utilities prepare for and mitigate these challenges has never been greater. In combination with AiDash's Disaster and Disruption Management System (DDMS), IVMS 2.0 is intended to help to forecast storm and wildfire outages and damages, as well as build climate resilience.
By harnessing satellite imagery, real-time weather data and span level vegetation data, this platform can help utilities proactively manage risks before, during, and after storms or wildfires.
Vegetation management can be costly and ineffective for utilities that don't use modern tools and processes to run their programs. In 2022, utilities spent $24.2 billion on vegetation management, often the single largest line item in their operations and maintenance budgets. That spend is expected to reach $39.2 billion by 2029.
Understanding what the platform has to offer
AiDash says that the IVMS 2.0 positions the company as a leader in the Intelligent Vegetation Management software category, continuing to deliver what utilities need to optimise vegetation management programs. IVMS 2.0 uses four key technologies:
SatelliteVision— A proprietary and patent-pending AiDash technology that transforms how satellite imagery is acquired and processed at global scale. Partnerships with satellite providers enable IVMS 2.0 to scan and process large T&D networks with over 100,000 miles of overhead lines in a matter of weeks.
 Multisource Data Fusion —AiDash IVMS 2.0 has native capability to ingest and process remote sensing data at scale. Data can come from satellites, aerial imagery from drones, helicopters, fixed-wing planes, and LiDAR data from aerial or vehicle-mounted sensors.
AiDash IVMS 2.0 fuses this data with other third-party and utility data. Rather than asking utility customers to collect or clean the data, AiDash procures and cleanses all required remote sensing and third-party information, as well all utility data. With multisource data fusion, vegetation management activities can be prioritized based on weather risks, including storms and wildfires, making utilities more climate resilient.
VegetationAI —AiDash IVMS has been deployed on over 800,000 miles of T&D lines across 48 U.S. states and on five continents. As a result, the patent-pending AiDash VegetationAI models are trained on extensive and diverse data sets, resulting in very high accuracy in predicting vegetation risks.
The AiDash "human in the loop" process further enhances accuracy. AiDash VegetationAI accuracy was validated in a third-party study by Tulane University Law School. This model ensures crews are directed to top-priority locations, predicts the type of work needed, and alerts crews to bring the correct equipment — thus reducing the duration of interruptions and improving reliability.
Automated Workflows through new web and field mobile application — Automated workflows allow utilities to analyse, plan, and execute vegetation management activities from a single software platform, communicating directly with field staff and contractors via the new AiDash IVMS Field App. The application captures data from field personnel and feeds it back into IVMS for the next analysis, improving planning and execution while providing work plans.
SGV Take
AI is increasingly going to be used increasingly to address complex data processing challenges, such as identifying areas at risk from extreme measures. Over-vegetation is a well understood risk for utilities in hot weather, as sparks from power lines are well known to spark local fires (as was suggested by the recent fires in Hawaii).