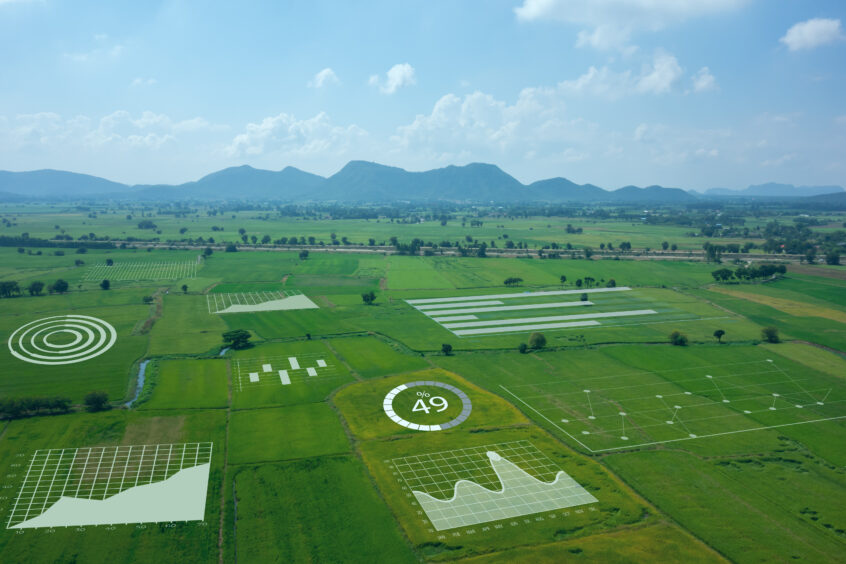 HowGood, a sustainable food ratings company based in New York, has released a new dashboard to help businesses set science-based targets for the reduction of emissions relating to forests, land use and agriculture.
HowGood's new dashboard will enable food and beverage companies to calculate and reduce their emissions in line with science-based guidance.
Science-based targets are widely accepted as best practice when it comes to reducing emissions, but land-intensive activities are difficult to effectively monitor and address.
Food and beverage companies ought to explore new data solutions if they wish to align with the expectations of stakeholders.
With HowGood's new dashboard, food and beverage companies will be able to calculate their baseline emissions and identify strategies that will help them reduce their footprint in line with sectoral guidance created by the Science-Based Targets initiative (SBTi). 
Science-based guidance on reducing the emissions of land-intensive activities
In 2022, the SBTi released its first guidance on the setting of corporate targets for reducing emissions relating to forests, land use and agriculture (FLAG). The FLAG guidance is intended to provide a shared methodology for determining the extent and rate at which companies should cut their land-related emissions in order to align with the global climate goals of the Paris Agreement. 
Running parallel to the SBTi's work, the Greenhouse Gas Protocol (GHG Protocol) has been developing a framework to explain how companies should disclose the emissions of their land-related activities. Whether it be emissions released during the conversion of land use or those removed through carbon sequestering practices, the framework will serve as the globally recognised standard for land-based emissions reporting. 
Currently under review, the GHG Protocol's framework is slated for release at some point in 2024. Having worked closely with the SBTi throughout the development process, the two organisations plan to integrate their approaches. Companies that follow the Protocol's reporting procedure will be strongly advised to set a FLAG target, and the SBTi will require any business with other science-based targets already approved to add a FLAG commitment within six months of the Protocol's launch.  
Demand for FLAG targets may be hard to avoid
The reporting standards developed by the GHG Protocol are the most widely used means of disclosing emissions, followed by at least 92% of Fortune 500 firms and many others all over the world. Despite recent criticism, SBTi-approved targets have gained similar global acceptance. In 2022, 1,097 companies had targets approved, eclipsing the combined total of the prior six years. 
Given their international reach and cross-sectoral relevance, it seems inevitable that FLAG targets will soon be considered best practice. Stakeholders will ramp up their expectations, requiring any major player in land-intensive industries to transparently declare their commitments and consistently report on their progress. 
For companies involved in the production, manufacturing or selling of food and beverage products, these relatively sudden demands present a burdensome challenge. The global food system is accountable for more than a third of global emissions, 38% of which are directly associated with land use.  
The complex relationships between agricultural production and ecological factors such as biodiversity, carbon sequestration and nutrient cycling make the quantification, disclosure and reduction of land-related emissions particularly difficult. With the added struggle of gathering data from sprawling supply chains, food and beverage companies face several hurdles when it comes to setting and achieving science-based FLAG targets. 
New data dashboard promises streamlined solution
Recognising the pressure that the food sector faces, HowGood has launched a new dashboard to help its existing audience of suppliers, brands, servers and retailers to align with the SBTi's FLAG guidance.  
"The land sector harnesses the most efficient and effective nature-based solutions for removing and storing carbon," said Ethan Soloviev, the company's chief innovation officer. "We are inspired by what FLAG offers to more accurately measure greenhouse gas emissions in line with scientific standards, and excited for what Latis can do to bring an action-oriented tool to those working hard to not only measure, but reduce land-sector emissions." 
Drawing from its extensive library of emissions factors for more than 33,000 different ingredients, the product will enable HowGood's customers to calculate their baseline emissions across the three FLAG categories of land management, land-use conversion and carbon removal. The software can be used to identify the most intensive ingredients and products within the supply chain before modelling alternative options to determine the most effective solutions available. 
The dashboard has been incorporated into HowGood's existing software platform, built on more than 15 years' worth of research and over 600 verified sources of data. Already used by recognisable names including Nestlé (SIX:NESN), Danone (PAR:BN) and General Mills (NYSE:GIS), the service could emerge as a valuable tool in advancing food and beverage companies towards their necessary goals. 
SGV TAKE
Companies involved in the food and agricultural sectors ought to take note of the blooming collaboration between the GHG Protocol and the SBTi. Together, the two may become an unstoppable force, prompting investors and other stakeholders to ramp up the pressure for science-based targets to be set, disclosed and delivered. Though they will initially target larger firms with more resources to hand, smaller businesses will eventually come under similar scrutiny, particularly if they supply their products to those further down the supply chain. 
The establishment and achievement of science-based FLAG targets will depend primarily on the sourcing of data, as problems cannot be understood or addressed unless they are visible. Software platforms such as HowGood's will make the process far easier while also improving communications with shareholders, consumers and regulators alike.