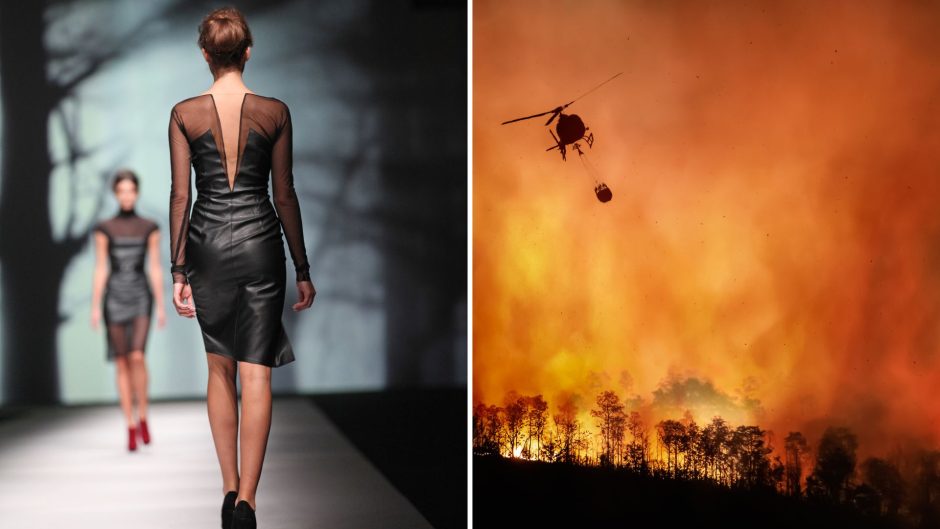 This week's rollercoaster of a roundup explores the rising popularity of biomaterials before descending into the worryingly necessary market of disaster response.
Biomaterials take over the catwalk
The fashion industry holds significant influence over the sustainability of the global economy. Valued at approximately $2.4 trillion in total, the sector is estimated to account for up to 8% of the world's greenhouse gas emissions.   
With such a major role to play, fashion brands and designers are under more pressure than ever to reduce their footprint. Younger generations are demanding more sustainable products, strict regulations are being introduced, and investors have begun to take a more negative view of companies that are adversely impacting the planet.  
As companies are forced to adapt in response, they are expanding their search for more sustainable processes and materials. If this season's runways are anything to go by, it seems that there are plenty of disruptive innovators ready to step up to the mark. 
At Copenhagen Fashion Week, for example, MycoWorks' Reishi material was used in the collection displayed by Deadwood Studios. The material is made from mycelium, the fibrous root structure of fungi, using proprietary engineering techniques that allow it to form interlocking cellular structures. With MycoWorks' commercial production facility having opened less than one month ago, the collaboration with Deadwood marks the first application of Reishi in a ready-to-wear fashion collection. 
Meanwhile in Paris, Balenciaga's runway saw the debut of LUNAFORM, a leather-like biomaterial created by GOZEN. The Californian startup has spent the last two years working with Balenciaga to develop a product that is reportedly stronger than conventional leather while being completely vegan and plastic-free. Its complex structure is made by microbes that have been exposed to a rich selection of nutrients before being mixed with natural agents.  
In a similar vein, Modern Synthesis has been feeding bacterial organisms with agricultural sugars to produce nanocellulose fibres. Once bound with a bio-based film, the resulting material can be specifically tuned to resemble a wide range of conventional textiles. Just recently, it was used to produce a special edition handbag displayed by Ganni during September's London Design Festival. 
Though not quite ready for this year's high fashion season, Jet Technology has partnered with Deakin University's Recycling and Clean Energy Commercialisation Hub to explore the transformation of organic waste into saleable products. The project will begin by using Jet Technology's Environmental Recycling System to create bio-based textiles from the skin, pulp, seeds and stems that are discarded during the making of apple juice. 
New market emerges out of necessity
From the glamour of high fashion catwalks, we now shift to a far darker perspective of today's ever-changing environment. We cannot gloss over the grim reality that climate change is causing disastrous events to occur more frequently and severely than ever before.  
Last year alone, the 10 most expensive weather events cost more than $3 billion apiece. More than 600 people were killed by floods in West Africa, while around 36 million people were affected by drought on the continent's Horn. A cyclone in Bangladesh resulted in the displacement of one million residents, and more than 200 people met their deaths due to floods in Brazil. 
Such disasters are now affecting the Global North as well as the South. Europe has been devastated by heatwaves and wildfires, while the US has been hit by disaster after disaster. Over the course of a single year, almost 500 people were killed by extreme weather events while the nation's economy suffered losses of around $165 billion in total. 
Responding to such disruptive events will require a range of novel solutions. Fortunately, a dedicated market is already beginning to form. 
Just this week, Vibrant Planet has raised $15 million to further develop its data-driven platform for the mitigation of wildfires. Such disasters are also the target of a recent partnership between Rain and Lockheed Martin's Sikorsky. Under the new agreement, Rain's Wildfire Mission Autonomy System will send instructions to Sikorsky's autonomous helicopters, enabling them to quench targeted breakouts within mere moments of their detection. 
AEM, meanwhile, has announced the launch of its Elements Resiliency Platform. The platform comprises a suite of solutions for designing early alert systems, sensing various types of natural hazards and analysing aggregate data from multiple sources. With enhanced weather forecasts, dynamic storm detection, rainfall monitoring and modelling capabilities, the largely automated system is holistically designed to help businesses, agencies and vulnerable communities to mitigate the risks of disaster. 
Accelerating trend highlights the urgency of systemic solutions
These latest announcements follow last week's news of Previsico's fundraising for its flood forecasting technology and a partnership between Neara and Southern California Edison (NASDAQ:SCE.PRG). Among other things, the electric utility will use Neara's artificial intelligence to simulate conditions and proactively prevent any breakouts of wildfire.   
As the costs of natural disasters continue to rise, this emerging technological trend is likely to accelerate rapidly. Businesses will be searching for new ways to protect their assets while government agencies scramble to maintain vital infrastructure and preserve the lives and homes of their local communities. 
Though the past few weeks have brought news of some useful solutions, they ought to be coupled with a complete transformation of the very systems that made this mess in the first place. This is where we turn back to the lighter side of things, with the adoption of novel biomaterials demonstrating the disruption of historically destructive industries.