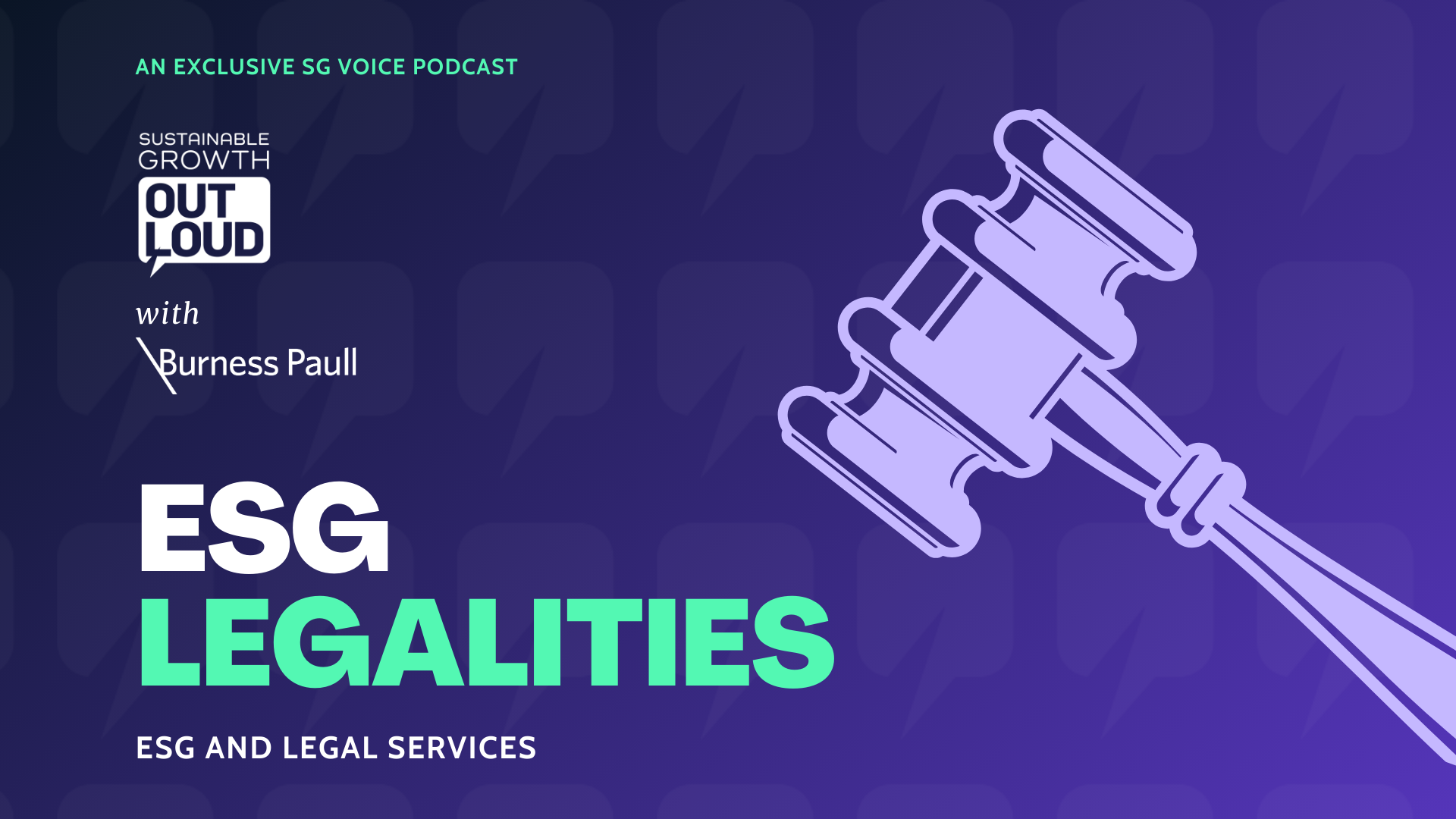 ESG Legalities is brought to you by Sustainable Growth Voice, in paid partnership with Burness Paull LLP. In this special one-off podcast episode, host Heather Dinwoodie is joined by Steven Steward, head of Burness Paull's ESG division, and Lynne Gray, head of Health, Safety and Corporate Crime.
Listen here

An elusive vision of sustainable growth
Diving straight in, Steven and Lynne attempt to define the true meaning of sustainable growth. Recognising the complexity and nuance of language that is so often tossed around with carefree abandon, the two agree that growth is only sustainable if an interconnected web of environmental, social and governance (ESG) factors are taken into account.
Lynne returns to the original definition of sustainability itself, pointing out that ESG strategies must deliver consistent results long into the future. Just as no company can survive without turning a profit, nor can it repeatedly exploit a finite resource or continuously hire from an expanding pool of disgruntled ex-employees.
Burness Paull strives to understand the needs and motivations of corporate clients, rather than instructing them on what they must do. Steven describes how meeting with clients for an open discussion is key to understanding the core drivers of ESG. For example, he notes that mandatory obligations may not be as much of a factor as employee engagement.
Lynne adds that ESG's cross-cutting pillars provide the foundations for sustainable growth. While many executives are naturally concerned by legal compliance, they are equally driven to maintain stakeholder relations, treat people well and manage their resources in a careful and responsible manner.
Lawyers as friends, rather than foe
Steven explains that Burness Paull's work spans a wide range of topics, brought together under its ESG services. Often, clients may walk in the door with one key priority held front and centre, only to realise that multiple aspects must be considered in unison. Burness Paull's holistic approach, often conducted in partnership with ESG consultancy Thrive, enables these customers to assess the whole of their business and identify opportunities for legal support.
In recent months, Lynne has found that C-suite executives are approaching lawyers proactively, rather than having suggestions taken to them. Recognising that they need some form of ESG strategy, they come to Burness Paull to scan the horizon not only for forthcoming restrictions but also for sustainable growth opportunities.
"It shouldn't be something that's taken as a scary, large mountain to climb," Steven comments, pointing out that plenty of individuals find themselves being handed ESG as a surplus requirement that had never been part of their original role. This can often be both confusing and overwhelming, but by seeking the expertise of legal professionals, they may find that their company has already been adopting ESG practices into their work. Though the name may be different, most corporations could not have come as far as they have without some degree of care, respect and morality.
Once identified, these practices can be incorporated into an ambitious ESG strategy. Companies can spot the areas in which they are lagging, brainstorming ideas for how they can address any exposure to risk while communicating their existing good work in a transparent and meaningful way.
What does success truly look like in practice?
Of course, it's all very well to discuss the opportunities of ESG, but what does success truly look like in practice?
Lynne explains that a robust governance strategy is utterly critical, backed by a transparent and consistent approach to reporting. If a company is unable to measure its impact and demonstrate progress being made, then its entire approach will rapidly fall apart.
Some areas of ESG are perhaps more challenging than others, as Steven highlights through the example of mandatory climate-related reporting. Compliance cannot be achieved without accurate data collection, often relying on external suppliers and partners. According to Steven, successful ESG strategies are typically delivered by those that have focused their efforts on ensuring that they have the right information.
As new regulations are introduced, gradually applying to more and more companies, this accurate reporting becomes particularly critical. Smaller firms may find that their customers are demanding more information, whether or not they are legally required to disclose it themselves. The same may be the case for those whose business is spread across multiple jurisdictions, as legislation comes into force for one part of the company before it impacts the rest.
The further ahead a corporation can stay, the more likely they are to succeed. Legal experts can provide some insight into what rules are coming in where, enabling their clients to allocate their resources effectively and gain advantage of new opportunities while limiting their exposure to risk. Particularly for early-stage ventures, such a head start can make all the difference.
Ultimately, this dynamic preparedness is integral to the delivery of a successful ESG strategy. The legal perspective can help companies to roll with the punches, staying up to date on the changing landscape around them and adopting effective measures that comply with new regulations while benefiting their business at large.
ESG Legalities is available now via Apple Podcasts, Spotify, Google Podcasts and Amazon Music.